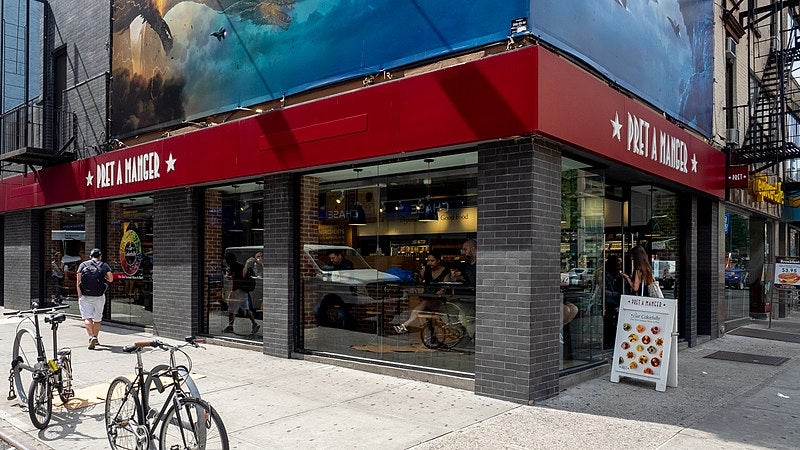 Global coffee and sandwich chain Pret A Manger has announced plans to double its footprint over the next five years with $136m (£100m) of net investment from JAB Holdings and Pret founder Sinclair Beecham.
The investment will be used by the company to open more than 200 outlets, including 100 franchise shops across the UK.
Pret A Manger aims to open new outlets in regional and suburban areas, transport hubs, and motorways as well as invest to enhance its digital capabilities.
As part of its transformation strategy, Pret A Manger has set a target to foray into five new markets by the end of 2023.
Pret A Manger CEO Pano Christou said: "Last year we were in the eye of the storm during the height of the pandemic. Now we have the chance to build a bright new future for Pret.
"What the pandemic has shown us is that even at the darkest moments, more people want to experience Pret – whether that's customers outside of London and other big cities, new franchise partners who want to work with us here and overseas, investors in our business, or people who want to grow their careers here and be part of what we're trying to build.
"Last year, we delivered more change than in thirty years of Pret history. As we move into the next phase of our transformation, we want to keep the same pace of innovation, but use it [to] drive new growth."
The transformation plan was initiated by the company as its recovery gathered pace, with business volumes nearing pre-pandemic levels.
During the outbreak of the Covid-19 pandemic, JAB and Beecham supported the coffee chain with an investment of $252m (£185m).
Since the beginning of the year, the company's workforce has also increased by 28%, with the company currently employing approximately 8,000 individuals globally, including 6,400 in the UK.
In its accounts filing at Companies House, the company noted that its last year revenue was $407m (£299m), which was a decline of $965m (£708m) in comparison to 2019 revenue.
In a statement the company said: "As Pret continues its transformation, the business will continue to invest in its customer loyalty programme, while also putting a renewed focus on menu development and product innovation.
"The launch of Pret's recent autumn menu with the Chicken and Chilli Burrito and Naked Chicken Katsu Baguette marked the return of Pret's famous record of new recipe launches and product innovation for customers, following a period of a slimmed down menus through the height of the pandemic."