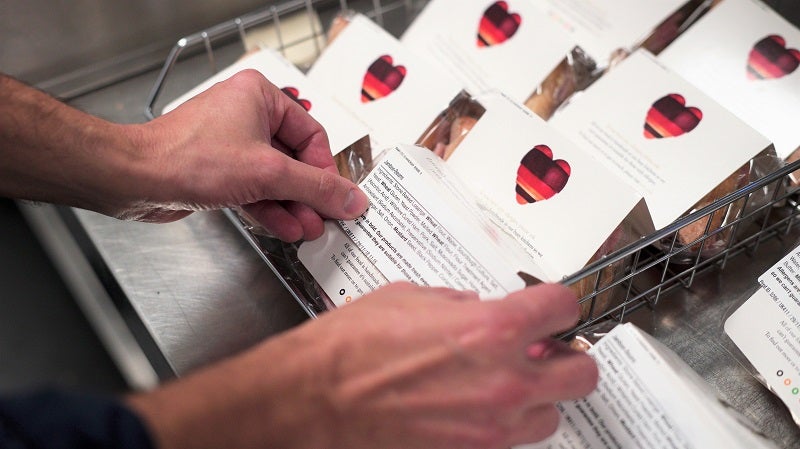 UK sandwich and cafe chain Pret A Manger is to rollout nationally its full ingredient labels for food packaging today, as part of its Five-Point Allergy Plan.
The Plan has been created to provide customers with full information about Pret food and drink, specifically those with allergies and intolerances.
Calls were made for Pret to further regulate its labelling following the deaths of Natasha Ednan-Laperouse and Celia Marsh, in 2016 and 2017 respectively, who unknowingly consumed incorrectly-labelled Pret products.
The Allergy Plan includes training staff on the new labelling process, sharing the plan details with the government and wider industry, the availability of tablets, loaded with full ingredient labels lists installed in every UK shop, the removal of allergens, sharing quarterly incident updates, and continual allergy awareness training.
The chain said it will continue to work with Tim J. Smith and the independent Food Advisory Panel, who have been reviewing Pret's food policies and will be advising on further changes over the coming months.
The full ingredient labels were initally trialled at one of Pret's Victoria, London stores, in December last year.
Pret A Manger CEO Clive Schlee said: "The issue of allergies has struck a deep chord within Pret A Manger following the tragic deaths of Natasha Ednan-Laperouse and Celia Marsh. We said we would learn from the past and make meaningful changes. This plan brings together some of the most important changes we have been making to help customers with allergies.
"At the heart of the plan is the rollout of full ingredient labels on Pret's freshly made products. Thanks to the dedication of many Pret team members, we have been able to show that full ingredient labelling is operationally possible in small kitchens when proper care is taken.
"But labelling is only part of the challenge. We have listened to Pret customers with allergies and they have told us they face a range of issues when deciding to eat out – from limited menu choices to a lack of awareness and understanding from food businesses.
"Pret's Allergy Plan will tackle many of these issues and help to ensure that every customer has the information they need to make the right choice for them."