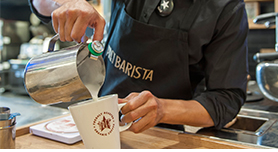 Sandwich and coffee shop chain, Pret A Manger, is set to expand its operations into airports and train stations across North America and Europe after signing a new partnership with Italian-based travel concessions specialist, Autogrill Group.
Airport openings in North America will be run in partnership with HMSHost, a subsidiary of Autogril while another subsidiary, HMSHost International, will partner Pret on openings in transport hub shops in Europe.
The first shops to open as part of the new agreement will be in Copenhagen Airport early next year, followed by openings in the Netherlands.
Pret A Manger's partnerships director, Michael Haley, said: "We already thrive in transport hubs in the UK, France, Hong Kong, Dubai and Singapore. The partnership with Autogrill allows us to open shops in major transport hubs in North America, as well as Denmark and the Netherlands," said
"Choosing the right partners is very important to Pret. We admire the strength of Autogrill's operations and have already hosted their Danish teams in our UK shops for training in preparation for opening in Copenhagen Airport.
Autogrill has operations in around 1,000 locations across 31 countries- prevalently under concession agreements in the main travel channels, as well as in shopping centres and trade fairs.
"This agreement with Pret enables us to bring one of the world's most successful brands into more airports and train stations," said Autogrill chief marketing officer, Ezio Balarni. "We're happy with this important new partnership with Pret, a brand that shares our vision in terms of a sustainable approach to business, food quality, freshness and innovation."