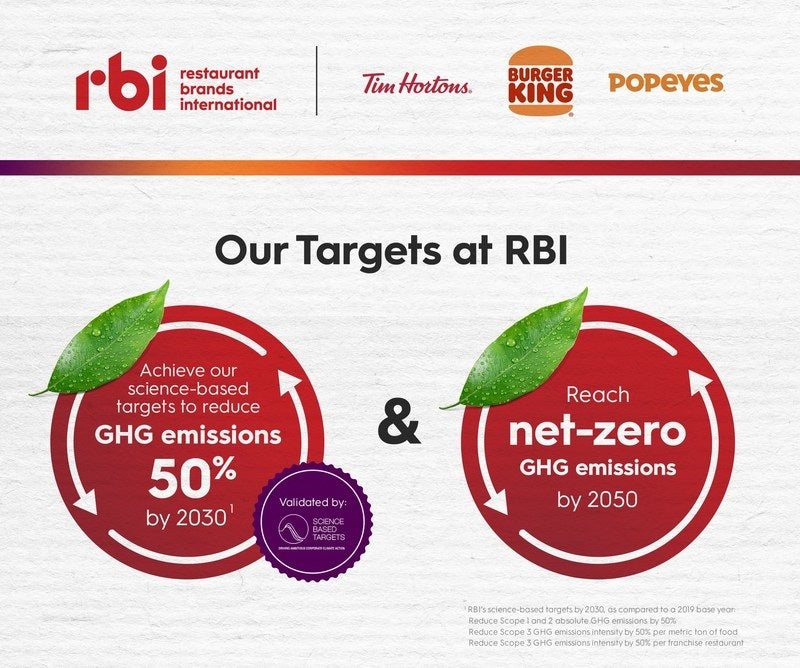 Restaurant Brands International (RBI) has set new science-based targets (SBTs) to reduce greenhouse gas (GHG) emissions 50% by 2030 and reach net-zero by 2050.
As part of this initiative, RBI will collaborate with its franchisees and suppliers to pursue SBTs and reduce GHG emissions.
Sustainability targets set by RBI were approved by Science Based Targets initiative (SBTi), a partnership between CDP, the United Nations Global Compact, World Resources Institute (WRI) and the World Wide Fund for Nature (WWF).
CDP SBTs executive director Alberto Carrillo Pineda said: "We congratulate RBI on setting targets consistent with limiting warming to 1.5°C, the most ambitious goal of the Paris Agreement.
"By setting ambitious targets grounded in climate science, RBI is taking action to help reduce the effects of climate change."
The targets are part of RBI's broader Restaurant Brands for Good strategy and aim to achieve business growth without increasing emissions.
Compared to a 2019 base year, RBI aims to reduce Scope One and Two GHG emissions by 50%, as well as Scope Three GHG emissions intensity by 50% per metric tonne of food and franchise restaurant by the end of the decade.
RBI CEO José Cil said: "As one of the largest quick service restaurant companies in the world, we have a critical role to play in addressing the threat of global climate change, which is important for our planet and for our guests.
"With these ambitious targets, we are accelerating our efforts to promote a more sustainable future and continue on our journey to build the most-loved restaurant brands in the world."
By making these commitments, RBI has now joined the Race to Zero and becomes a signatory to the Business Ambition for 1.5°C Campaign.
RBI is the parent company of the Burger King, Tim Hortons and Popeyes brands.