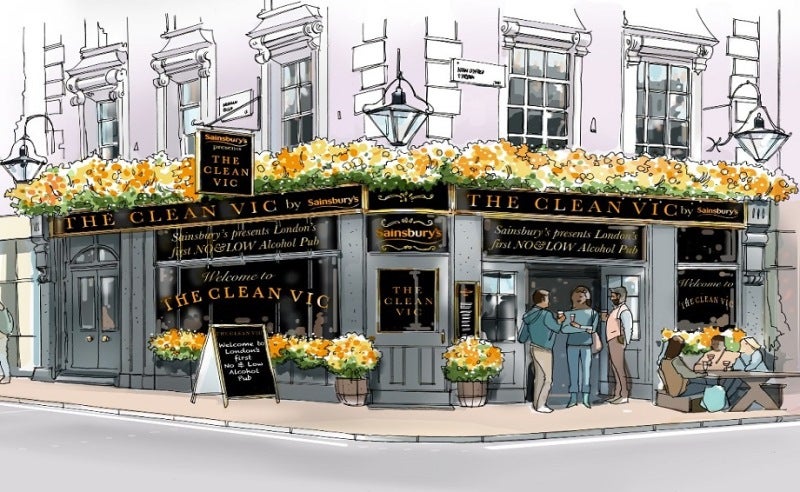 British supermarket giant Sainsbury's is all set to debut the country's first no and low alcohol pub, The Clean Vic, on 24 July.
The Clean Vic pub will be located at the Old Crown Public House, 33 New Oxford Street, Holborn in London.
The location will feature the setup of a traditional pub with bartenders and pints, however, it will serve non-alcoholic and low ABV alternatives (up to 0.5%) wines, beers and spirits to customers.
Sainsbury's buyer Anne Cooper said: "We're seeing a really exciting spike in the no and low alcohol category at Sainsbury's which has been growing since 2001.
"With an increasing number of products now available, those who want to hold off on alcoholic beverages don't need to miss out on the experience of enjoying a beer with friends or even a mocktail made with a delicious non-alcoholic distillate."
In addition, the retailer will allow customers to try its non-alcoholic dark distillate, Celtic Soul, which offers the appeal of whiskey.
The pub will feature more than 20 types of drinks from Sainsbury's including a range of beers such as Lucky Saint, mocktails including Everleaf, a non-alcoholic aperitif, spritz, and a collection of wines.
Customers are required to pay £5 to enter the pub, which allows them to have two drinks of their choice and two bar snacks during their stay.
Furthermore, the retailer will offer masterclasses for customers looking for some inspiration on how to reduce their alcohol intake.