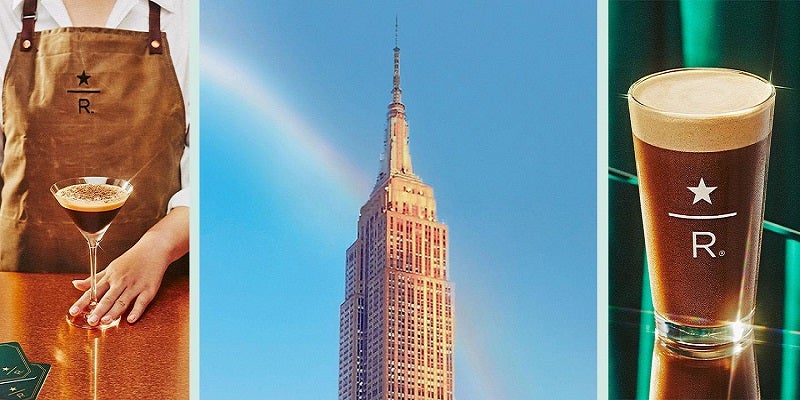 US-based coffee chain Starbucks has unveiled its plan to open a new Starbucks Reserve location in New York City's iconic Empire State Building.
Spanning three floors and 23,000ft², the Starbucks Reserve Empire State Building will open on 16 November.
Despite its large size, the new store will not be the coffee chain's biggest location. Starbucks Reserve Roastery Chicago, which opened in November 2019, spans 35,000ft² across five floors.
The other Reserve Roasteries are located in a number of large cities, including Shanghai, Chicago, Seattle, Tokyo and Milan.
The new store will be the company's only outlet to offer Cold Pressed Espresso beverages, which are created leveraging a patented brewing technology designed by the Starbucks Research and Development team.
By using cold water and upward pressure, the brewing technology makes a softer, full-bodied and sweeter espresso shot, similar to a slow-steeped cold brew.
The new store will offer espresso classics such as lattes and cappuccinos, as well as Starbucks Reserve signature beverages, which include the Hazelnut Bianco Latte, Whiskey Barrel Aged Cold Brew and Nitro Almondmilk Mocha.
Its menu will also include seasonal beverages, such as Pumpkin Spice Lattes and Peppermint Mochas.
Additionally, the new store will offer classic and signature cocktails, including espresso martinis and new coffee-inspired cocktails, which will be exclusive to the store.
The new Starbucks location will also provide hands-on learning in coffee, beverages and mixology crafts.
It will offer multiple imaginative tasting flights and food pairings, along with a menu of Princi food plates.
Starbucks US retail senior vice-president Mark Ring said: "For almost three decades we have grown alongside the city of New York, where people from around the world gather to connect, explore and share ideas.
"The Starbucks Reserve Empire State Building store will bring people together in this diverse and dynamic city over incredible coffee and food experiences that celebrate human connection, which is at the heart of the Starbucks Experience."
Last month, Starbucks announced the launch of Starbucks Odyssey, a new experience that offers Starbucks Rewards members and partners in the US the opportunity to earn and buy digital collectable stamps.