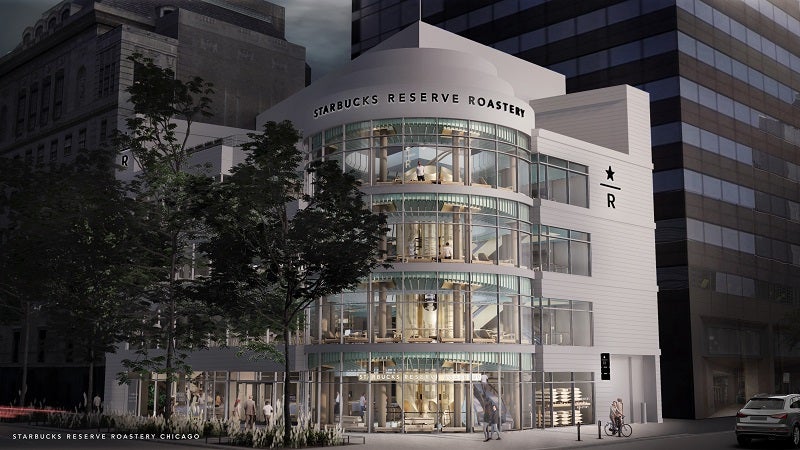 Starbucks Coffee Company has unveiled a new five-floor, 35,000ft² Reserve Roastery in Chicago, US.
The new Starbucks Reserve Roastery Chicago is located on North Michigan Avenue and Erie Street on Magnificent Mile and is the company's sixth global roastery and the third location in the US.
Set to open on 15 November, it joins other locations in Seattle, Shanghai, Milan, New York and Tokyo.
Starbucks CEO Kevin Johnson said: "Over the past five years, we have created the ultimate immersive experience around all-things-coffee in spectacular Starbucks Reserve Roasteries in flagship cities around the world."
The new Chicago Roastery employs nearly 200 people, including roasters, baristas, bakers, and mixologists.
At the new location, roasters will small-batch Starbucks rarest single-origin coffees and blends called Starbucks Reserve.
The Roastery features the Starbucks Reserve Coffee Bar, Experiential Coffee Bar and Barrel-Aged Coffee Bar, which collectively offer seven brewing methods, including espresso, pour-over, coffee press, siphon, Chemex, Clover and cold brewing.
Starbucks Roastery Design & Concept vice-president Jill Enomoto said: "The design of the Chicago Roastery was inspired by the iconic Chicago landmark, and the city itself.
"We embraced the building's natural light, married it with shades of classic Starbucks greens and intentionally wove in design features to encourage customer exploration and highlight the love and respect we have for coffee."
The Roastery will also feature a dedicated Arriviamo Bar and artisanal boutique bakery and cafe Princi that offers on-site baking of fresh bread, cornetti and focaccia, pizza and salads, as well as cakes and tarts.
A bakery conveyor designed by Starbucks at the Roastery will transport freshly baked goods from the Princi bakery on the second level, to the Starbucks Reserve Coffee Bar located on the main floor.