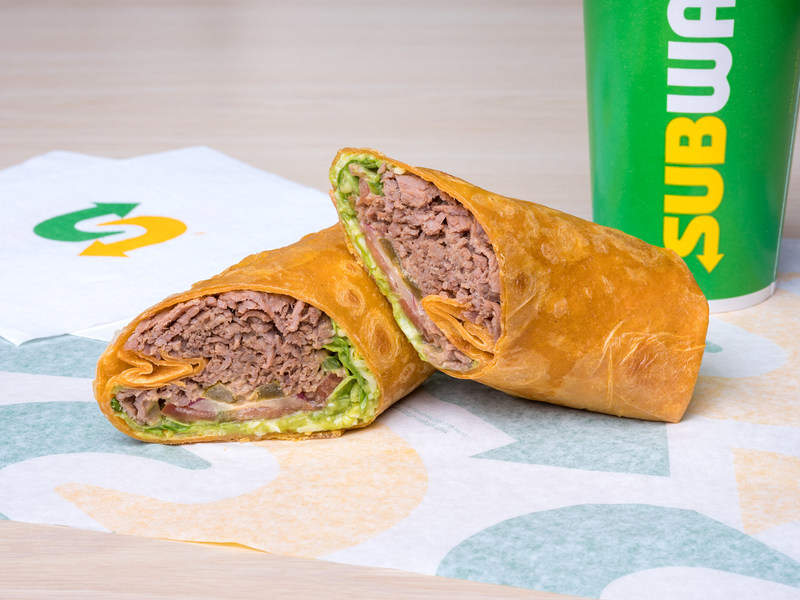 American fast food restaurant chain Subway has added new wrap collection to its menu in the US.
Known as Signature Wrap collection, each of the new protein packed wraps can be called as a 'meal' as they feature twice the amount of meat of an average 6-inch sub, in addition to a combination of veggies, cheese and sauces.
The wrap collection was tested in primary markets across the nation and was initially introduced in Maine, US.
Subway's new wraps include Chipotle Southwest Steak and Cheese, which features savoury steak, shredded Monterey cheddar, lettuce, sliced tomatoes, green peppers, onions, topped with jalapeños, guacamole and spicy Chipotle Southwest sauce in Tomato Basil wrap.
Topped with guacamole and creamy Ranch dressing, Subway's Turkey, Bacon and Guacamole is made with turkey breast, crisp bacon, provolone cheese, lettuce, sliced tomatoes and onions, served on a Tomato Basil wrap.
Folded into a Spinach wrap, the new Savoury Rotisserie-Style Chicken Caesar is filled with hand-pulled Rotisserie-Style Chicken, shredded Monterey cheddar, lettuce and sliced tomatoes, topped with Parmesan cheese and Savoury Caesar sauce.
Guests can have customised wraps with different veggies, cheese, wrapped in Tomato Basil or Spinach at all the Subway locations.
Subway Global Brand Management and Innovation vice-president Len Van Popering said: "Subway is focused on menu innovation as part of its commitment to meeting changing consumer preferences and providing a great experience for the millions of people around the world who visit Subway every day."
The new line-up follows Subway's introduction of Rotisserie-style Chicken in 2016. The brand plans to add new Signature wraps to catering platters and in Subway To Go! Box Meals.
Established by Fred DeLuca and Dr Peter Buck, Subway has more than 21,000 franchisees globally and nearly 44,000 restaurants in 112 countries.