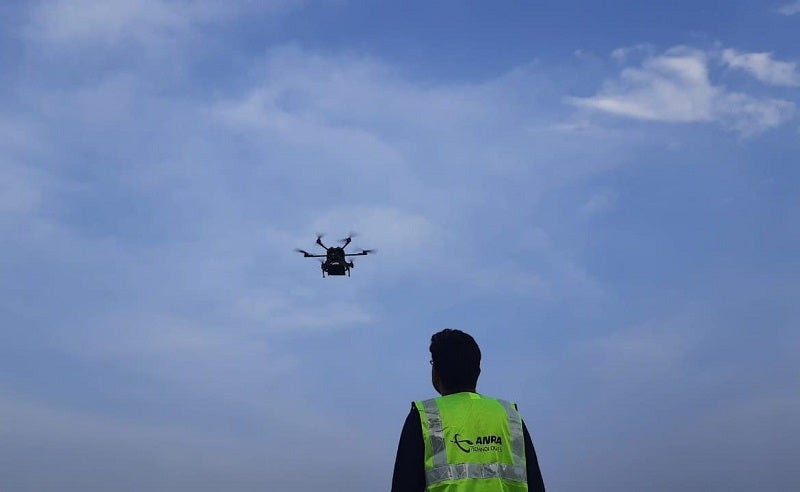 Indian food delivery platform Swiggy and its partner Anra Technologies are ready to begin drone trials for food deliveries in the country.
Anra led consortia secured permission from India's Ministry of Defense (MoD), Directorate General of Aviation (DGCA) and Ministry of Civil Aviation (MOCA) to commence trials for beyond visual line of sight (BVLOS) operations.
Swiggy principal programme manager Shilpa Gnaneshwar said: "With an increasing number of technological innovations taking place to smoothen and fasten the last mile journey, it only becomes natural for us to explore the latest avenues available to maximise the benefit to our consumers.
"We are excited about the potential that drones offer and look forward to the trials on BVLOS operations for the use case of food delivery."
Over the next several weeks, Anra's flight team will use its SmartSkies technology to conduct BVLOS food and medical package deliveries in the Etah and Rupnagar districts in the states of Uttar Pradesh and Punjab, respectively.
Out of the selected participants in the programme, Anra is said to be the only unmanned aerial systems (UAS) technology provider to get approval from the Government of India MOCA to lead two consortia as part of this initiative.
The first consortium, which will focus on food delivery, includes Anra Technologies, along with Swiggy, the Indian Institute of Technology, Ropar (IIT Ropar) and BetterDrones, a drone service provider.
The second one will focus on medical deliveries and is comprised of Anra Technologies and IIT Ropar.
Anra Technologies founder and CEO Amit Ganjoo said: "Anra's deep roots in India and my personal family ties make me especially proud to have contributed to this historic moment for India, government stakeholders and our partners.
"Knowing our technology may soon help deliver food and medical packages to underserved populations are what motivates and unifies our team."