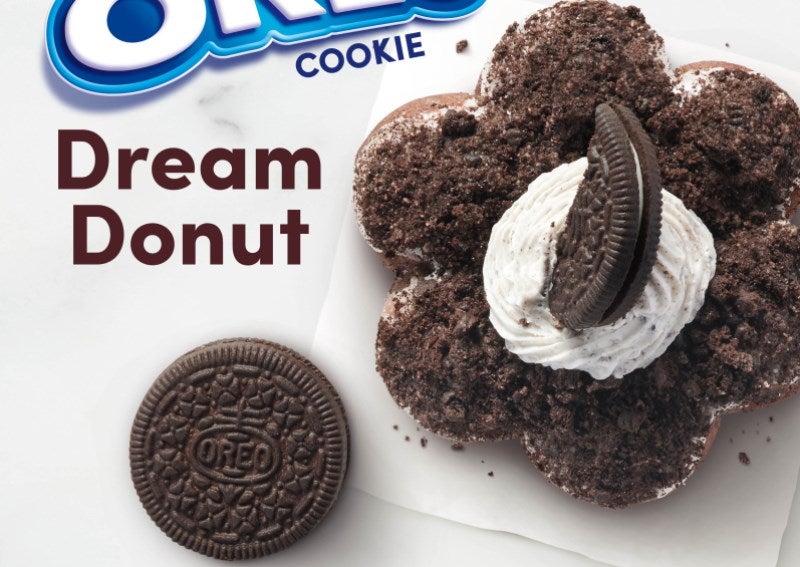 Tim Hortons has launched new Dream Donuts, a line of handcrafted, decadent doughnuts, in its US restaurants.
The Dream Donuts line includes OREO Cookie, Chocolate Truffle and Strawberry Confetti.
According to the company, the line will serve as a treat for taste buds with premium fillings and creative toppings. Furthermore, the doughnuts are handcrafted by bakers in restaurants.
Inspired by flavour combinations, Dream Donuts complement the Tim Hortons classic doughnuts.
OREO Cookie Dream Donut is a cookies-and-cream style doughnut that comes with OREO cookie pieces and a vanilla fluff icing swirl on white fondant. It is topped with an OREO cookie half.
OREO and the OREO wafer design are trademarks of Mondelez International group and Tim Hortons is using them under license.
Chocolate Truffle Dream Donut is a chocolate doughnut that is cut in half and then filled with whipped chocolate. It is topped with a chocolate ganache and mini chocolate chips.
Strawberry Confetti Dream Donut is a doughnut dipped in strawberry fondant and completed with a pink icing swirl and coloured confetti sprinkles.
Tim Hortons US regional president Ricardo Azevedo said: "Tim Hortons has been bringing guests the classic doughnuts they love for generations, but our guests are also actively seeking premium doughnuts with speciality ingredients.
"Our new Dream Donuts meet that next level of doughnut deliciousness, particularly with a cookie favourite like OREO."
The brand is also introducing Iced Cold Brew and Vanilla Cream Cold Brew.
Tim Horton's Cold Brew is steeped in-house for 16 hours. It uses its 100% premium Arabica beans for a rich and smooth texture and taste.
Vanilla Cream Cold Brew has a touch of vanilla flavour to add sweetness to the creamy beverage with a dramatic look.
Dream Donuts are priced at $1.99, while Cold Brew beverages start at $2.39 at participating US restaurants. The price and participation may change based on the supplies.
Canada-based Tim Hortons has over 4,800 restaurants in Canada, US and around the world.