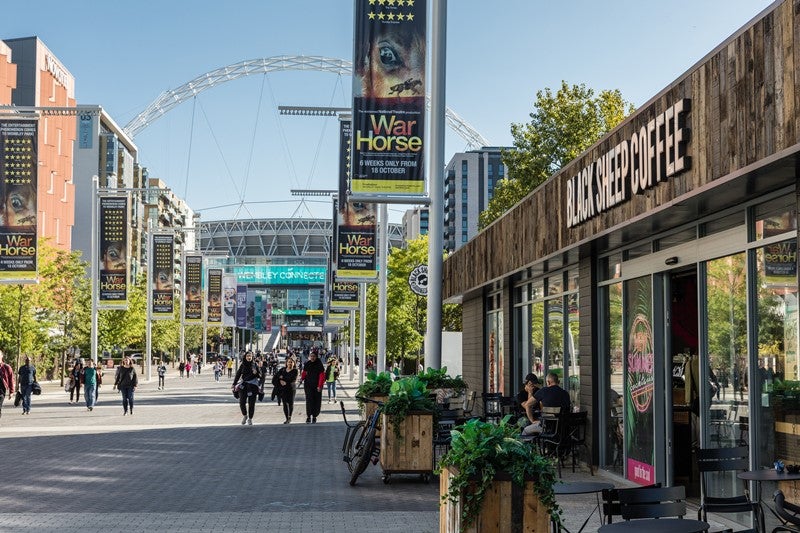 Brent Council in the UK has given approval to Quintain's plans to expand outdoor seating across Wembley Park, more than doubling the alfresco dining space.
Quintain plans to reopen the Wembley Park dining offer from 4 July and follow the government's new guidelines.
Working closely with Brent Council and its food and beverage tenants, the developer has agreed to a strategy to create an alfresco dining destination in the 85-acre estate.
Furthermore, bench seating will be installed to enable visitors to enjoy socially distanced takeaways from several of the food and beverage operators.
Quintain retail director Matt Slade said: "After three months of closure, this is an incredibly important time for our restaurants, as well as our local community. We are committed to providing a full range of community services in addition to a world-class retail, dining and leisure offer.
"This commitment is reflected in our work with Brent Council to more than double the provision of outdoor dining across the estate. This will significantly help to support our tenants in reopening and welcoming back their loyal customers within the social distancing and government health and safety guidelines."
Wembley Park's food and beverage offer includes a spectrum of artisan independent, local and major operators, many of whom have adapted their offer so that visitors can maintain social distancing.
Pasta Remoli will run a click-and-collect model, where visitors would be encouraged to order through a scannable QR code to restrict queuing.
Furthermore, the restaurant has deployed retractable glass screens throughout.
London's largest Boxpark, Bread Ahead and Black Sheep will expand their outdoor seating provision.
Furthermore, hairdresser ChopChop and MoreYoga are also due to reopen on 4 July with the government easing restrictions on leisure operators.
Quintain's £3bn transformation of Wembley Park is considered to be one of the largest urban developments currently underway in Europe.
With more than 500,000ft² of retail and leisure space, it features a range of independents and major brands, spaces for start-ups and artists' studios and social spaces.