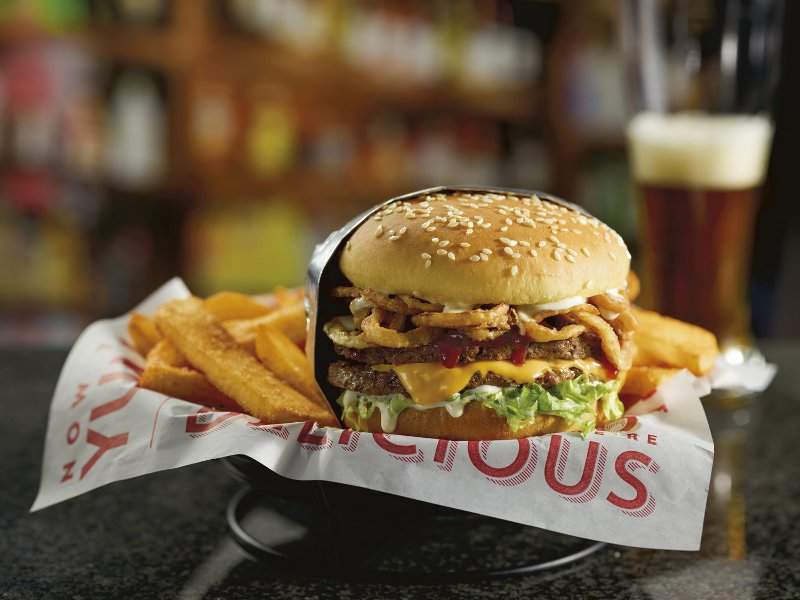 American chain of casual dining restaurants Red Robin Gourmet Burgers and Brews has added new burgers and milkshakes to its menu.
Available at all Red Robin restaurants nationwide from now 24 June, the two new limited-time burgers are Cowboy Ranch Tavern Double and The Grand Brie.
Cowboy Ranch Tavern Double is a southern-inspired burger that features two fire-grilled patties, topped with bourbon-infused Whiskey River BBQ Sauce, ranch, crispy onion straws, American cheese and lettuce on a sesame seed bun.
The second burger, Grand Brie, is an award-winning burger from the 2017 South Beach Wine and Food Festival. It features a fire-grilled, half-pound Black Angus burger with melted Brie cheese, balsamic fig jam, crispy bacon, fresh arugula and mayo on a brioche bun.
Red Robin senior vice-president and chief marketing officer Dana Benfield said: "Experimenting with new flavours and pushing burger boundaries is what defines Red Robin.
"The addition of the Cowboy Ranch Tavern Double and The Grand Brie showcases our menu innovation and versatility at both ends of the spectrum, from our value-focused Tavern menu to our elevated Finest menu!"
The new milkshakes added to Red Robin's existing line-up are Chocolate Hazelnut Bliss and Silver Spoon S'mores.
In addition, the chain has added a new appetizer called the sweet and spicy Island Heat Wings, featuring crunchy all-white chicken wings tossed in sweet mango chilli sauce, topped with seared pineapple, fresh jalapenos and minced parsley and served with Yukon kettle chips.
Among its new additions are a Strawberry Basil Lemonade, a Strawberry Basil Margarita and White Spanish Sangria.
Red Robin was founded in 1969 and also serves a range of salads, soups, appetizers, entrees, desserts and signature beverages.
The chain operated over 560 Red Robin restaurants across the US and Canada, including Red Robin Express locations and those operating under franchise agreements.