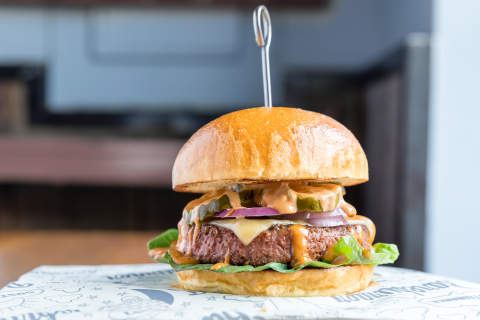 American burger chain Bareburger has added Beyond Meat's plant-based meat option, Beyond Burger, to its menu.
The launch of Beyond Burger, which is now available at all 38 locations of Bareburger across the nation, boosts Beyond Meat's presence at national restaurants and non-retail partners.
Claimed to have less saturated fat and fewer calories, the plant-based meat option is expected to meet the consumer demand for vegan-friendly protein based offerings.
Beyond Meat CEO and founder Ethan Brown said: "Adding The Beyond Burger to Bareburger's menu answers the rising consumer demand for healthier, plant-based menu options that deliver on taste and satisfaction.
"Enabling more consumers to Eat What You Love, our partnership couples the health and environmental benefits of plant-based foods with Bareburger's commitment to serving sustainable and delicious food options."
The new menu offerings at Bareburger includes charbroiled Beyond Burger patty, vegan American cheese, sweet pickles, red onion, green leaf lettuce and special sauce on a brioche bun.
Customers who prefer vegan-friendly menu can order multigrain bun without special sauce or can customise using The Beyond Burger patty under the "Be My Burger" section on their menu.
Bareburger CEO Euripides Pelekanos said: "At Bareburger we are committed to offering consumers their favourite food while being mindful about the sustainability and origin of these products.
"The Beyond Burger not only delivers on the taste, texture and look of meat but offers the environmental and health benefits of plant-based foods."
Claimed to be packed with more protein and iron than beef, Beyond Burger is sold in meat case at more than 5,000 grocery stores across the nation, including Kroger, Albertsons Companies, Stop & Shop, Shaw's, Jewel Osco and Whole Foods.
The plant-based product is also offered in more than 19,000 retail outlets, over 6,000 restaurants, hotels and college campus dining halls.
Established in 2009 in New York, Bareburger has 44 locations in five countries.