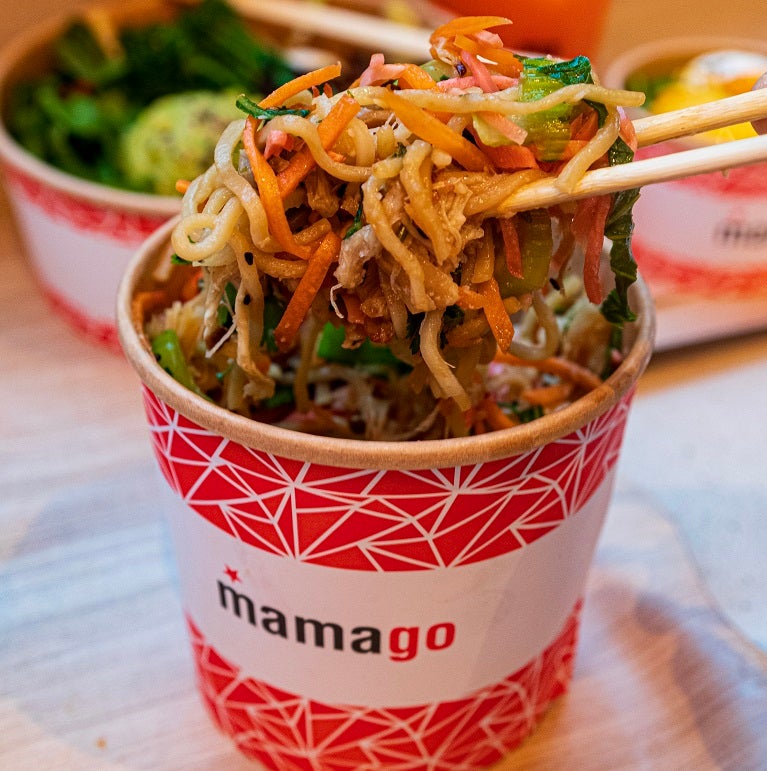 British restaurant chain Wagamama has launched its new grab and go food concept 'mamago' in London today.
The sister brand opened its first outlet after a year of developing and designing the store. Inspired by travels across Japan, the Wagamama team created its menu with a focus on fresh food.
After trialling the new initiative at its test restaurant 'Noodle Lab' in Soho in Noodle Lab, chefs incorporated customer feedback to improve the restaurant.
mamago focuses on being environmentally friendly by ensuring that shop finishes are recycled or upcycled and their products are in PLA packaging, which is made from compostable materials.
Wagamama design director Mark Standing said: "We worked hard to make sure we used as many recycled, sustainable or up-cycled materials as possible, in line with our environmental beliefs. The tables, for instance, were 'up-cycled' from one of our core Wagamama restaurants following a recent refurbishment. We're thrilled with the result and can't wait to see what our guests think of the entire proposition."
Another key focus for the grab and go store is being vegan-friendly, incorporating some dishes from Wagamama, whose chefs created several plant-based dishes including the world's first vegan egg.
Wagamama executive chef Steve Mangleshot said: "All the dishes have been developed with health in mind which means they there is no guilt to eat at mamago every day for breakfast and lunch.
"I have taken inspiration from my travels to Japan when developing these dishes. In Japan, so much of the food is designed to be eaten on the go and we have always wanted to bring some of those ideas back here."
Wagamama is known for using technology to improve the customer experience, with mamago incorporating kiosk ordering to speed up the grab and go experience. Similarly, Wagamama launched a 'world-first' payment app earlier this year named 'Wagamamago' to enable UK diners to order, eat and leave.