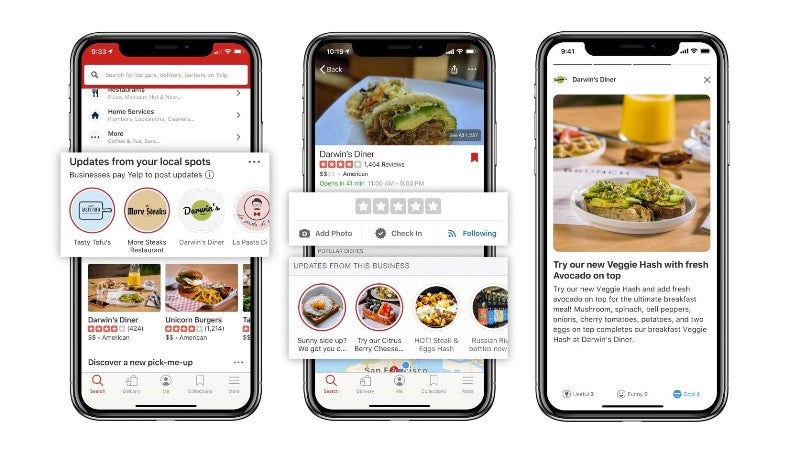 US-based firm Yelp has announced new restaurant solutions to better reach diners and save consumers time.
The company said consumers can now receive updates directly from their favorite local restaurants with Yelp Connect and new Waitlist features help them plan life better.
The two features are expected to drive diner traffic and customer loyalty to restaurants on the platform.
Yelp Connect allows restaurant operators to promote themselves through new menu items, happy hour specials and upcoming events on their own terms, and capture the relevant customers.
The feature also allows restaurant chains to have full control on their promotions such as setting end dates for posts about limited-time offerings.
Offered at $249 per month, Yelp Waitlist offers 'Predictive Wait Time' and 'Notify Me' features enabling restaurants to enhance front-of-house operations, as well as allows customers to plan their next restaurant visit.
Predictive Wait Time provides information on suitable times to dine out based on actual restaurant wait time data.
The Notify Me feature allows customers to join the Waitlist for their desired restaurants by scheduling a reminder on Yelp.
Customers will be notified to join the Waitlist depending on the size of their party and the comfortable time to dine out.
Yelp Restaurant Marketplaces general manager Devon Wright said: "Yelp Connect and Waitlist have helped us become an integral partner to restaurant owners as we evolve from a business discovery platform to a destination where consumers not only discover, but also interact and transact directly with businesses.
"We're focused on helping restaurants build stronger relationships with customers by extending our products across the diner journey, everything from finding a restaurant, getting seated, writing reviews and staying connected afterwards."
Last year, Yelp added Yelp Kiosks and On My Way products and features in a bid to help restaurants streamline their digital and physical management processes.
In March 2018, online and mobile food ordering company Grubhub integrated its restaurant network onto the Yelp platform.