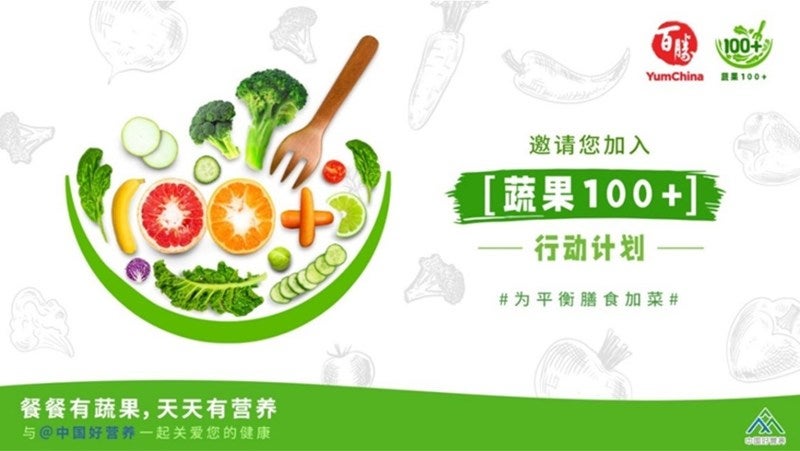 Yum China Holdings, a licensee of Yum! Brands in mainland China, has launched a new campaign to promote balanced diets and healthy lifestyles.
Beginning 13 September, Yum China is offering its customers more fruit and vegetable options at more than 6,000 KFC, Pizza Hut and Taco Bell stores in the country, gradually expanding to other stores at a later stage.
Under the Fruit and Vegetables 100+ programme, which is the key component of the campaign, customers are encouraged to add at least 100g of fruit and vegetables to their meals.
Yum China said that its KFC, Pizza Hut and Taco Bell restaurants in China are also rolling out a series of new and updated fruit and vegetable-based products.
The company will also use its digital platforms to raise public awareness on nutrition and healthy eating.
It is upgrading product offerings with new food innovations, creative ingredient combinations and the incorporation of multiple cooking methods.
The restaurant company said that the new campaign has been designed to support the recommendations listed in the National Health Commission's Dietary Guidelines for Chinese Residents.
According to the guidelines, an adult in the country is required to consume between 300g and 500g of vegetables every day to maintain a balanced diet.
The company claimed that it has been sharing nutritional knowledge on tray liners in KFC restaurants across the country and this knowledge has 'reached' more than 140 million customers in the past six years.
Earlier this month, Yum! Brands unveiled its global cage-free egg policy, which was based on its earlier pledge to offer 100% cage-free eggs for the US, Western Europe and other markets.
The new policy was part of Yum! Brands efforts to improve animal welfare throughout its supply chain.