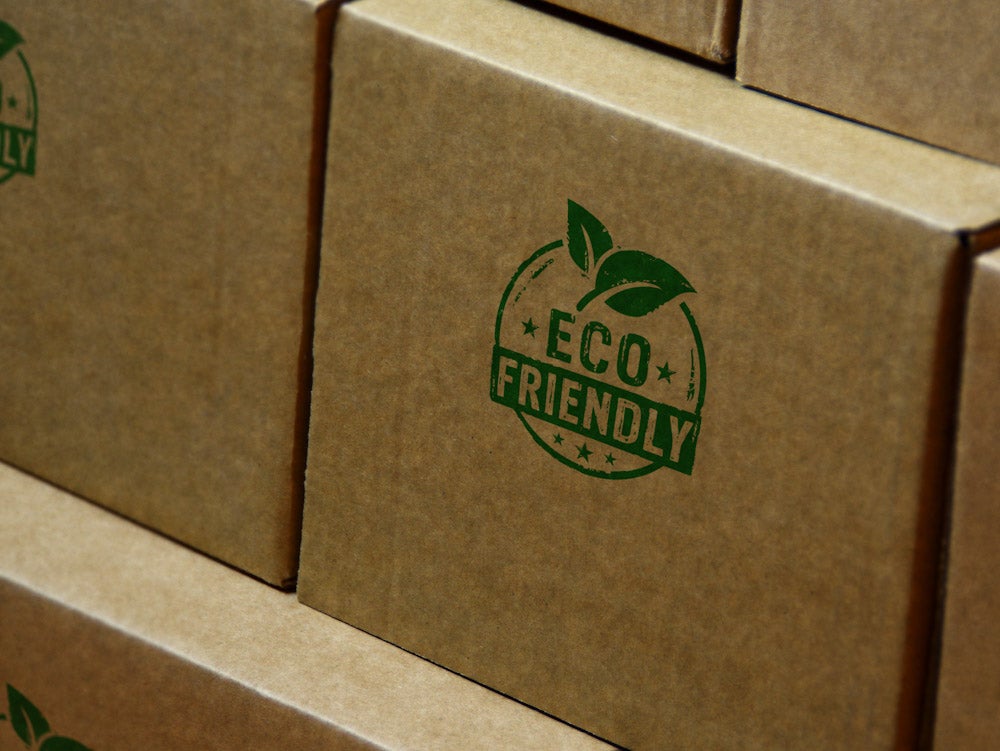 Mineral oil-free inks are gaining international recognition as a safer option for use on food packaging than the widely used mineral oil-based alternatives. Alongside increased safety for consumers, mineral oil-free inks are also considered better for the environment and more compatible with the circular economy.
One of the main concerns with existing materials used for inks is migration. Mineral oil hydrocarbons (MOHs) and saturated mineral oils (MOSH) inks can migrate from food packaging into the contents, contaminating items eaten by consumers and presenting considerable health hazards.
When these chemicals get into the body, studies have shown how they may cause mutations in DNA. Furthermore, there is evidence that mineral oil aromatic hydrocarbons (MOAH) used in printing inks can even promote the growth of cancerous tumours.
"Mineral oils in packaging have a tendency to migrate into the food through various routes like diffusion or set off, which may not only affect the taste of the product but may also have an adverse impact on health," explains Dr J.K Raghav, Vice President Technology of Sheetfed and Global UV Projects at Siegwerk, a specialist provider of sustainable inks and coatings.
Given the potentially severe impact on human health, it is perhaps surprising to learn that inks containing MOHs, MOSH, and MOAH remain widely used around the world. While some countries such as France have introduced bans and the European Union is set to impose severe restrictions soon, the use of these potentially hazardous inks on food packaging is widespread in other parts of the world.
However, risks are not limited solely to food packaging. Harmful inks on non-food packaging can still end up on human hands and may find their way into the body.
A further issue is when packaging containing mineral oils is recycled. Within the circular economy, deinking is an essential step for reusing packaging. However, if MOHs, MOSH, or MOAH inks are removed in a hot washing process during recycling, it raises a further challenge in disposing of them safely and risks harmful substances leaking into the environment.
To address many of these issues, mineral oil-free inks are emerging as a viable solution – and there are considerable performance advantages.
Sustainable inks for the circular economy
The solution to mineral oil-based inks is to substitute harmful substances for safer alternatives. Yet progress can be slow in the packaging industry when it comes to changing known processes or materials with the added costs.
To get ahead of the curve, Siegwerk has been the first company to completely re-engineer its entire ink portfolio to be "Mineral-Oil Free".
Produced from Siegwerk's plant in Bhiwadi, the VEGA range of inks uses vegetable oil derivatives to replace mineral oil materials, dramatically reducing the health risks of ink migration from packaging into food.
"Not only is there no mineral oil in these inks, these new inks also have a higher percentage of renewable content. Therefore, it is supporting the circular economy," says Dr Raghav.
Yet the costs of mineral oil-free inks are slightly higher than inks that contain mineral oil. However, Dr Raghav explains how the VEGA range offers improved performance in terms of printing quality and productivity, requiring less ink for processes to help reduce costs. Furthermore, the VEGA range can achieve printing speeds of 16,000-18,000 impressions an hour.
According to Dr Raghav, these mineral oil-free inks provide enhanced print sharpness and gloss than mineral oil-containing equivalents. In addition, the VEGA range inks have faster drying times, along with improved levels of mechanical resistance, and negligible issues from scratching or rubbing.
"Mineral oils tend to evaporate or penetrate the substrate, whereas mineral oil-free inks remain on the substrate. Therefore, less ink is required, drying is faster, and it provides the ability for the customers or converter to run at high speeds in production," adds Dr Raghav.
Siegwerk also plans to launch its mineral oil-free VEGA inks in other markets such as South East Asia and Latin America.
"By converting the entire product range to mineral oil-free, Siegwerk demonstrated its commitment to consumer and worker safety," comments Dr Raghav. "We also believe this product has increased awareness about the negative impact of mineral oils."
A new focus on sustainable packaging in India
There has been a historic perception that recycling in parts of Asia is not always as high on the agenda as in Europe, for example. Yet there has been significant progress in India in recent years, with an increased awareness surrounding food safety and sustainability in packaging.
India has banned single-use plastics in disposable items and has also brought in Extended Producer Responsibility (EPR) schemes, alongside plastic waste management regulations. There are also increased requirements for more recycled materials to be used in packaging.
"Government and regulatory bodies are getting more active especially in the space of recycling and circular economy as waste management becomes a big challenge in Asia," adds Dr Raghav.
And in the recycling industry, businesses and entrepreneurs in India are realising that there is money to be made.
"It is becoming a business stream now. Before, it was just a problem that had to be solved. But it's becoming a revenue opportunity, which is where I think we will see many more people getting into this as a business," explains Benita Paul, Siegwerk's Head of Marketing – Asia.
Despite the progress, there is still much further to go towards establishing the circular economy globally and making packaging safer. Benita Paul says she would like to see a greater focus on safety for consumers across all packaging segments.
"[The packaging industry and governments] still don't focus enough on consumer safety. We need to be concerned about what we put into the inks and that's where mineral oil-free is really a step forward in the right direction," she says.
"Packaging should not be something to be worried about when you're eating or when your child is handling a toy, or whether they're putting it in their mouth."
In addition, Ms Paul urges more brands and converters to follow Siegwerk's lead and take action to improve safety in packaging products instead of waiting for governments to introduce new regulations. "All kinds of packaging need to be safe, and inks are a very important part of that," she adds. "We eliminated mineral oils from our inks, and I think everyone should make similar moves to be more responsible."