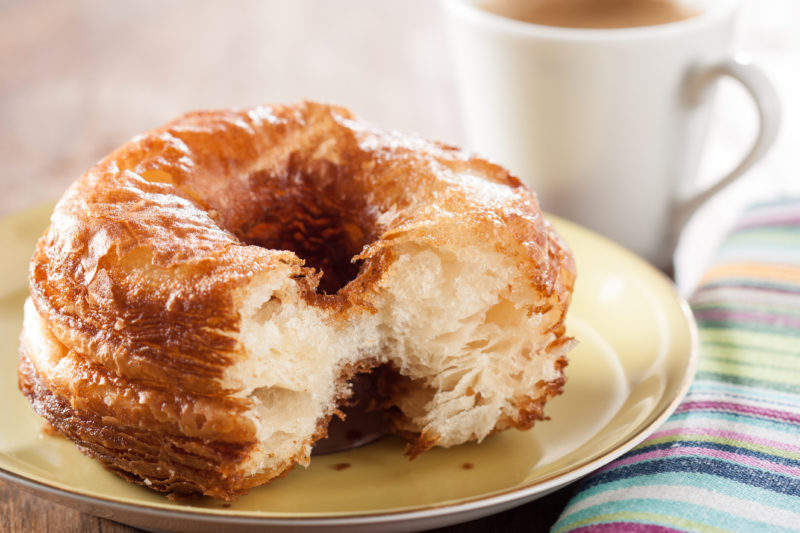 Recently in China, more and more people are sharing pictures of themselves on Weibo and WeChat with their face, fingers and teeth covered in chocolate after eating the calorie-rich 'dirty bread'. Food has served a purpose of adding an interesting twist to social media photos, but does that mean consumers are now willing to sacrifice health for more 'likes'?
The 'dirty bread' concept originated from a local bakery in Beijing called Bad Farmers & Our Bakery. It is a chocolate croissant made with a large amount of chocolate and cream, and covered in cocoa powder to create a 'dirty' appearance of the bread, a messy eating experience, and chocolate stains after eating, hence having the word 'dirty' in the name.
Since its debut, the bread has created huge internet hype in China. Not only was it named 'one of the most popular baked goods in China in 2017' by CGTN (an English-speaking channel in China), but it also keeps trending into 2018 as one of the most popular mentions on Weibo.
Bakeries across China continue to witness long queues of consumers waiting to order 'dirty bread' on a daily basis, as the pastry is only available at limited hours every day. Many consumers, particularly young women, post pictures of themselves online after eating the bread, with stains all over them to show off their playful and fun-loving nature.
The new 'cronut'
There are a couple of similarities between the rise of 'dirty bread' and the so-called 'cronut craze' that began in 2013. Both are available for only limited times during the day to highlight their rareness; and both contain a shocking amount of calories and sugar. The Cronut is a combination of high-calorie donut, croissant and vanilla cream; whilst a butter and chocolate-rich 'dirty bread' allegedly has more than 400Kcal, equivalent to two bowls of boiled white rice. The high-calorie content also makes both mega-indulgent treats that are going away from the mainstream health trend.
But the most unique selling point of 'dirty bread' remains to be the 'dirty' feature, which is the key element to creating an attention-grabbing, instagrammable picture.
Wow factors turn ugliness into sales, but unlikely to last long
The question has been raised as to why an anti-trend product such as 'dirty bread' has gained such widespread popularity – it is unhealthy, inconvenient, and messy to eat. But it answers one important need that is shared by hyper-connected millennials and Gen Z – the desire to seek attention by being non-conformist and deviating from norms.
However, as soon as the initial hype is gone, such an offering is unlikely to sustain its demand in the long term due to the negative health impact. In Q3 2016, when GlobalData asked Chinese consumers aged 18-24 what factors had the most influence on their food product choice, there were significantly more people choosing health and wellness (23%) than sensory benefits (5%). This means health remains to be a priority when it comes to food choices over experience.
In other words, an instagrammable or WeChat-worthy food may be sufficient to entice consumers to experiment in the first place. But to make it a longstanding trend rather than a short-lived fad, it is vital to make sure that the offering is aligning with more important consumer needs.