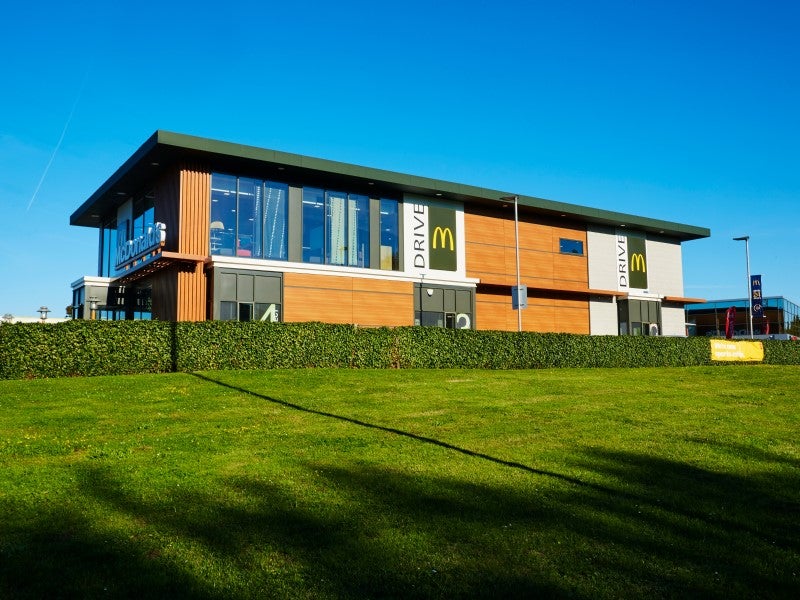 McDonald's announced it wants to achieve net-zero emissions globally by 2050.
McDonald's, which currently operates around 1,400 restaurants in the UK, announced it will open its first 'net-zero' restaurant in Shropshire, UK, in November 2021. This is as part of its ambitious Plan for Change programme, aiming to cut greenhouse gas emissions across its restaurants, offices, and supply chains in the UK and Ireland by 2040.
The new UK restaurant will be the blueprint for all McDonald's new-build branches, supporting the company's target to revamp everything, from the beef in its burgers to furniture in restaurants. Several sustainability-oriented improvements will be introduced in four key areas: planet, people, restaurants and food.
The new blueprint venue will be stocked with vegan plant-based food, and customer packaging will be compostable and made from renewable, recycled or certified sources. From 2023, all new furniture in McDonald's sites will be made with recycled or certified materials and designed to be recycled or reused when no longer needed.
McDonald's UK and Ireland has already made changes to improve its sustainability metrics, including using only renewable electricity in its restaurants, turning cooking oil into fuel for its delivery trucks, and rolling out electric vehicle charging stations. Additionally, Happy Meals now only contain a soft toy, book or paper-based toy, removing more than 3,000 metric tons of plastic from circulation. The company is also recycling more than one million Happy Meal toys to create children's playgrounds across the UK.
Globally, McDonald's wants to reach net-zero emissions by 2050. The company's announcement follows a similar pledge from Yum Brands (which owns KFC, Pizza Hut and Taco Bell), Chipotle, Domino's, Restaurant Brands International (owner of Burger King and Popeyes) and Wendy's, which also aim to achieve net-zero emissions by 2050.
Betting on vegan food and beverages to help meet sustainability goals
McDonald's is one of the largest beef purchasers in the world. Roughly 80% of its total emissions come from its supply chain, particularly its use of beef, chicken, dairy and other proteins.
One of the largest sustainability changes that McDonald's has made so far is the launch of its vegan McPlant burger. Developed in partnership with Beyond Meat, the new vegan burger was first tested in a few European countries, including Sweden, Denmark and Austria. Last month it landed at select locations in the UK and will make its way across all UK and Ireland restaurants in 2022.
McDonald's plans to offer more vegan plant-based food and drinks in the future. Earlier in 2021, the company announced that it had entered a three-year partnership with Beyond Meat. Under the McPlant platform, it aims to develop plant-based chicken, pork and breakfast items, the specifics of which are all determined by local palettes and demands.
Globally, McDonald's operates 37,000 restaurants in more than 120 countries and serves 60 million customers daily. While McDonald's UK and Ireland has made the greatest progress when it comes to vegan menu updates, the chain's North American stores have also tested plant-based options in recent years.