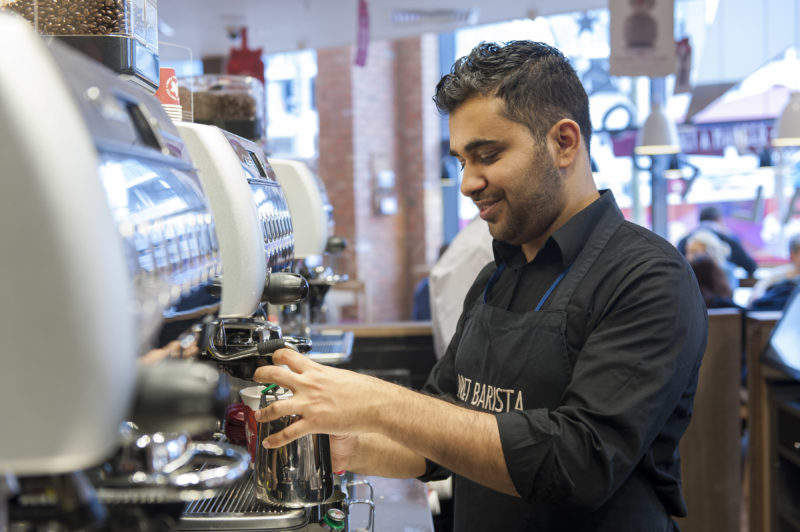 Coffee giant JAB Holdings has announced the purchase of a majority stake in Pret A Manger in a deal reportedly worth £1.5 billion. The company, a vehicle for the investments of the extremely private Reimann family, owns a vast network of coffee and restaurant brands, largely as a result of purchases and acquisitions it has made over the last five years.
Whilst Pret's purchase may offer obvious benefits for a brand which has at times been criticized for the quality of its coffee offering compared to its competitors, there is a very real risk of the purchase having a negative impact on Pret's ability to be flexible and responsive, which has been crucial to its continued success. This is especially true due to JAB's ownership of Panera Bread and Au Bon Pain, which are the closest, established analogues to Pret in the US market, where the chain will be looking to expand aggressively over the coming years.
JAB's dominance arose out of a rapid succession of purchases starting with their purchase of D.E. Master Blenders 1753. This paved the way for a merger with Mondelez International, which gave rise to Jacobs Douwe Egberts, one of the world's largest coffee companies. Along with the purchase of Keurig Green Mountain in January 2018, the company also purchased Dr. Pepper Snapple in a deal reportedly worth $19 billion, giving the company a number of strong soft drinks brands and a sprawling distribution network to add to its portfolio.
Parallel to this, JAB has invested in a number of smaller coffee brands in the US such as Peet's Coffee, among others. However, the company took its biggest step into the foodservice market with its $7.2 billion takeover of Panera Bread in 2017, supplemented with the company's purchase of Au Bon Pain later in the year.
It will take time to see JAB's plans unfold, however it is expected that we will see Panera Bread continue to offer a fast-casual experience while Pret a Manger will continue to focus on grab n' go sandwiches and soups, keeping the two fairly out of competition with one another for the time being. However, for Pret's continued success, it is important that the brand continues to be free to operate independently, to experiment with offering and try new approaches, as was seen with Pret's veggie shops. It also remains to be seen whether or not JAB will attempt to apply a franchise model to Pret, in line with its other restaurant brands, which could affect its historically good relationship with its employees.
Similarly, it is unclear if JAB plans to leverage its distribution networks, coffee suppliers, or soft drinks brand to supplement or replace Pret's offerings, all of which may negatively impact Pret's brand and model. For the time being, though, it appears as though it will be business as usual for Pret, despite the change in ownership.
https://www.globaldata.com/store/report/cs0053fs–united-states-us-the-future-of-foodservice-to-2021/