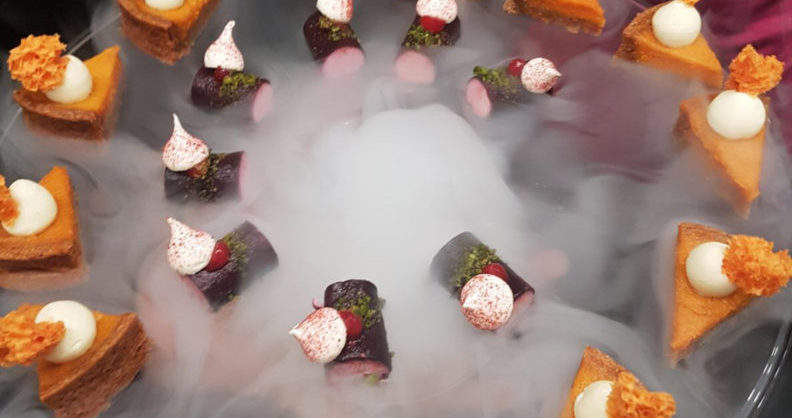 Kidulthood, texture, the evolution of water and back to nature were the standout food trends projected by food futurologist Dr Morgaine Gaye and tasted by guests at H+J's Trend Talk client event.
The Trend Talk, held recently at the IET London: Savoy Place, was the second instalment of the caterer's series of events designed to highlight and explore future food trends.
Dr Gaye's presentation aimed to give guests an insight into the current and upcoming trends shaping what we eat.
"These are driven by a number of factors, including socio-cultural, such as the increasing number of adults living in the parental home, and a continual desire to push the boundaries and seek new excitement in the most basic of needs – sustenance," she said.
Dr Gaye continued: "I was delighted to be able to take part in this exciting event and share my findings on the future of food.
"Food is a complex topic and involves society, behaviour, geo-politics, culture, beliefs, history, trends, fads, art, marketing, sensorial perceptions, biology and, well, almost everything.
"I don't look into crystal balls, but I do give people a well-researched glimpse of what we can expect in the coming years, what's driving change and how we can perhaps plan ahead."
Guests at the event were offered an innovative menu that reflected the latest food trends, as well as some predicted ones.
An aroma station demonstrated the strong connection between taste and smell and how one can affect the other. It featured pairings such as oysters with passion fruit scent and blue cheese mousse with pineapple aroma.
Renowned forager Miles Irving's table of native edible plants highlighted the 'back to nature' movement, while the baked Alsaka bar tapped into the 'kidulthood' trend, allowing guests to personalise their pudding pops with chocolate pearls, hundreds and thousands and sweet sauces.
Patrick Harbour, managing partner of Harbour & Jones, which owns H+J, added: "We are all about being adventurous and original so it's great to be able to showcase our innovative work and give people an insight into the future of food through our Trend Talk.
"There's always a need for new and exciting concepts and we pride ourselves on being at the forefront of creativity, pushing the boundaries to create food that tastes delicious and will be sustainable in the future. Dr Gaye's presentation gave us plenty to think about.
Harbour continued: "Following the success of our first Trend Talk, which looked at how technology is transforming the retail experience, it's great that so many people joined us for this second fascinating instalment.
"Feedback tells us that our clients and guests find the events valuable and we look forward to continuing the series with another thought-provoking talk in the near future."
Related feature
Cost Sector Catering December issue
https://secure.viewer.zmags.com/publication/50010026#/50010026/30