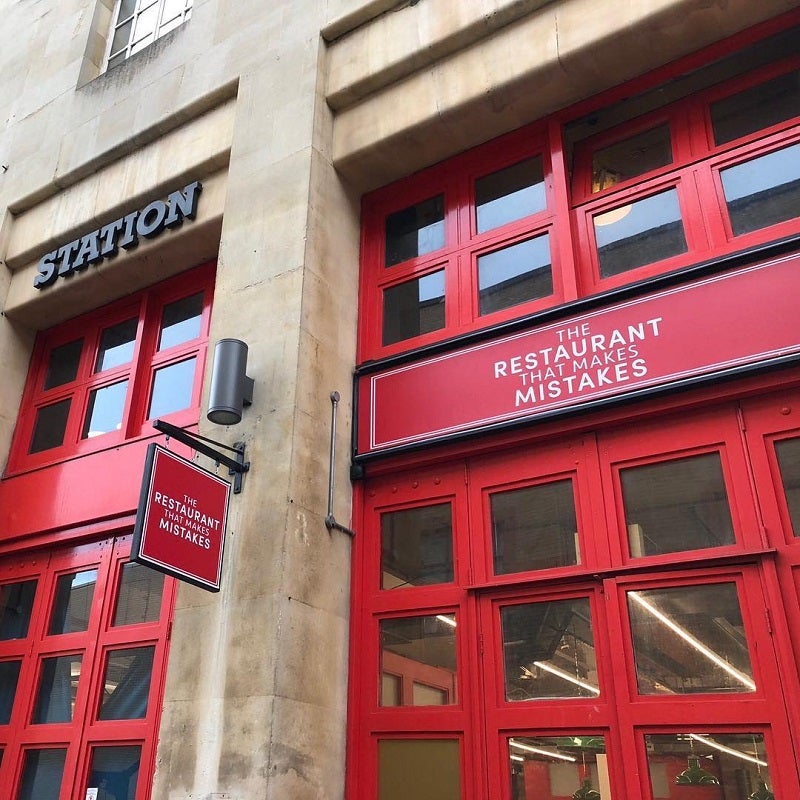 Michelin-starred chef Josh Eggleton took on the challenge of opening the UK's first restaurant where all employees live with dementia in the Channel 4 documentary The Restaurant That Makes Mistakes'. The programme looks into how 14 people diagnosed with various forms of dementia can interact and work in the world.
The inspiration for The Restaurant That Makes Mistakes came from a pop-up restaurant that opened in Tokyo in 2017 with an accompanying TV show. Known as 'The Restaurant of Order Mistakes', the Japanese TV director wanted to generate more awareness and change public opinion about the condition.
In the UK someone is diagnosed with dementia every three minutes. There are currently 850,000 people living with the condition in the UK and over 42,000 of them are under the age of 65, while only 18% are still working after their diagnosis.
The Restaurant That Makes Mistakes employed 14 volunteers each living with a different form of dementia including Alzheimer's, frontotemporal dementia, vascular dementia, Parkinson's and frontal-temporal dementia. One 23-year-old tested positive for the gene Pick's disease, a rare brain disorder that causes early dementia, and wanted to see what his future might hold.
Under the supervision of Eggleton and dementia- trained Chef Matt Dodge, the restaurant opened in Bristol for five weeks at the end of last year, to destigmatise dementia and show how people living with the condition are affected in the working world.
Dementia is the UK's biggest killer, with the disease predicted to affect one million people in the UK by 2025. The Restaurant That Makes Mistakes hoped to show businesses in the UK that people with dementia are still employable and able to work.
🍽 THE RESTAURANT THAT MAKES MISTAKES 🍽 Wednesday 12th June ⏰ 9pm @channel4 📺 #RestaurantMakesMistakes pic.twitter.com/h53WquJrpt

— The Restaurant That Makes Mistakes (@TRMakesMistakes) June 4, 2019
Hoping for a positive change
Channel 4 head of features and formats Sarah Lazenby said: "A dementia diagnosis doesn't and shouldn't mean the end of a career. This poignant and timely project aims to open the eyes of employers to the importance of keeping those who live with dementia in work by boosting their confidence and independence."
Motion Content Group executive producer Martin Oxley said: "With an ever-ageing workforce dementia in the workplace will become a fact of life for so many of us in the years ahead and Motion is delighted to be involved in such an important examination of this issue, in the form of such an innovative format."
CPL Productions creative director Murray Boland said: "We are thrilled to be working with Channel 4 on another ground-breaking series which we hope will make a significant contribution to the national conversation about living and working with dementia."
Bravo to all the volunteers indeed! They are, as you say, completely remarkable. The whole project was a total eye opener and the volunteers were incredible https://t.co/v4hGt4PGpZ

— The Restaurant That Makes Mistakes (@TRMakesMistakes) June 26, 2019
Support from The Alzheimer's Society
Alzheimer's Society chief executive Jeremy Hughes said: "In the UK someone develops dementia every three minutes, but life doesn't end when dementia begins. The Restaurant That Makes Mistakes is a fantastic example of that – showing what is possible when people understand how best to include and support someone living with dementia.
"There are 850,000 people in the UK who live with dementia and our recent research shows that many feel isolated and lonely. A huge part of the show involves empowering people with dementia to live the life they choose, as well as raising awareness of the condition among employers and the wider community.
"The Restaurant That Mistakes is a ground-breaking initiative, challenging stigma and misconceptions about dementia, showing that with the right support and small adjustments, many people with dementia can continue to contribute and be valued members of their communities. We now need to keep this momentum going by moving forward in our mission to create a dementia-friendly society, where individuals, business and communities are all making the necessary adaptions to help people with dementia feel welcomed, accepted and able to contribute to society."
We definitely agree with @josh_eggleton here – one of the best bits about #RestaurantMakesMistakes is seeing all of the volunteers pulling together, helping each other out and looking out for everyone else around them ❤️ https://t.co/qBh0XBKGyz

— Alzheimer's Society (@alzheimerssoc) June 26, 2019
What is dementia?
Dementia describes a group of symptoms associated with a decline in memory or other thinking skills that are severe enough to decrease a person's ability to perform everyday skills. Of all dementia diagnoses, 60-80% are Alzheimer's disease and the second most common type is vascular dementia that usually occurs after someone has suffered a stroke.
Dementia can impair memory, communication and language, ability to focus and pay attention, reasoning and judgement and visual perception.
Dementia is a progressive illness with symptoms starting out slowly and gradually gets worse. The illness is caused by damage to the brain cells, which then interfere with the ability of brain cells to interact with each other. When the brain cells cannot interact normally, thinking, behaviour and feelings can be affected.