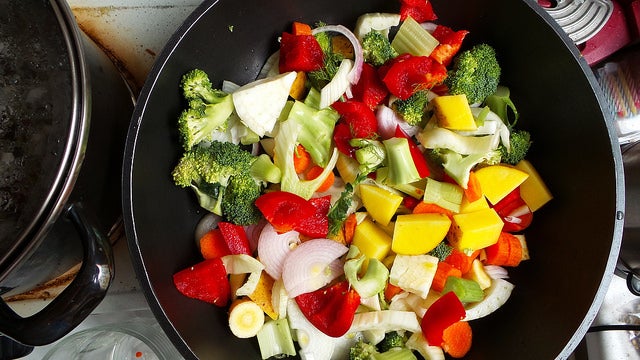 To mark UK national vegetarian week, which runs 13 to 19 May, Verdict Foodservice spoke to vegetarian chefs and bloggers about the future of vegetarianism and whether being a vegetarian is becoming more expensive.
Vegetarianism and veganism diets are growing in popularity, with public awareness about health and the environment and compassion for animals encouraging more people to choose to eat meat-free. According to Kantar Worldpanel, a quarter of UK diners have no meat or fish in their meals, as more people associate a vegetarian diet with health, fitness and well-being.
Future of vegetarianism: What the experts say
Chef Keith Squires said: "Wholefoods aren't just better for the environment; they don't cost the earth in another way. There's a misconception that healthy food is expensive. That only middle-class or rich people can afford it. That people on low incomes have no choice but to eat the cheapest and processed foods from discount supermarkets.
"Healthy diets based on pulses, grains and vegetables are very cheap. Lentils, rice and split peas can cost as little as £1 or £2 a kilo. When cooked, both expand and double or triple in mass making the real cost less than 50p per kg. The other main ingredients are seasonal vegetables which are also great value. We have calculated that these meals work out at about £1 a portion which is cheaper than processed foods like burgers and frozen chips.
"You can save a lot of money on food, even halving your weekly grocery. We have also created a seven-day plan. It is designed in a way that allows you to take it to work."
Sher Castellano is a plant-based chef and former health coach. She said: "Eating plant-based can be super affordable and achievable. Some tips to a more cost-effective vegetarian kitchen are: keep food waste down by turning scraps into broths and other resources including repurposed meals; buy in bulk nuts, seeds, grains and legumes as well as in-season produce that is at its peak ripeness and preserve it for later by freezing or canning."
Vegetarian Mamma owner and author Cindy Gordon said: "I feel that the cost of vegetarian living has decreased slightly over the years. I feel that the slight decrease is because there are so many options available for vegetarians to eat, especially if vegetarians are eating fresh and unprocessed foods. There are so many grocery stores that offer fruit and vegetables at a low-cost or even in bulk that make it affordable. I think the trend will continue to decrease in cost because the options keep coming. There are often new grocery stores that are becoming available, farmers markets are becoming more available etc.
Vegetarian blogger Rebecca Heyes said: "I don't really view vegetarianism as a 'trend' – I think it's more of a gradual shift in the way people are treating our planet. People are becoming more and more aware of the fact that we can't go on treating our planet this way forever – something has to change. There have been major changes made lately, such as dramatically reducing the use of plastic bags, banning plastic straws, and I think people are trying to reduce their meat intake is another part of that, since the meat industry is one of the biggest strains on our planet's resources. It definitely seems to be a big motivator for a lot of new vegetarians.