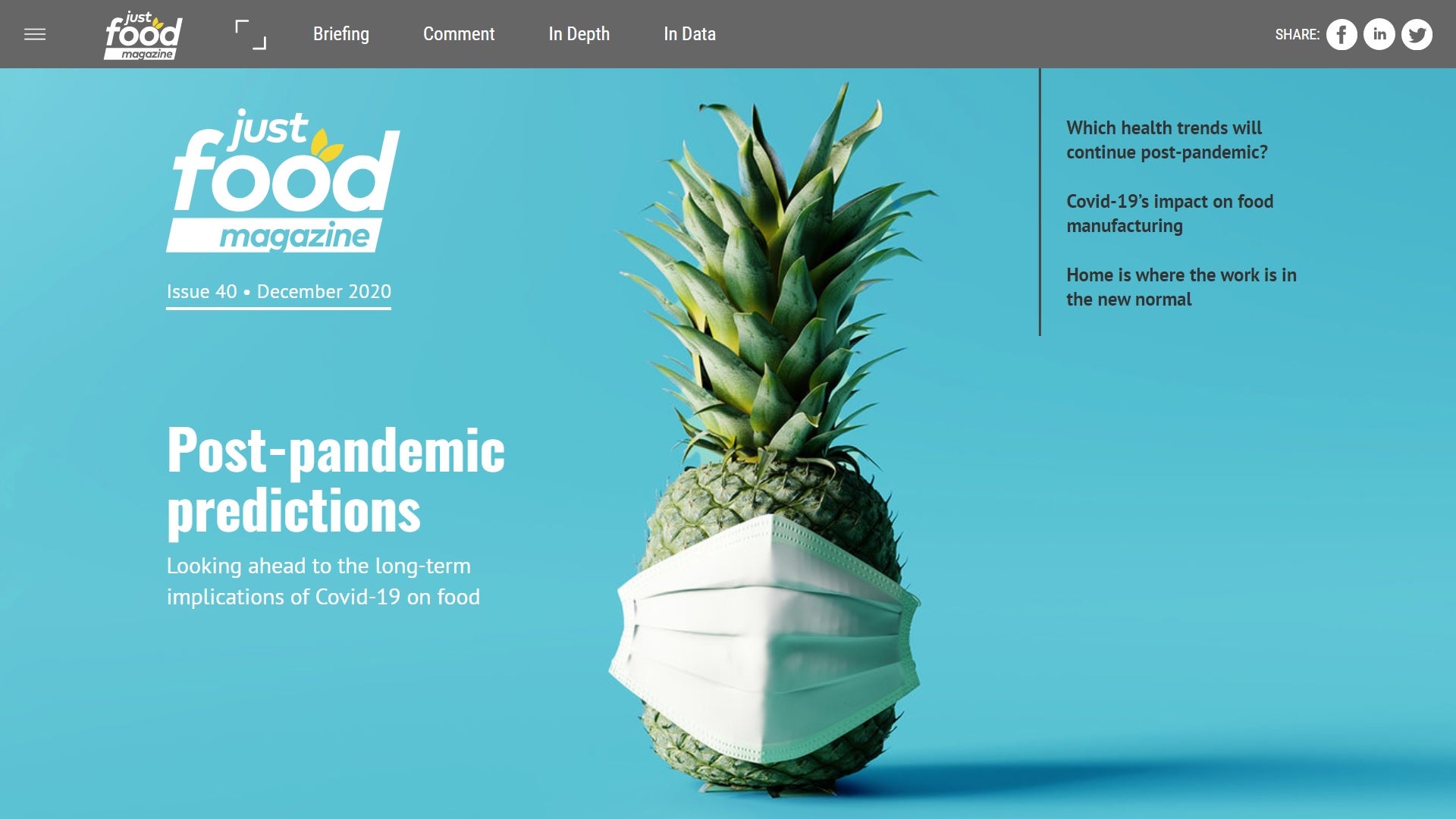 In this issue, we look ahead to the next year – or years – and ponder what the short, medium, and perhaps more importantly, long-term impact of the coronavirus will be on the food industry. There has been an increased focus on health and wellness in food over the last few years, which has, understandably, been magnified by the pandemic. We investigate if this can continue in years to come or if consumers will slip back to pre-pandemic habits.
Just-food is available on all devices. Read it here for free on your computer, tablet or smartphone.
One trend that looks likely to continue is the growing willingness to adopt e-commerce as a norm. We look at the ways companies have accelerated their move to the online world, as well as pinpointing what hasn't quite worked out as planned. We also consider how the pandemic-induced disruption could be the catalyst for the industry to ramp up efforts to improve on sustainability efforts, and how food firms can play a key role in a re-energised climate agenda.
As well as this, we also highlight how the pandemic has changed the operations of food manufacturers, both in production facilities and at a white-collar level. Will we see more manufacturing processes turn towards automation? And what impact does working from home have on the research and development of new products?
In this issue
Indian plant-based prospects with GoodDot

GoodDot Enterprises is seen as being the first modern plant-based meat business in India. The Udaipur-based firm, set up in 2013, has built a nationwide presence domestically and has international ambitions. Dean Best speaks to founder and CEO Abhishek Sinha.
How to keep the heat under US frozen-food
US frozen-food sales have received a boost from Covid-19 but the category was already in growth before the pandemic. Victor Martino looks at how manufacturers and brand-owners can continue to drive sales.
Alive and kicking: which health trends will continue post-pandemic?
Andy Coyne looks at the health claims made for food products during the Covid-19 crisis and asks whether such products will still be with us in a few years' time.
Agile technology investment key to resilience for food manufacturers
Brian Foster, the UK head of industry finance, at Siemens Financial Services, looks into the benefits that food manufacturers stand to gain from digitalisation and how smart finance techniques can help manufacturers reap the benefits of digitalisation.
Producing the goods: Covid-19's impact on food manufacturing
How could the virus shape, in the longer term, how food companies organise their manufacturing and the products they offer? Simon Creasey explores.
Home is where the work is in the new normal
How will Covid-19 shape Big Food's long-term approach to home and office working? And what impact will these changes have on innovation and company culture? Lucy Britner investigates.
Food companies can play key role in re-energised climate agenda
Covid-19 could give renewed impetus to efforts to tackle climate change and, with a new President in the White House and major food companies continuing to demonstrate their commitment to the issue, there are grounds for optimism, Ben Cooper reports.
Delivering the goods: capitalising on the growth of ecommerce
Covid-19 has led to growing demand for online grocery shopping worldwide and it's widely expected some of that will stick once the virus subsides. But how can food manufacturers ride that wave? Dean Best reports.
Inside the deal: What's PAI Partners' game plan in buying two UK food groups at once?
Andy Coyne takes a closer look at PAI Partners' acquisition of UK chilled food businesses Addo Food Group and Winterbotham Darby and asks sector experts to interpret the move.
Next issue preview
As we seem to have firmly entered into the age of the alternative, in the next issue we'll look at the latest developments in the field of plant-based meat, seafood and dairy, as well as keeping a watchful eye on lab-grown developments.
Subscribe to be notified when the next issue of just-food is available.
Visit our archive to read past issues for free.