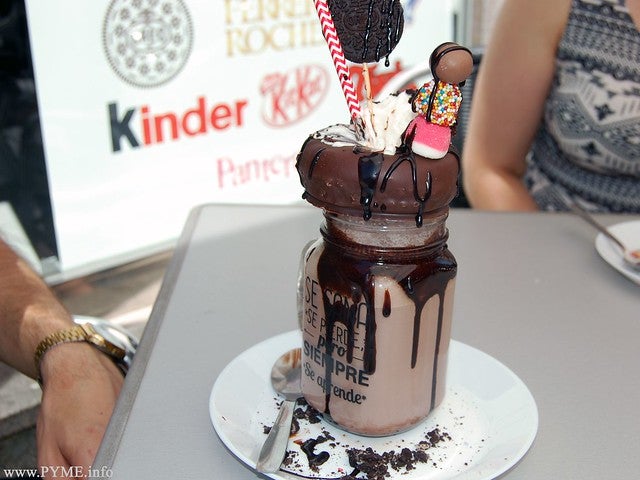 Restaurants have had to keep up with the growing demand for variety in their menus, not least in the sweets section. Verdict Foodservice identifies some popular London restaurant dessert trends including all things vegan, tremendous amounts of sugar, a combination between two much-loved desserts, alcohol-infused desserts and green matcha ice cream.
Vegan is still trending
Veganism has reached new heights in 2019, and with more consumers choosing a plant-based diet, restaurants must step up to meet the demand.
Restaurants have been cooking up a vegan storm in London include Farmacy in Notting Hill that serves coconut-rice pudding, banana bread and peanut butter pudding, raw chocolate tarte and a 'nice cream' brownie sundae. The restaurant's menu supports vegan and vegetarian diets as well as being dairy-free, free from refined sugars, additives and chemicals.
Another restaurant that has jumped on the vegan bandwagon is Cookies and Scream, a bakery based in Holloway Road, north London. Its menu includes vegan cookies, brownies, pies and doughnuts, all of which are dairy, egg, wheat and gluten free.
The rise of the cronut
The cronut, a combination of a croissant and a doughnut, might just be one of the most delicious desserts invented.
Dum Dum Donuts has stores across the UK, including in London's hipster area Shoreditch, selling the unique pastry that consumers have sought after since its arrival. The company is the world's first artisan baked doughnut and cronut brand. Its doughnut flavours include Crème Brûlée, Boston Crème, The Dum Dum Dubai and the Zebra, which has layers of croissant dough and chocolate croissant dough to give the look of a zebra.
Another restaurant that sells cronuts is Dominique Ansel Bakery located between Victoria and Belgravia in London. Although this bakery only serves one option of the well-known cronut, it was featured as one of London's best doughnuts by Time Out.
Freakshakes look crazy but taste great
This sugar-filled after-dinner dessert will definitely get your taste buds going, as these are no ordinary milkshakes; freakshakes are a creation made from chocolate, sweets, cake, cream and sauce.
Maxwell's Bar and Grill based in Central London is well known for its outrageous freakshake creations. The restaurant introduced its newest one in February this year, The Candy Melon Super Freakshake, containing half a watermelon, pink bubble gum ice cream, candy floss, party rings, rainbow laces and much more.
The restaurant hasn't left vegan customers out with its Vegan Brownie Freakshake, made with soya vanilla milkshake, chocolate sauce, chocolate brownie, soya vanilla ice cream and party rings, this a dessert for everyone to enjoy.
Alcohol isn't just for drinking
Alcohol is now being used in desserts to create more of a unique taste for consumers, showing that you don't have to drink alcohol to enjoy it.
Cheers ice cream located in Covent Garden wanted to create something 'exciting, unique and delicious' for its customers. Its chef spent six months creating alcoholic ice cream making sure the combination of ice cream and alcohol worked well together. Its flavours include classic mojito, chocolate espresso martini, strawberry daiquiri and toffee and vodka. Some of the ice cream's alcohol content is 7.9%.
Matcha flavoured desserts – the greener the better
Asian flavours have been trending in 2019 with consumers choosing matcha-based drinks and desserts instead of sticking with the norm.
Matcha is powdered green tea leaves, dissolved in hot water to make tea or used as a flavouring which is what Tsujiri use to create its matcha inspired menu in London's Soho and Chinatown. The menu consists of all things matcha; teas, lattes, ice blends, frappes, ice cream and sundaes. The restaurant also caters to vegan consumers making sure that its milk-based products are suitable for vegans.
Another restaurant that combines the green tea leaves with desserts and ice cream is Tombo, which has a flagship café in South Kensington. Its desserts include a matcha brownie, matcha tart, matcha gateau and a vegan matcha cheesecake.