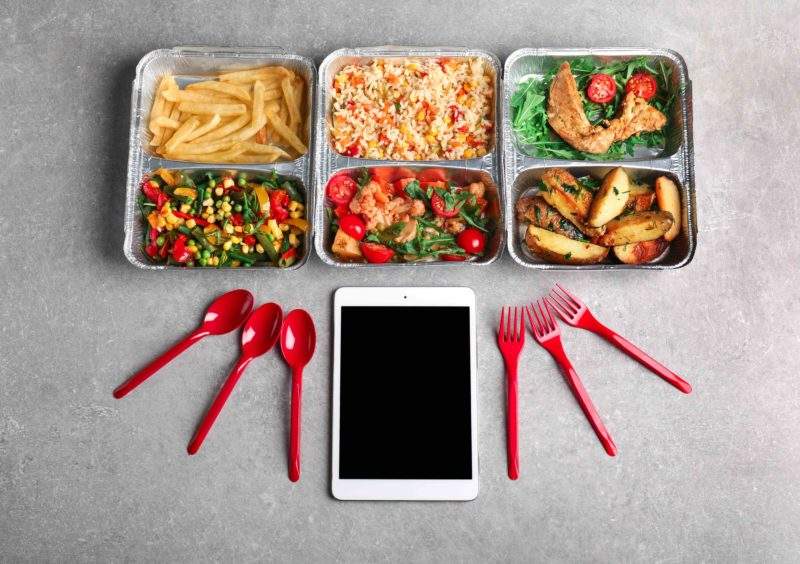 The UK restaurant sector is facing "major disruption" due to an increasing demand for dine-at-home food deliveries…or is it? Verdict Foodservice asks industry experts whether the likes of food delivery services like Deliveroo and Just Eat are disrupting the market or helping to shake it up.
Market analyst NPD states that the food delivery market is expected to increase to £5.3bn by 2020. This increasing demand is causing the restaurant sector to require capital investment, on top of additional cash flow pressures.
Global advisors Duff & Phelps director Jimmy Saunders said: "The future will undoubtedly see the online home delivery market evolve further and we already see certain aggregators operating 'dark kitchens' servicing only online delivery orders.
"This follows the 'dark store' model operated by some of the supermarkets as they first transitioned into the online grocery model. At the moment, smaller operators don't have the scale or capital to do this themselves, much as independent grocers couldn't compete with the supermarkets; however, the difference is that the aggregators are presently applying this model in conjunction with existing branded restaurant chains.
"It is only a matter of time before the aggregators themselves look to create white label offerings of a quality to match branded restaurant food so that they can take the additional margin themselves. While this is a clear risk, it also presents opportunities for the aggregators to exercise much more control over output and reputation. We only need to look at supermarkets to see how quickly the private label has caught up with the brands over recent years."
Foodservice restaurants and chains, as well as organisations and individuals within the hospitality sector, explain their stance on food delivery businesses.
Cat Jennings, Director of Food & Hospitality at PR agency, Speed
"Anyone that is coming into the foodservice market and is doing innovative things that get people thinking differently about how they eat and drink, and the experiences surrounding this, can only be seen as a good thing. When you look at the foodservice sector, the delivery market is where a lot of creativity is happening and this is acting as a catalyst for other brands to develop and grow their offer.
"The competition within the industry is arguably the highest it has ever been and all brands need to look for opportunities to innovate – not just the likes of Deliveroo and Just Eat. Whether it's through introducing new approaches, technologies or marketing campaigns, there are lots of methods brands are adopting in order to stand out, making it both an exciting and challenging time for the sector."
Alexa Abraham, food delivery EatFirst PR, Prezzroom co-founder
"Food delivery services have become a staple for busy individuals that simply don't have the luxury to serve up home-cooked dishes every night. Despite this, people continue to be pressured by the fitness industry and media to look a certain way, which is usually at odds with the kinds of food available through such services.
"The ability to simply tap a meal to your door using your smartphone can be seriously conducive to laziness and making overall unwise food choices. While Deliveroo and Uber Eats offer both junk food and healthy options, EatFirst is a consistent contender for healthiest food delivery service available and is currently poised to singularly shake up the industry.
"With undeniably healthy options for all dietary needs across a range of cuisines, EatFirst's diverse menu combines the advantages of the most popular food delivery services by designing and creating the meals themselves, ensuring high quality food every time in half the time."
Simon O'Mahony, director at multichannel catering equipment and supplies company, Nisbets
"Third party food delivery services pose an interesting question to the market. They can undoubtedly offer great benefits, opening the door for increased sales without the cost of drivers and insurance. Small businesses may be at risk if they don't use delivery services, as customers often use apps with more restaurants on the network rather than contacting local venues themselves.
"However, with Deliveroo's dark kitchens and Editions concepts, there is great scope for young businesses without the means for bricks and mortar sites to reach the masses and get their food talked about.
"Traditional, up-market restaurants may see delivery services as disruptors, but the shaking up of the market has offered many independents the chance to grow and increase their customer base.
"Deliveroo's plans demonstrate these companies are ambitious and innovative. It remains to be seen whether the impact on the industry will be favourable."
Aaron Allen & Associates, global restaurant consultant
"Some still-struggling casual dining restaurants are desperately trying to claw their way out of the hole by offering discounts, copycat menu items, and turning to the same stale promotions that got them in trouble to begin with. While the Applebee's and Ruby Tuesday's of the world are dusting off their empty booths, delivery is stepping up to that — offering far greater convenience for today's time-starved, mobile consumer.
"There's a natural progression that often goes unchecked and the restaurant industry is very much evolving. So, when it comes down to survival of the fittest, what happens next? If fast casual and other convenient options are eating CDRs, what will ultimately eat fast casual? For those chains that aren't careful, delivery could be the biggest predator."
Riya Grover, office catering company Feedr CEO and co-founder
"We think food delivery services have the potential to be a huge advantage to the hospitality sector, if done right. Independent vendors don't usually have the capacity to deliver themselves. Feedr sends them batch orders ahead of time, allowing them to utilise kitchen capacity to the fullest by prepping the orders during quieter times.
"On top of that, our operations team oversees every delivery, opening them up to a whole new audience. Because we work with over 80 eateries across London, we are providing offices more choice, increased flexibility, and an easier ordering system, modernising both the traditional office catering and food delivery models in one go.
"Food delivery services have the potential to be a real force for environmental good. There has been a recent push for more supply chain transparency and social responsibility from companies across all industries.
"Feedr only works with vendors who source fresh, sustainably-sourced ingredients, and make their meals on-site, by hand, every morning. Several of our vendors are affiliates of food waste-reducing initiatives like OLIO or Too Good To Go, and we are actively working with them to cut out single-use packaging by 2019.
"Promoting vendors who focus on these areas allows them to set the standard for the rest of the hospitality industry to continue being more environmentally and socially conscious."
Consumer's thoughts on third-party delivery services
Research from digital ordering platform Preoday shows that initially 74% of consumers said that they order food online or through a mobile app. 30% use platforms such as Deliveroo and Just Eat, 23% dine out at the restaurant itself and 21% weigh up both options and decide.
Once consumers were informed that out of the 68% of food and drink organisations paying commission fees to digital ordering suppliers, 82% of them believed they were paying "too much" and 38% found that once the use of third-party delivery begins, it is difficult to stop, their responses differed.
The majority of consumers (70%) stated that they would prefer to order directly to ensure their money goes straight to the restaurant, while 15% didn't care how much money the restaurant received from their order.
Preoday CEO Nick Hucker said: "The consumers' change in response is key. It shows that with simple education, many customers would be willing to change their ordering habits. It also demonstrates that they do care and want to support their favourite brands. Given how much revenue some venues lose to third party platforms, this finding could be significant."