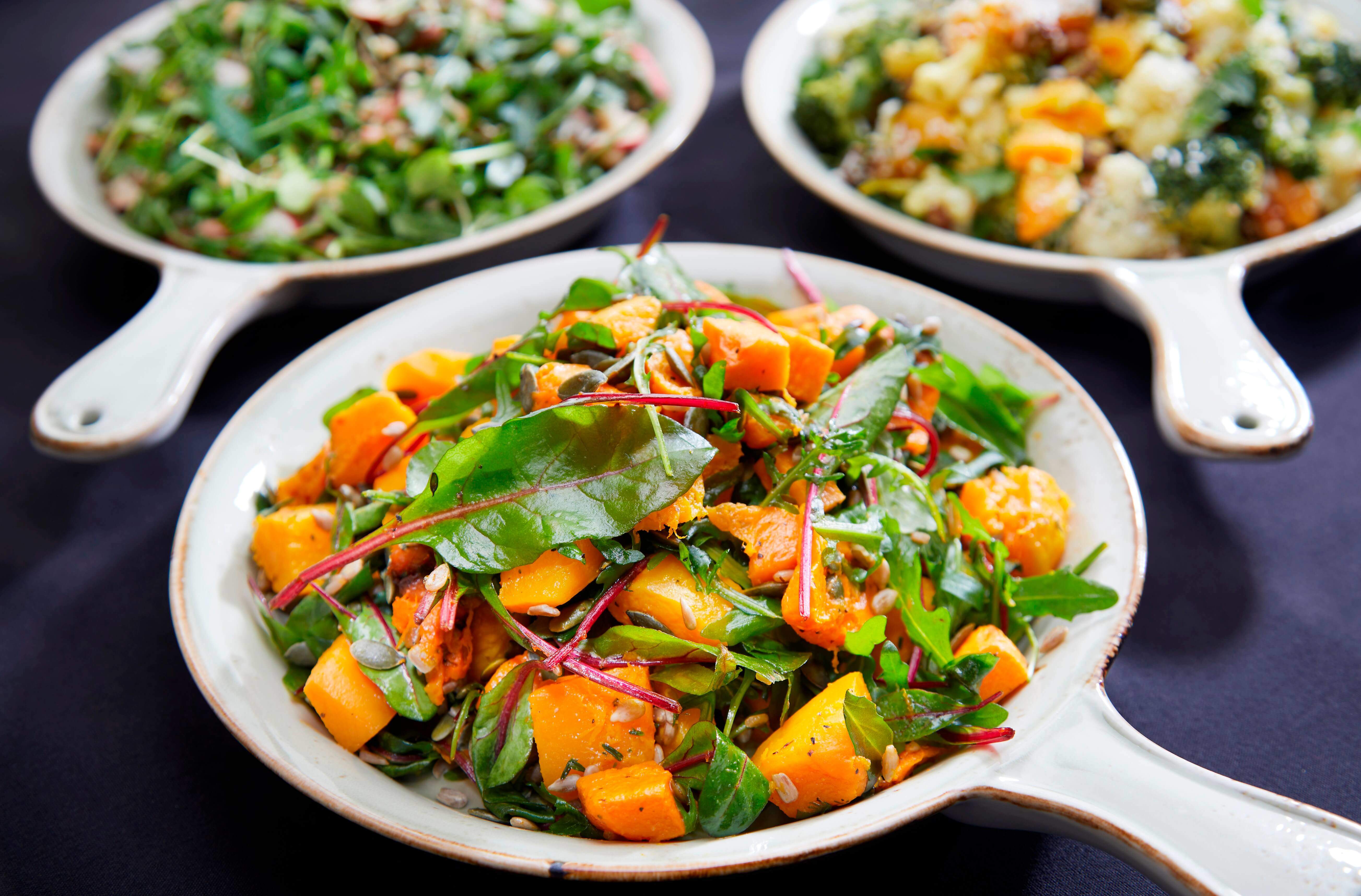 Staff feeding is undergoing nothing less than a revolution as it transitions from a subsidised 'main course and dessert' function to a lighter, flexible service with bags more options.
Growing demand has come from workers looking for quick, hand-held meals or single-pot dishes that offer taste, nutrition and convenience.
Along with the proliferation of juices, salads, pulses and seeds on offer has come a major shift in the way workers eat. Lunch breaks are down to about 30 minutes and food is often consumed while people sit at their desk.
And perhaps the most interesting change has been in the way food is now not simply an exercise in refuelling but is sold as part of a healthy lifestyle.
You are now as likely to find words such as 'balance' and 'wellbeing' on the menu as you might have once expected to see 'tasty' and 'delicious'.
The trend was identified and explained earlier this year in the '2017 Global Workplace Trends' report published by Sodexo. Of the five most important changes it listed, one was called 'Wellness in the Workplace'.
The report said: "As the lines between work and life become even more blurred, workers will seek more than financial or functional benefits.
"The workplace will become a wellness destination, where employees will demand an environment that maintains or even enhances their quality of health.
"This goes beyond the insurance-type packages that many large businesses already offer."
David Bailey, chief executive of corporate services for Sodexo UK & Ireland, explains: "Our study provides a valuable insight into the many factors that are set to change the way our workplaces look and operate over the next few decades.
"It is important that businesses are constantly looking forward to ensure they are in a position to respond to the changing demands of employees and their clients.
"It's critical for business leaders to recognise the underlying trends driving change, to evaluate their significance and stay ahead of – rather than follow – them."
Sodexo's own response in the UK and Ireland has been the development of a concept it calls Mindful, which is a replacement for its Healthwise proposition.
Described as "so much more than food and nutrition", it has been designed to take a holistic approach in pursuit of the company's 'quality of life' agenda.
Mindful project lead Charlotte Parriss says it has been 18 months in development and is based on the Mindful concept that is already up and running for Sodexo in the US.
"In America, Mindful is mostly about healthy eating, but we wanted it to be more holistic, taking in nutrition, food, exercise and wellbeing.
"And despite the name, the US version doesn't actually feature mindfulness, which is a real buzz here that we wanted to include."
After trials in November last year in business sites and schools in Ireland, Sodexo is now starting to roll it out among its corporate services estate in the UK and looking to launch it into the rest of its sites in the new year.
Parriss says the roll-out involves appointing Mindful ambassadors championing the concept with blogs, exercise tips, recipe ideas and exercises.
"It's not about pushing healthy options all the time – it's far more important to look at information and choice.
"Everyone aspires to a better quality of life, but achieving it can often feel like a struggle. Mindful is about simple ways to achieve better living and enhance your overall wellness," she says.
Extending the holistic idea beyond simply 'peace of mind' and into the 'actively creative' is Amadeus, the NEC's catering company. It has created a menu that has achieved Food for the Brain accreditation, itself an educational charity foundation that promotes the importance of nutrition in mental health and wellbeing.
Foundation chief executive Jenna Mosimann says: "The accreditation recognises nutritionally balanced menus which support energy, concentration and performance, and help promote better mental and physical wellbeing."
The menu, developed by Amadeus executive head chef Simon Hellier, includes mid-morning boosters such as fruit and flapjacks, lunch options including poached chicken, roasted tomato and pepper sauce and basil, and superfood salads such as thyme-roasted butternut squash and pumpkin with sunflower seeds.
But for all the talk of wellbeing, the core task of the caterer is to provide the right food for both client and customer. Compass believes it understands this point, and has a range of menu concepts and ideas to meet demand.
It has, for instance, embraced the trend for plant-based dishes by teaming up with worldwide animal protection organisation Humane Society International (HSI) to develop its Root Kitchen range.
Compass culinary director Nick Vadis and HSI chef and author Jenny Chandler have hosted a series of cooking sessions with the company's chefs to experiment with plant-based dishes.
Vadis says: "Our food programme Root Kitchen recognises a real drive to what I call 'veg-centric' cooking that uses less protein.
"People are eating more vegetables and taking more meat out of their diets. We wanted to launch 90 recipes in Root Kitchen, with at least 40% vegan, and it's gone down a storm.
"We've already exported the concept to sites in Australia and Canada plus some units in Europe."
Root Kitchen has its menu list constantly refreshed by season, building a body of recipes.
"We use English suppliers where we can and the British produce that's really available – we're not trying to source anything unusual.
"When we hold a masterclass for our chefs on this concept, what we don't do is turn up with a bunch of recipes. We supply lots of seasonal veg, umami, pulses, yeast extract and get them to be creative."
Vadis says that what convinced him this approach was right was the decision by Pret to make its Veg Pret pop-up a permanent site and to look at opening a second one.
"They already had a lot of veg concepts within their standard offer, so seeing them move on with the Veg Pret concept was a real game-changer for me."
So what are the broad trends that foodservice providers are responding to?
A YouGov survey for Eating Better, a group campaigning for a 'fair, green, healthy future', recently found that 44% of British people were willing or already committed to cutting down on meat or eliminating it from their diet.
Eating Better is an alliance of more than 50 national groups promoting health, the environment, international development, animal welfare, research, responsible production and professional interests.
Its report on the research said: "Young people, in particular, are driving the flexitarian trend towards eating less meat, making this a generational shift.
"They are more willing than older people to cut back on meat, and they have a much higher awareness and acceptance of the environmental impacts of meat eating.
"Over twice as many (46%) young people (aged 18-24) agree that the production and consumption of meat and livestock products has a significant negative impact on the environment compared with those aged 65 or older (20%)."
Sue Dibb of the Eating Better alliance adds: "As more people are eating less meat, we welcome the steps that an increasing number of food businesses are taking to respond, and we encourage them to go further."
Related feature
Cost Sector Catering October issue
http://viewer.zmags.com/publication/155921a7#/155921a7/16