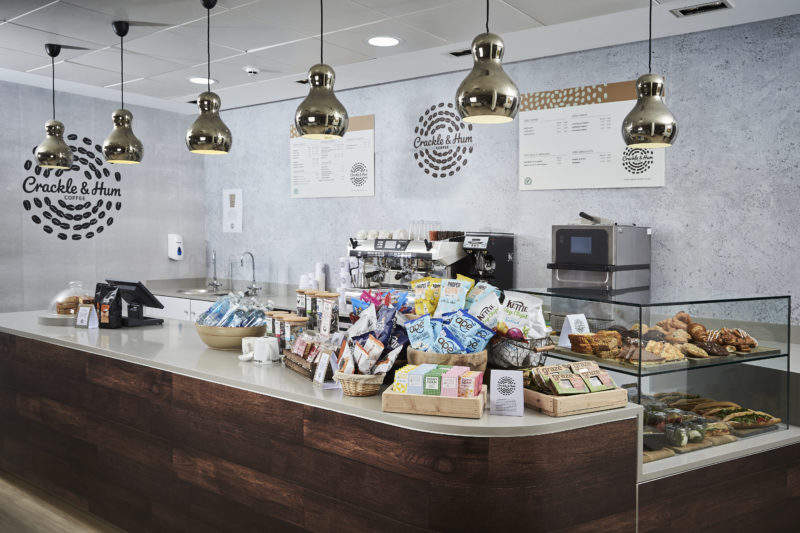 In January Compass went live with two brand new coffee concepts. David Foad talked to the company's head of business excellence Steve Lovegrove about the launch.
Sensing that it was missing a trick as the UK coffee market continued to evolve, Compass UK & Ireland took a hard look at its existing offer and decided it was time for change.
The result was the launch last month of a pair of complementary, fully branded coffee concepts – Crackle & Hum and Peak St. – that are the product of nearly two years of development.
The first is a premium brand, focused on the artisan end of the market, the equivalent of Timber Yard or Prufrock, while the latter has been designed to match up to the best, standard high-street offer.
Compass's Steve Lovegrove has been closely involved with the project and says the impetus behind the review of its coffee offer was the conversations with clients that made clear they wanted something a little bit different from what they were seeing on every high street.
"We picked up on a little bit of fatigue and the reason is well known, the high-street brands are so readily accessible – they are pretty much everywhere," he says.
"But the consumers' taste profile has developed and they want something a bit different. That's why we see independents popping up – often quite close to the big brands.
"And forecasts suggest the UK out-of-home coffee market, which is worth £9 billion at the moment, is set for 5-6% growth year-on-year. Coffee is an affordable luxury."
Having decided that change was needed, the contract catering giant worked with Allegra Word Coffee to survey 20,000 consumers across its business on the 'what, where and why' of their coffee purchases.
"What they said was that the primary drivers behind where they purchased their coffee were quality and convenience, while brand was less of a priority."
At this point, nearly 18 months ago, Compass set up a partnership with coffee specialists Nick and Andrew Tolley, from Taylor St Baristas, who carried out a review of its coffee strategy.
"They supported Compass in an advisory capacity set out to sense-check our thinking, see the opportunities, and look at great examples of 'best in class' out there," says Lovegrove.
"One of the gaps in our portfolio they identified was a Compass coffee brand.
"And although we want the trappings of a brand, we also wanted to retain an element of flexibility – hence we now have two: Crackle & Hum and Peak St.
"Ultimately, though, it's not about the brand, it's the people. The interaction between the customer and barista is more important than ever.
"And with the demise of pubs, which are closing across the UK, the coffee shop has become a social hub and a lifeline."
The next step was to start working closely with its coffee roaster UCC in Dartford, Kent, to develop signature blends for each brand. From this work two exclusive blends were created – a mix of Fairtrade-certified arabica and robusta beans for Peak St. and a Rainforest Alliance-certified 100% arabica blend using beans from Brazil and Colombia for Crackle & Hum.
"We blind-tasted these with consumers because people associate quality and taste with brands, and they have very strong allegiances. Both of these performed extremely well," says Lovegrove.
"We wanted a clear distinction between the two as they may both be on the same site with some clients."
The differentiation is carried through the coffee equipment in each: Crackle & Hum has traditional espresso machines from Victoria Arduino and Dalla Corte; Peak St. is fitted with fully automatic Thermoplan and Invensys machines.
He says that service style will also mark a clear point of difference, with branded cups, aprons for baristas and a craft range of cups, teapots etc. for Crackle & Hum, while Peak St. is more a white, pared-back offer.
"In terms of the customer experience, the look and feel and menu we offer is very different," says Lovegrove. "We've not been prescriptive about menus, but we've given guidance to general managers. For example, if they are buying in pre-prepared sandwiches, we want them half bloomer, half cut and stacked in Crackle & Hum.
"The Peak St. food offer is more like you would find in a supermarket. There will be impulse-buying Walkers crisps and Kit-Kats there, but kettle chips and premium Green & Blacks chocolate in Crackle & Hum."
The hot food range is very limited, based on the Chop Chop meals Compass previously launched across its business, which are made at its St Albans central production facility and delivered into units daily. They are offered chilled to be heated, or can be heated and displayed on-site in a hot multi-deck.
Visitors to Compass's head office at Chertsey, Surrey, recently would have seen the concepts mocked up as they will be seen in live units.
Lovegrove says: "The brands are now available to the entire Compass business – workplace or leisure – and form part of a suite of solutions we have available. They can sit along a more localised food offer, and will be sited across multiple clients."
Related feature in Cost Sector Catering
https://secure.viewer.zmags.com/publication/777eca68#/777eca68/38