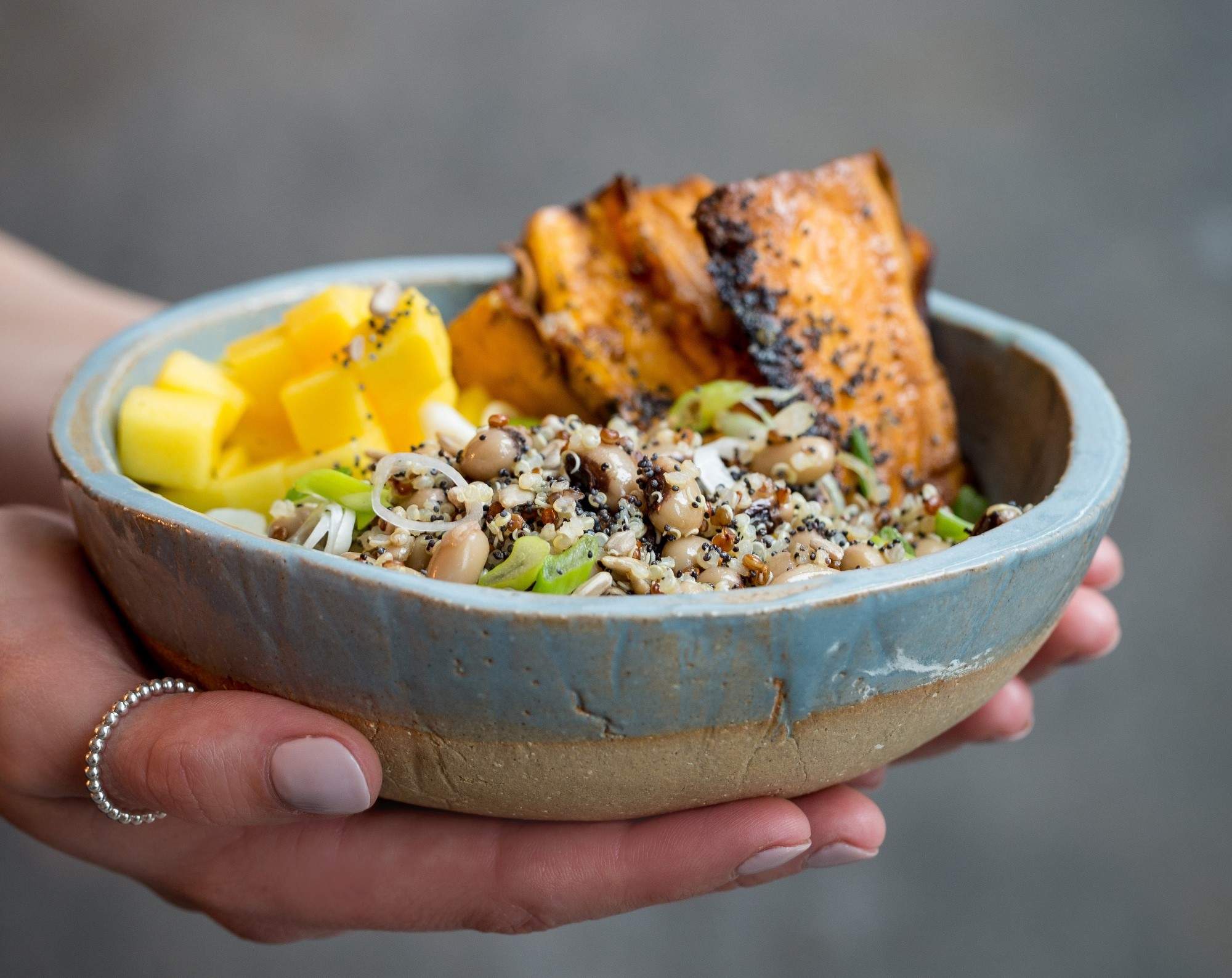 Demand for free-from food and drink continues to grow and foodservice operators have raised the bar to meet requirements in the workplace, writes Sheila Eggleston.
As well as allergy sufferers, more Brits are opting for free-from food and drink as a healthy lifestyle choice, with the value of this market now predicted to reach £952 million by 2021 as new products spark interest.
'Veganuary' has become a launchpad for new lines encouraging free-from followers to switch to plant-based food, and the Vegan Society's latest research reveals that more than half of UK adults are now buying into vegan.
Operators and suppliers have recognised this trend, although most agree that the main dietary requirements are gluten- and dairy-free, followed by vegetarian and vegan.
Wan Mak, Sodexo UK & Ireland head of nutrition and dietetics, says that of the 14 main allergens, gluten- and dairy-free is the most in demand on its sites. However, she admits that while more consumers want free-from food, the numbers are low compared to the overall number of meals served. "This means there's a judgement call on whether demand requires lots of free-from options," comments Mak.
"In line with EU regulations, information about allergens in meals is available from our site teams; this is in addition to calorie and other nutritional data," she adds. Employees are briefed on allergens too for freshly prepared meals or can reference information on pre-packaged products.
"We engage with free-from suppliers, and products are supplied to our sites through nominated distributors," she says. "Suppliers such as Peros are able to deliver free-from products from smaller suppliers – for example, gluten-free and vegan snack bars."
Last year, Bartlett Mitchell launched many new recipes that were vegan and gluten-free, and this has since grown, says marketing director Lin Dickens.
She says there are four windows of opportunity for launches – with January being huge now, May for people wanting to feel good for the summer holidays, September for when they're back from holiday, and around November in the run-up to Christmas.
Key suppliers are helpful with advice, she says, while another area for its business is BM Inc – a play on the words 'incorporated' and 'incubator' – that gives small entrepreneurs a link into the business as a route to market. "They're coming up with interesting things in areas such as sugar-free; companies such as Honeybuns are really tapping into customers' needs," she says.
Bartlett Mitchell's Delicious And Responsible Eating (DARE) range comes with a DARE manifesto, says Dickens, which explains for example what to expect if eating a gluten-free item.
She says chef director Peter Redman has developed recipes with well-known chef Sophie Michell covering both sugar- and gluten-free options, and dairy-free will be tackled soon. Every site will have access to them but they will be tweaked for their customer base, she adds.
One current on-trend free-from ingredient Redman highlights is nutritional yeast. Dickens likens it to a free-from vegetable stock, describing it as "deactivated yeast sold as a gluten-free and vegan product, with a nutty cheesy taste".
CH&Co plans to increase its free-from range, but group food development director, Jim Wealands, says it doesn't necessarily mean rationalising its existing range. "We'll look at current recipes and, where possible, tweak them to make them accessible to those wanting free-from options," he explains. "This is a more effective approach, but the priority is to ensure we achieve this without impacting on the flavour and texture our customers expect.
"We work with trusted small artisan and large commercial suppliers. They all offer free-from choices, but I believe these should taste as close as possible to the original to appeal to all customers."
He says the company needs to have the right balance of free-from and indulgent items to satisfy demand while keeping wastage down, and to ensure front-of-house teams are knowledgeable about offerings.
BaxterStorey has just added 20 new dishes to its range, some of which are vegan to coincide with Veganuary but will continue to be on menus after that period, it says. These include big flavoured dishes, such as Cuban quinoa with sweet potato, black beans and mango.
Lexington Catering has also launched vegan lines, including crispy fried seitan [wheat gluten], roasted tomato and sriracha mayo wrap, and roasted cauliflower and nutmeg soup with garlic croutons.
Chef director Rob Kirby says it will continue to keep menus fresh and interesting. "The offer at each site is tailored to customers, therefore it differs slightly, but every site includes free-from options," comments Kirby, adding that more space would be allocated for them if needed.
One of the challenges is communication, he says, so an engaging launch and marketing plan is essential. "We've worked hard to improve our labelling and we regularly promote the free-from range," he says. "Another challenge is one size doesn't fit all – our customer demographic varies from site to site so variety is key.
"Our philosophy has always been 'keep things simple but tasty'. With many ingredients becoming more commonplace in the media, the challenge of getting people to try something different is easier – this gives us more to play around with."
Related feature in Cost Sector Catering
https://secure.viewer.zmags.com/publication/777eca68#/777eca68/34