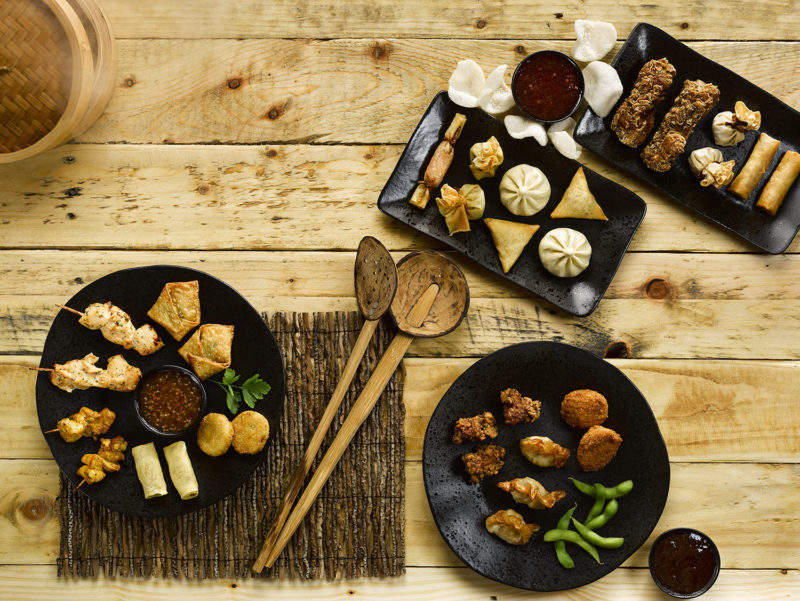 More than half of millennial restaurant-goers are seeking globally inspired cuisine, according to Matt White, chair of The University Caterers Organisation (TUCO) and director of catering, hotel and conference services at the University of Reading.
"From spicy ramen noodle soup to Korean bibimbap, consumers are looking for flavoursome food combinations," comments White. "This demand, coupled with competition from the high street, means the pressure is on caterers to create on-trend authentic Asian dishes that are great value for money.
"According to the results of our 'Global Food & Beverage Trends 2017' report, Korean and Japanese cuisines continue to be popular among the younger generation. To tap into this, operators are integrating everything from pickled vegetables and fried Korean chicken to sweet matcha baked goods and teriyaki curry on menus. Korean and Japanese food also provides an opportunity to create a more hands-on dining experience – from open kitchen set-ups to diners barbecuing their own bulgogi at the table."
However, White warns that before investing in a trend, TUCO recommends trying pop-up stalls and special menus to identify the popularity of new dishes and how best to develop their offerings.
"The Royal Holloway University of London, for example, saw a 25% increase in revenue after introducing street food carts across campus to meet students' appetite for international dishes," says White. "This also resulted in 75% of students stating they would be more likely to eat on campus because of the new global street food offering."
Rachael Sawtell, marketing director at packaging specialist Planglow, says layered bowl concepts are on-trend, which may be divided into two camps: Team Coconut, which showcases creamy dishes from Cambodia, Southern India, Thailand and Vietnam; and Team Noodle – noodles with a cleansing broth base.
"Last year saw a significant rise in customisable options, and the trend is moving into 'cook your own', such as Korean barbecue, hot pots or 'steamboats', plus bao bun and other sandwich concepts using Asian carriers," adds Sawtell,
Vicky Adams, campaign manager at Bidfood, says East Asian dishes are already a favourite, with Chinese, Japanese and Thai food leading the way, with new concepts popping up.
"One is Korean and American fusion; with this in mind, caterers can add an oriental element by putting Lion Korean BBQ sauce on a burger while it's cooking to create a Korean twist," says Adams.
Chinese New Year is a time to maximise sales and in 2018, which is the Year of the Dog, it falls on 16 February. "Now is the time to consider introducing oriental cuisine to menus," advises Adams. "Bidfood has launched an oriental range including pastes and bases to create a 'build-your-own' rice and noodle bowl menu, Lion oriental sauces for dipping and marinating, and traditional products that are important to specific dishes such as kimchi.
"The New Year lasts for three weeks, giving caterers opportunities to experiment with new flavours and exciting oriental dishes, which need not be taken off menus when the celebrations are over," she concludes.
Pasta King is gearing up for the Chinese New Year. However, with oriental cuisine on the rise, it says it should form part of an all-year round offering.
"We're running promotions on our oriental sauces such as Chinese chicken curry during January and February to coincide with the New Year, and launching some new additions such as hoisin pork – all available with promotional posters and Chinese lanterns to help engage students," says marketing manager Christine Forrest.
"Our Chinese-inspired sauces meet nutritional guidelines as they have reduced salt levels, and are low in saturated fat and sugar and contain no nasties. With more children on specific diets, we also offer vegetarian options so they are not left out."
Tilda will also be helping operators prepare for Chinese New Year by having its fragrant jasmine rice on promotion throughout February in most wholesalers.
"Using speciality rice in Chinese dishes is a way of boosting incremental sales as its premium taste means you can demand a higher price," says head of foodservice Craig Dillon. "Our fragrant jasmine is the perfect sticky rice for Chinese cooking. It can be cooked and chilled to use for fried rice, and because the sticky grains separate when reheated operators are guaranteed to serve the best product with little waste."
Anglia Crown says its Crown Advantage and Crown Choice menus offer East Asian-style dishes that deliver vibrant flavours for hospital patients.
"With growing trends for East Asian cuisine, we celebrate Chinese New Year," comments managing director Paul Howell. "Our range includes dishes with popular flavours such as sweet and sour, and curry in pork, chicken and vegetarian options."
Crown Foods marketing director Trisha Rasor says its WAT Kitchen ready-to-eat hot Asian snacks in cartons is seeing success in universities and colleges. Currently available via Bidfood and Epicurium, the range can be found across student unions, retail outlets and vending machines on campus. "It's a great lunch, dinner, late-night snack option, which is competitively priced with students in mind," comments Rasor.
The range includes chicken in sweet and sour sauce with rice, chicken in teriyaki sauce with noodles, chicken in chilli and Thai basil sauce with noodles, and its newest variant chicken tikka with rice.
The company has also launched a range to complement sharing platters, starters, and seasonal party food, which Rasor says is ideal for sectors such as B&I. This includes Thai and oriental chicken selections, spicy fusion chicken skewers cooked, and banana fritters with coconut and mango, caramel, and coconut dipping sauces.
"You find fritters in Chinese cuisine, and our banana fritters use small bananas sourced from Asia, which is why we created them," says Rasor.
McCormick's Schwartz sriracha seasoning gives a sweet and sour heat with a garlic kick. One jar can create up to 13 litres of sauce, and mixed with oil, water, garlic, sugar and red peppers offers a signature sauce that's up to 40% cheaper than readymade sauce.
Marketing controller Al Thaker says a big trend in Asian food is sriracha, which, as a sauce, has almost cult status in South East Asian restaurants, and in America where it has replaced ketchup as the condiment of choice. "In recent years there has been wide acceptance of spicier hot food and no category has shown more development in this area than condiments, as they allow consumers a degree of risk-free trial," comments Thaker.
Related feature
Cost Sector Catering December issue
https://secure.viewer.zmags.com/publication/50010026#/50010026/52