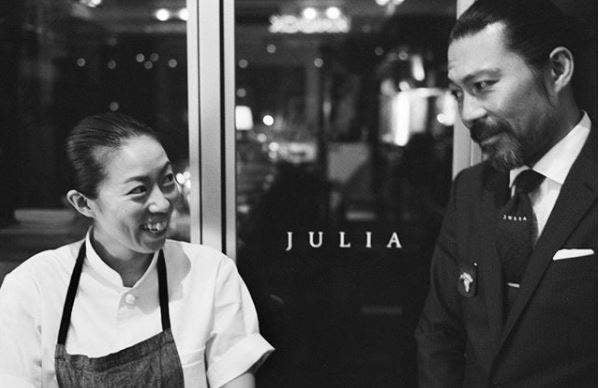 Recent statistics from both the UK's Office for National Statistics and the USA's Restaurant Opportunities Center showed less than 20% of professional chefs are women. While the male domination of kitchens across the globe is nothing new, International Women's Day (8th March) is the perfect time to celebrate those women at the top of their game.
Manoella 'Manu' Buffara, Restaurante Manu  – Brazil
Serving up some of the world's finest Brazilian cuisine is Manoella 'Manu' Buffara. Originally trained as a journalist, Buffara was the daughter of a farmer and spent the early years of her cooking career working at some of the world's greatest restaurants including Alinea and Noma. Since then she has gone on to open her own restaurant, Restaurante Manu, which focuses on regionalised Brazilian cooking, serving up dishes such as bobo de camarao (a cassava paste with dried shrimp, cashews and coconut milk) and lamb with polenta and barley. Focusing on fusing traditional Brazilian flavors with the techniques Buffara learnt during her time across the globe, Restaurante Manu is easily one of the top restaurants in all of Latin America.
Daniela Soto-Innes, Cosme – USA
Winning the prestigious James Beard Award for Rising Chef of the Year in 2016, it's hard to believe Daniela Soto-Innes is only 27. Already working as chef de cuisine at Cosme, the Mexican-inspired restaurant that has taken the Flatiron district of New York by storm, it's easy to see why Soto-Innes is tipped to become one of the world's most influential chefs in years to come.
Initially learning to cook at the age of four-years-old when her mother took her to a friend's cookery classes, Soto-Innes regularly uses introduces traditional Mexican techniques to her work at Cosme and has garnered so much critical acclaim even the Obamas came to visit.
Shauna Froydenlund, Marcus – UK
Having spent the last decade working for Marcus Wareing at his iconic restaurant in the Berkeley hotel, Shauna Froydenlund is one of London's most awe-inspiring female chefs. Not only has she risen from demi chef de partie to joint chef patron of Wareing's restaurant, but she has also become a partner in the business.
Froydenlund originally met Wareing during a university placement at Pétrus. After finishing her placement and returning to the restaurant upon graduation she quickly established herself as instrumental in the restaurant's development, helping maintain its impressive run as one of London's top restaurants.
Shauna now spends her time working on fine tuning the restaurant's menu and sourcing the finest ingredients from across the country, ensuring Marcus keeps to its impeccably high standards.
Sarah Barber, Hotel Cafe Royal – UK
Learning from her grandfather who worked as a professional chef, an 18-year-old Sarah Barber started her career in Main Kitchen. While working there she discovered her love of the intricacies of the pastry counter and has since gone on to develop her own unique style that has seen her work as head pastry chef at the likes of Yauatcha, Corinthia and Dinner by Heston Blumenthal before taking up her current position as executive pastry chef at Hotel Royal Cafe.
Outside of the kitchen, Barber spends her time running a charity and a series of student placements aimed at getting young people into working as pastry chefs, and has recently written a book titled Patisserie Perfection.
Louisa Ellis – UK
At 23-years-old, Louisa Ellis is the youngest chef on our list. Having already made her first TV appearance on the BBC's cooking show MasterChef (where she was the only woman to make the final), and establishing herself as junior sous chef at The Wilderness restaurant in Birmingham, Ellis's rise to stardom has been spectacular.
While The Wilderness is currently under renovation, Ellis has spent the last few months honing her skills at a number of supper clubs and residencies.
When The Wilderness reopens it is still unconfirmed whether Ellis will be making her return to the Birmingham eatery, but regardless of what her next move is Elite Traveler is sure she will land on her feet and further cement her place as one of the most promising chefs in Britain.
Lisa Allen, Northcote – UK
Lisa Allen's career has seen her work in a variety of roles over her 17 year career at the Northcote restaurant. Having joined in 2001 as a demi chef de partie at the tender age of 20, over the next three years Allen worked her way up the kitchen before being promoted to executive chef in 2004, helping the restaurant retain its Michelin star.
Working under Nigel Howarth, Allen developed her own signature style and confirmed her place as one of the north west of England's greatest chefs. Since then Allen's skill in the kitchen has seen her go on to become one of the winners of the 2010 edition of the BBC's Great British Menu, giving her the opportunity to work as one of the four chefs to cook at a banquet hosted by Prince Charles.
Currently Allen still plies her trade as executive head chef at the Northcote, which recently celebrated its 18th anniversary with a star-studded line up of one-night residencies from some of the country's top chefs.
Elizabeth Allen, Kaizen House – UK
It was after studying architecture at Central St. Martins that Elizabeth Allen decided to instead follow her passion for cooking by embarking on a culinary career and going on to work in a series of Michelin-starred restaurants. And it was on becoming the founding head chef at Hackney restaurant Pidgin that she earned her first Michelin star. She then set up the restaurant company Kaizen House in 2016 with the aim to eventually open a collection of dining spots under the same umbrella brand.
Following on from a pop-up at Carousel London, the first of these restaurants, Shibui, is slated for an early 2018 opening. Here the chef will focus on wood-fired cooking with influence taken from both Asia and Europe, drawing on her Singaporean-British roots. We'll be among those looking out for the latest news of this London Nao, Restaurant
Julia – Japan
As an industry that's famously male dominated in Japan, the Japanese culinary scene can be difficult for women to break into. But increasingly we're seeing Japan's most talented female chefs break down these barriers to become equally as revered in the dining community. Among Tokyo's brightest female chefs is Nao of Restaurant Julia. We spoke to the chef about her plans and aspirations for the future: "I'd like to earn a Michelin star as one of Japan's female chefs," she tells us, "And I would like to show support to other Japanese female chefs by proving the success we can have."
By taking a seat at her intimate restaurant in Ebisu, you can dine on the chef's celebrated contemporary American cuisine, which is infused with her French culinary inspiration, having spent much of her career working in French kitchens, and influenced by her Japanese roots. In chef's table-style meals of 10 to 12 plates, you'll sample some of the country's finest produce in unique dishes with wine or tea pairing; the cellar has around 100 wine labels to choose between.
Emily Yuen, Bessou – US
Working alongside restaurateur Maiko Kyogoku, Emily Yuen pours her culinary creativity into her role as executive chef of the New York restaurant Bessou. Here Yuen collaborates with Kyogoku to create a menu of dishes combining influence taken from traditional Japanese home-cooking with inspiration taken from the New York dining scene and the city's diversity of cuisines and cultures.
It was at world-class fine dining restaurants Boulud Sud in New York, Australia's Vue de Monde and La Gavroche in London that Yuen honed her craft. This exceptional skill and her diverse culinary influence make Yuen one of New York's most exciting rising chefs. We can't wait to see what else there is to come from the chef and until then we'll enjoy savoring each dish at Bessou.
Chantel Dartnall, Restaurant Mosaic – South Africa
In the Francolin Conservation Area of Pretoria, Dartnall cooks up fine dining dishes that combine her French culinary training with her love for the region's fresh, organic produce.
Since learning her trade at Prue Leith's Chef's Academy and restaurants such as London's three-Michelin-star Chez Nico, the chef has won a number of awards including being named South African Chef of the Year at the Eat Out Restaurant Awards. Having become known for her creative cuisine and innovative spirit, this is a chef worth paying particular attention to.
Roxanne Spruance, Kingsley – US
After working at Michelin-starred restaurant Blackbird in Chicago, Roxanne Spruance made the move to New York to work at the three-Michelin-starred restaurant WD~50, and Blue Hill at Stone Barns where her passion for fresh local produce was heightened. Now successfully running her own restaurant Kingsley in New York she combines her bold approach with her belief in showcasing the best local produce and a spectrum of cultural influences. Try the red snapper ceviche, wild gulf prawns with gnocchi or roasted duck with coffee and hazelnut.
Having received the 'Snail of Approval' accolade from Slow Food New York, Spruance is bang on trend for her sustainable approach to cooking and passion for fresh, seasonal produce, as well as for establishing partnerships with local farmers. We think this innovative chef will just keep going from strength to strength.
May Chow, Little Bao and Happy Paradise – Hong Kong
The chef behind Little Bao, Chinese gastropub Second Draft and neo-Chinese dining spot Happy Paradise (which opened in March 2017), Chow is known for her modern interpretations of Asian classics, as well as her flair for creating hip dining environments. Two-time recipient of Hong Kong Tatler's Local Champion Award, her dining concepts have clearly proven popular.
At Little Bao the chef's creativity can be seen through the fish tempura bao, which encompasses fresh market fish, tamarind palm sugar glaze and pickled lemongrass fennel salad. Sharing plates then include a smoked eggplant salad, lamb tartare and drunken clams. Over at Happy Paradise small plates include whole tea smoked pigeon with five spice salt and large plates include seared skirt steak noodles with Australian Wagyu and thick-cut rice noodles. These are offered alongside 'easy' and 'adventurous' cocktails incorporating eclectic ingredients.
Einat Admony, Bar Bolonat, Balaboosta and Taim – US
This New York-based chef and restaurateur is the celebrated name behind the Mediterranean-meets-Middle East restaurant Balaboosta, Israeli dining spot Bar Bolonat and falafel bar Taim. Along with her husband Stefan Nafziger, Einat Admony has succeeded in making her mark on the city's dining scene, which is certainly no mean feat. The food you see at each restaurant, and in her cookbook Balaboosta: Bold Mediterranean Recipes to Feed the People You Love, pays homage to Admony's culinary experience, first as a cook for the Israeli army and later at restaurants around New York City.
The latest of her restaurants to have been launched, Bar Bolonat serves modern Israeli dishes like chickpea gnocchi, shrimp in Yemenite curry and striped bass with pistachio dukkah, crispy charred fennel and spicy honey. With such an appealing combination of flavorful cuisine and exuberant representation of traditional plates, this chef is an exciting addition to the city's restaurant scene.
Elizabeth Puquio Landeo, Ambrosia – Chile
The Peruvian chef Elizabeth Puquio Landeo tells us she found her love for cooking through her mother and grandmother, and went on to study gastronomy as a result. After working alongside internationally renowned chefs Virgilio Martinez of Restaurant Central and Mitsuhara Tsumura of Restaurant Maido, the young chef moved to Chile where she interned at Borago before starting work at renowned restaurant Ambrosia. This experience has led to Landeo being named a regional winner of the San Pellegrino Young Chef awards and the chef to represent South America in the 2018 international final in Milan.
"Now I´m thinking about the final of the San Pellegrino Young Chef 2018 competition," she says, "I want to give it my best and give Latin American food its place there." Landeo has also been invited to cook in Paraguay, elevating her presence on the world stage. On her culinary inspiration, she comments: "I'm very inspired by the work Virgilio Martinez does with his team, searching for Peruvian produce and introducing people to the different flavors of Latin American."