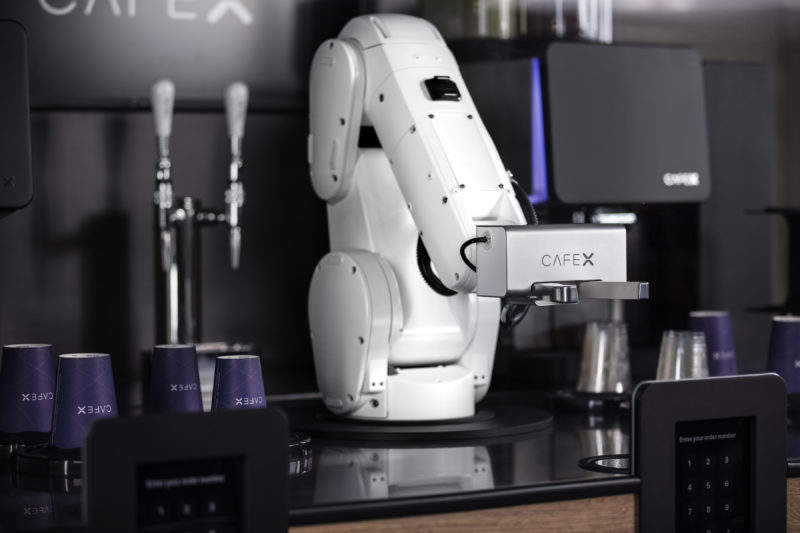 As technology evolves, foodservice companies are looking for different ways to maximise costs and reduce customer waiting times. Here are some fast food robots that have been introduced into the industry as part of the latest robotic trends.
AI communication robot at Junkichi
Worries about robots taking over the workforce and stealing jobs don't apply to the Sota artificial intelligence robot as it won't make or serve food, but is instead there to talk to diners. Developed by Plenty USA, the bot is placed on diner's tables and is able to remember faces, as well as communicate using prepared lines with customers. Plenty recently launched Sota in its new robatayaki restaurant called Junkichi, after testing an earlier version in Seattle. Customers can also use an app to interact with Sota, while waiting staff can enable conversation between the robot and guests via Microsoft Azure's Text to Speech service.
Credit: Plenty USA.
Domino's multi-tasking DRU system
The international pizza chain has found a way for customer's to make orders using their voice (other than picking up and using a phone of course). DRU, its AI-based technology, can also speak to customers via text and discuss the menu, ingredients, the nearest store and opening times within Domino's app. DRU can be used with platforms such as Amazon and Google Echo too to speed up the ordering process.
In New Zealand, DRU is being tested in the form of the "world's first autonomous pizza delivery vehicle". At just three-feet tall and able to carry 10 pizzas at a time, it can keep drinks and ice-cream cool, while keeping the pizza hot in a self-driving service.
Credit: Domino's Pizza.
Pizza making robots to reduce delivery times
While there are robots for taking orders and making deliveries, Zume's robots make their own pizza. Different machines are used to press dough, dispense and spread sauce and lift pizzas in and out of the oven in quick time. Deliveries are reduced to five to 20 minutes with the robotic machines as they make around 370 pizzas an hour. The machines release sauce depending on the existing pizza recipes they know are being made. Humans then take over after the sauce is spread by adding the toppings, pushing the pizza into a self-cleaning pizza slicer after it is cooked and packaging the pizza into a unique pods designed to prevent soggy pizza. Zume has been in operation for three years and has recently been in talks with SoftBank to invest $750m into the company, according to Bloomberg. This could be a pivotal turning point in the pizza making industry.
Credit: Zume.
Robotic arms at Café X
Coffee bar manufacturer and operator Café X employs assembly-line style robots that can create two drinks in less than a minute with one 'arm' at its coffeehouse in San Francisco, US. Customers use self-service kiosks to make orders with alternative milk and bean options. After an order is placed, customer's input their phone numbers into the system and are texted with a pickup code. The kiosk then provides the opportunity to enter this pickup code and notifies customers of their pickup spot, where a hatch opens once the coffee is ready. Humans aren't completely absent however, as a Café X specialist is always onsite to advise customers and refill coffee beans in the robot's coffee station.
Credit: Café X.
CaliBurger's fast food robot
Robotic kitchen assistants are also starting to make an appearance, with the introduction of restaurant technology solutions provider Miso Robotics' new bot, Flippy. The robot started working with kitchen staff in CaliBurger's restaurant chain in March this year by flipping patties and removing them from the grill. Miso Robotics CEO David Zito assures that Flippy isn't here to replace workers, but is intended to improve chef and line cooks working conditions. He said: "Anyone who's ever worked in a restaurant knows how hard the work is and the value of extra hands and that's exactly what we built."
Flippy can distinguish between using a spatula for raw meat and one for cooked meat. It can also clean equipment and grill surfaces. After its first debut however, the burger flipping fast food robot had to take a break due to being too slow. Flippy had issues placing finished burgers on trays too.
After upgrading the bot, Flippy started its shifts again a couple months later with improvements. CaliBurger is on track to add 50 more Flippy robots in its restaurants by 2019.
Robotic blended drinks maker
Food robotics operator 6d bytes has launched a more independent robotic station called Blendid. It is intended to prepare healthy smoothies with fresh ingredients and doesn't need human help. 6d bytes CEO Vipin Jain and CTO Venki Ayalur created Blendid to "lead the robotics and AI revolution that will fundamentally disrupt [the] food and beverage industry." The robotics station can be used for numerous establishments other than restaurants, including cafeterias, supermarkets, airports, stadiums, gyms and offices.
Credit: Blendid.