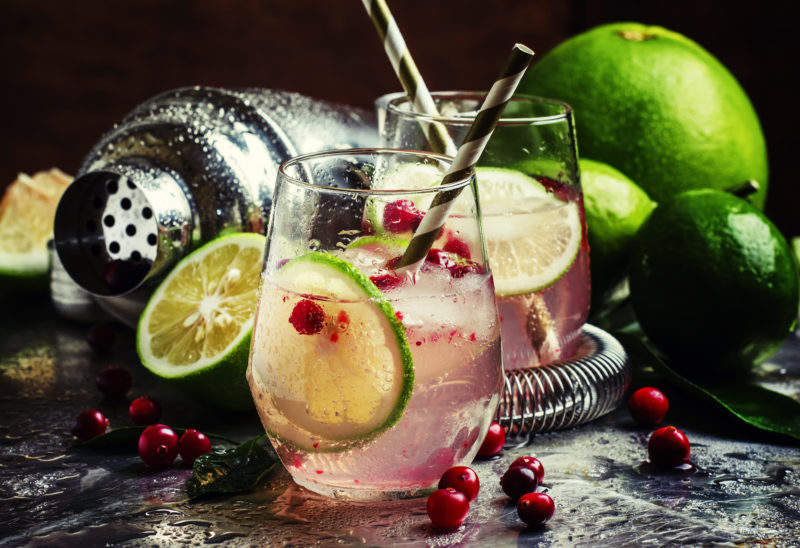 It's been an extraordinary few years for gin manufacturers. The spirit, with juniper berries at its heart, has been a favourite tipple of consumers for hundreds of years. But, while some categories grew, gin ran the risk of becoming old-fashioned and outdated as consumers began to seek out more experimental offerings. That all changed in 2016, after sales of the spirit surpassed £1bn, according to The Wine and Spirit Trade Association. And ever since, gin has gone from strength to strength in the UK.
A far cry from the 'mother's ruin' that gripped the UK in the late 18th century, today's generation of gin products offer a premium drinking experience. As craft distilling began to gain popularity in the wake of the craft brewing movement, brands have had a unique opportunity to revamp the sector with unusual ingredients and flavour combinations that stand out from traditional large scale distilled offerings and put a refreshing twist on a classic beverage.
With the craft movement now in full swing, the pressure is on for manufacturers to produce products that can stand out in what is rapidly becoming a saturated market.
New dimensions
At its most basic, gin is simply a spirit flavoured with juniper berries, but beneath that simplistic façade the spirit is highly complex. Incorporating different ingredients can dramatically alter the flavour and aroma of the final product, and so the spirit lends itself to innovation.
Botanicals have become a core component of craft distilling, as manufacturers search for stand out flavours. For one distiller, Johnny Neill, the search for new ingredients led him off the beaten track, to South Africa, where he came across the signature botanical for his award-winning Whitley Neill Gin.
"With consumers seeking new experiences, and having a wider interest in different botanicals and flavours, we've found opportunity in extending the range across different origins of ingredients and taste profiles," explains Neill. "[Whitley Neill] features two exceptional African botanicals: Cape Gooseberries and The final nine botanicals that Neill chose take users on a tour of global flavours, with angelica root found in France, sweet lemon sourced from Andalucía in Spain, and of course, the gin's signature botanical baobab fruit pulp. Drinkers in the UK may be largely unfamiliar with baobab fruit, also known as the 'tree of life' in South Africa, but its vibrant pulp adds an unmistakeable burst of flavour to the gin.
"It was important that we perfected the core recipe, before distilling it with different flavours and aromas. I sourced roughly 25 different African-based botanicals and trialled them in the mini still on their own to see which were a good fit," Neill explains.
Creative concepts

The gin revolution is not limited to flavour combinations. Distillers have begun to play with different formats, releasing limited-edition formulas and formats that target the rising number of gin connoisseurs in the UK.
Scotland produces approximately 70% of the gin sold in the UK, so it should come as no surprise that one of this year's most notable products hails from the Scotland-based craft distiller, Edinburgh Gin. Just in time for the Christmas period, the distillery launched a gin advent calendar, which replaces the chocolate treats traditionally associated with the format with 25 mini 5cl bottles of the brand's signature gin.
Positioned as an ideal gift for gin lovers, the unusual offering has garnered widespread attention. As a premium product, sold exclusively at leading department store John Lewis for £100, the usual format pushes the boundaries of convention, which justifies its high price point. Consumers have been highly responsive to the novel product, which at the time of writing is currently sold out on the John Lewis website.
The success of unconventional formats indicates that opportunities for innovation exist outside of flavour profiles. Pop-up shops and distillery tours have also helped to highlight potential for a wider range of products and offerings that build upon the drinking experience and create a community of drinkers around a brand or product, similar to those that have appeared in craft brewing.
Finding a balance
Despite the proliferation of unconventional gin products, the history and heritage of gin remains a core component of modern distilling. In fact, many small batch craft outlets have made a conscious effort to highlight traditional methods of distilling. As consumers become more knowledgeable about the products that they choose, interest in the backstory and narrative of brands, For Whitley Neill, this demand is answered in the distilling process. The brand balances traditional values with contemporary flavours by adhering to historical techniques, distilling each batch of the gin in a copper pot, affectionately named Constance.
"The family has always used copper stills, it remains the best way to produce rich and complex gin, so whilst we're innovating with contemporary flavours, it's still important that we adhere to traditional techniques," says Neill. "We're extremely proud of our heritage and the dedication that goes into producing every bottle of Whitley Neill. We've always wanted to share that with consumers, so they get a stronger connection to what they're drinking. It just so happens that with the growth of both the craft beer and gin categories, consumers are now actively seeking out these stories."