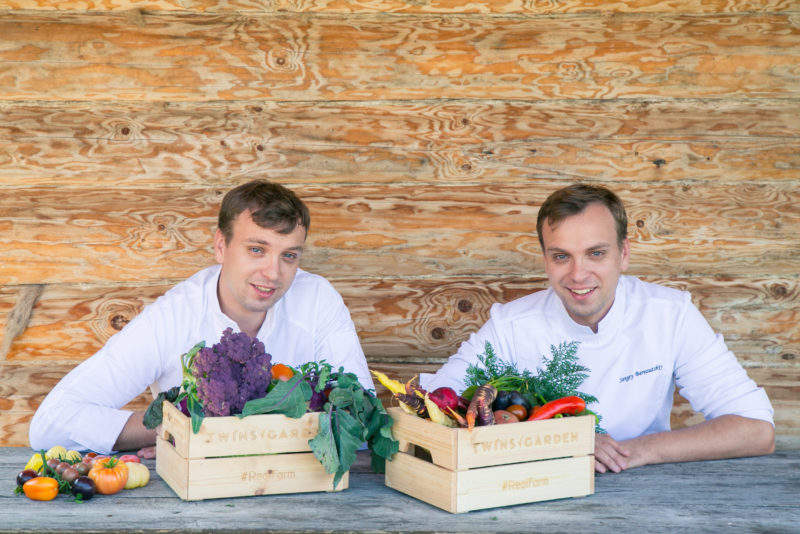 The Berezutskiy Brothers speak about Twins Garden, one of the World's 50 Best Restaurants, and they're really rooting for vegetables. Ivan and Sergey Berezutskiy discuss their business together.
Tell us about Twins Garden's business strategy, its operations and financial performance
The restaurant opened only several months ago, so we will be able to talk about the financial performance after a calendar year. The restaurant is closely connected to the farm, with which at peak times we can get more than 150 kinds of vegetables, and in winter we are limited to greenhouses. As for the business strategy, it will be correct to speak about it when we turn at least a year.
What's the key to success?
Work, work and work again, this is the key to success. And love what you do. Really enjoy it. Work should be a pleasure.
What are your overall expansion plans?
We want to open a farm shop with products from our own farm, because they are very popular with the guests. We want to make the most out of our products in all our projects. In addition, we are planning to build a waste disposal system from the restaurant and from the farm, a recycling system where waste will be used as an organic fertilizer. We want to make a completely closed cycle.
Define your competition
Any restaurant – both in Russia and abroad. But seriously, we are not for competition, we are for friendship and communication.
How do you fund your sites?
We don't fund them. They make money and make us profit.
What are the opportunities and challenges for your business?
Twins Garden is a unique project for Russia, so in many things we have to act as pioneers. We simply don't have anyone to learn and gain experience from. The main task is to ensure that our restaurants are as much as possible provided with our own products: both from the farm and from our fishermen in the Far East.
What's the next big thing for the restaurant trade?
It will take place when chefs will be able to fully control the quality of products grown on their own farms.
What are your global food trend predictions for 2018?
Vegetables. To expose the tastes of vegetables as much as possible is a big trend for this year.
Describe your food offering, what are the most popular items on the menu and why?
Due to the fact that we have paid great attention to vegetables, vegetable dishes are the most popular. We have no competitors in the quality of vegetables in the country. People see it, people appreciate it.
What's your background and how did you get into the restaurant industry?
After graduation we worked in St. Petersburg, then in Moscow under the guidance of chef Adrian Quetglas. Ivan worked with Ferran Adria at Spanish El Bulli, and Sergey worked at the best American restaurant, Alinea. After his internship Ivan won the IV International Contest of haute cuisine chefs in Madrid, and Sergey later became the first Russian chef to win the first place in the S. Pellegrino Cooking Cup. We have been working together since 2014.
How has the Twins' business changed since it opened its first site?
From a business point of view, probably, the new restaurant has become an even more unique and successful project than the old Twins.
Why have you chosen to open restaurants in the current locations so far? And what has determined where subsequent restaurants have been established?
It is located in the centre of Moscow. In this new place there is more space for the realisation of all our ideas. The same is true for our other restaurants.
Do you think the Russian trend is here to stay?
We do not know, but we will try to make it stay.