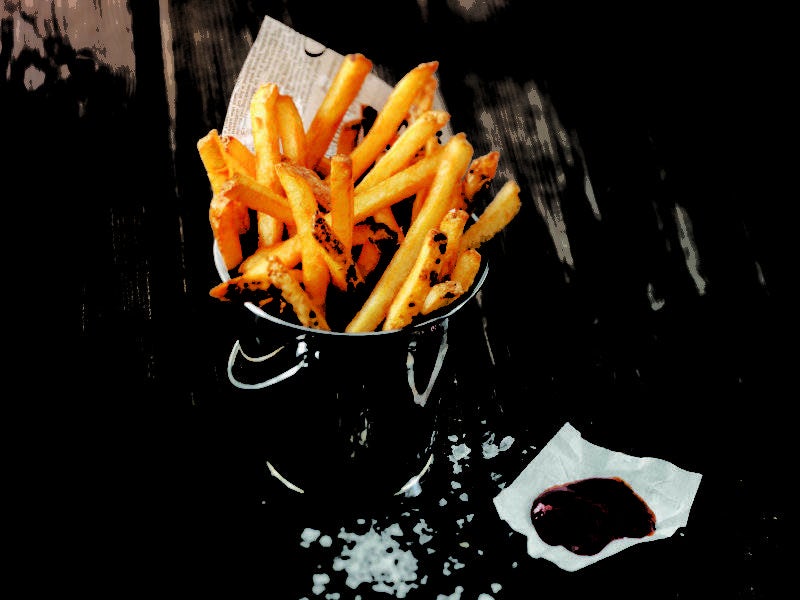 Global business McCain Foodservice has partnered with Google and leading food and drink experts to identify key trends and insights to show operators how creating the right talking points on the menu can build reputations and lead to customer recommendations.
Marketing – The search for new
Google research, developed on behalf of McCain, shows how 'Micro Moments' in consumer search habits are impacting eating out.
Jo Holborn, McCain Foods marketing and category controller, said: "Google highlights 'micro-moments' as factors accelerating consumer expectations for immediate experiences. Mobile search means everything is at the consumers fingertips and the impacts are high, particularly on eating out, so ensuring your online offer is optimised is vital.
There are three key factors that operators need to consider. The importance of 'best' – mobile searches for best have grown 80% in the past two years, with specifics such as 'best local restaurant (+85%), and best fries (+75%) up significantly in the last two years. The expectation of 'close' – consumers want experiences that are tailored to their immediate location – consumers now just assume their phone will know where they are and deliver information accordingly.
The need for 'now' – consumers are becoming more reliant on their smartphones to make spur-of-the-moment decisions. Mobile empowers consumers to be nimble and they expect brands to respond by understanding their needs and addressing them immediately. Accordingly, searches for 'where can I get great food now' are up 80% in two years. And be warned, over half of consumers will leave a website if it takes longer than three seconds to load.
Ways in which search in food and eating out is leading and reflecting trends
1.      Actually breakfast is the new brunch: searches for 'breakfast near me' far exceed searches for meals throughout other day parts.
2.      It's about ultra-convenience: searches for branded restaurant apps that enable things like reservations, tracking orders, and discounts have grown 120% YoY. Search interest in 'open now' has tripled in the past two years.
3.      It's about influences: Seasonality is a key driver of food interest.
4.      Confirming dietary changes: vegan restaurants and menus are no.1 in rising trends.
5.      Rising cuisine types: In one year Peruvian is up 200%, Korean (+150%), Japanese (+95%), Southern States (+80%), Cambodian (+75%) and Algerian (+70%).
6.      Speak the language of search: consumers overwhelmingly search for chips not fries. Chunky, dirty and spicy are among the most searched for types of fries.
Craft through knowledge
McCain Foodservice has launched 'Hop', a guide to craft beer and food pairing, to enable operators to make the most of consumer demand for a 'craft' approach to eating and drinking – delivering new experience and taste sensations that drive profit, customer satisfaction, and stand-out positioning.
Shane McNamara, beer sommelier for the Beer & Cider Academy, collaborated with McCain on the project: "The right combination of food and beer can be the difference between a good meal and a great one. It's also the difference between standing out from your competition or not. That's the business case for introducing matching on your menu, offering customers a great experience, and another reason to keep choosing you in the face of increasingly tough competition.
"It's also a way of up-selling and can help to increase spend per visit. Front of house staff are your number one selling tool, so make sure they're armed with all of the ammunition and get them trained up. Customers will appreciate it and staff will feel more engaged.
"I've worked with McCain to put together a selection of classic meals and suitable beers to pair them with. Recognising how the two can work together is vital in ensuring that your customers are both satisfied and keep coming back for more. But don't let that scare you off, the basic principles are easy to pick up and the guide is full of off-the shelf solutions and inspiration that any pub can put into action.
"The wide range of McCain products are a wonderful accompaniment to a range of craft beers. McCain source their potatoes from growers they've been working with for generations, these are farmers who've mastered their craft and remain passionate about what they do, so make the most of it and match them with your beers! Simple really, who knew good beer and good food was a match made in heaven and a key ingredient of success!
"Most of my work involves new openings. These early adopters are leaving no stone unturned in their quest for success. That's not to say established pubs aren't putting in the effort, but it demonstrates that in what is an undoubtedly tough trading environment you need to be prepared to explore all of the opportunities to compete."
Menu innovation
'Billy Smokes' Barbecue Bootcamp', a guide to barbecue techniques and menu development from the Hackney based fire and smoke aficionados, has been launched to help operators satisfy growing consumer appetite for barbecue style cooking.
Will Griffiths, founder of Billy Smokes, explains: "With barbecue seen as an accessible and sociable style of food that taps into demand for big, bold flavours and authentic, gutsy cooking, consumers are hungry for barbecue inspired dishes.
"Modern barbecue is a long way from standard bangers and burgers served in the pub garden. Chefs from premium and even more high-volume food outlets are mixing flavours and barbecue techniques from a variety of cultures to develop their own unique takes on barbecue cuisine. That clash of different ingredients, cultures and cooking techniques ensures there is scope to create a really unique offer.
"The guide covers what's popular, in terms of dishes and ingredients, special techniques, as well as price points and profit margins. It's been great working with McCain to create the dishes and put the guide together – all the products perform brilliantly, and of course they are all British, which is really important to us."
The next generation of flavour
Chris Edwards, menu flavourologist, cocktail consultant, and owner of two of the hottest bars in London, The Shrub & Shutter and First Aid Box, shares insight on the importance of next generation flavour trends and his top tips for making the most of them: "As consumers seek more exciting food experiences, the desire to be exposed to a broader palette of flavours is increasing exponentially. So, be prepared to have an open approach to flavour – mixing new ideas for modern consumers, challenging taste buds and bringing sensory experiences to the fore is really important.
"There is a lot to consider and you have to be prepared to test things out. Start by getting an idea of the latest food trends, delivery trends (how you serve), and cooking styles and work out what you want to achieve by asking yourself questions around the things you want to deliver and see what works."
Food trends
Botany, modern plants, interesting plants, sea, land-forage, exciting vegan, flexitarian, functional ingredients made interesting e.g. fermented, pickled, eat raw
Delivery trends
Fun, excitement interaction, experience, nostalgia, ritual, challenged, environmentally friendly, no waste – with: ingredient, infusion, theatre, smoke, mist, heat, essence, and how it's served e.g. vessel
Cooking styles
Roast, burnt, raw and plant
Jo Holborn, McCain Foods marketing and category controller, added: "Competition for customers is increasingly intense so operators need to be able to find an edge if they want to stand out, make themselves discoverable and remain relevant.
"Creating talking points that help you stand out in the right way can excite customers, build reputations and lead to recommendations, whether that is word of mouth or good Trip Advisor reviews. However, it is easier said than done when you've got a business to run, and that's why we're curating and sharing the latest thinking on flavour, menus, craft and innovation, whether that is introducing beer and food matching, inspiration for how to use the most in-demand ingredients, or even how best to shout about what you're doing to new and existing customers.
"At McCain we say that a chip is never just a chip and by the same token we strive to be more than just a supplier to our customers – supporting them where they need it most and making it easier for them to take advantage of the latest trends and opportunities."