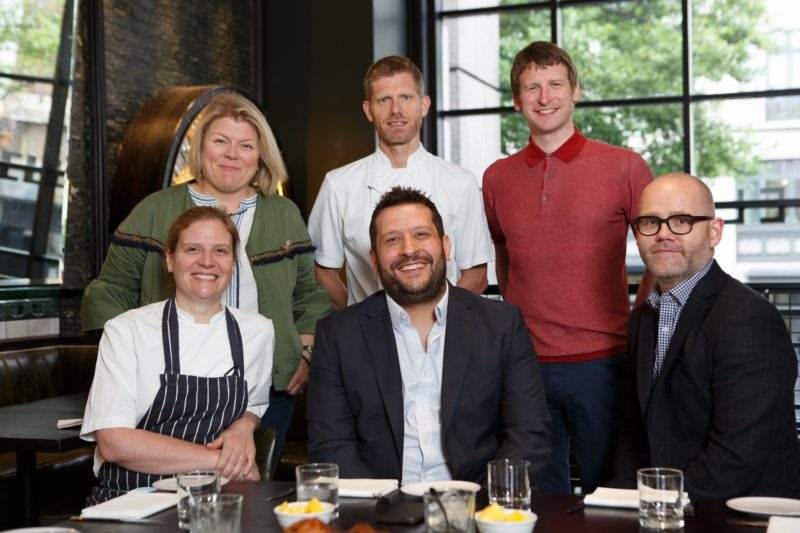 The 'Netflix generation' is driving the meat-free agenda, according to a panel of top chefs from contract caterers and restaurants.
The current trend of increasing demand for vegetarian and vegan options is being driven by the 'Netflix generation', say leading chefs who met recently to discuss the shift towards plant-based dining ahead of World Meat Free Week (June 11–17).
The panel, who met at Tredwells restaurant in Seven Dials, London included: Chantelle Nicholson, chef patron, Tredwells; Russell Bateman, head chef, Colette's at The Grove, Hayden Groves, executive chef, BaxterStorey; David Simms, culinary director, Restaurant Associates; Steve Groves, head chef, Roux at Parliament Square; and Helena Puolakka, chef patron, Aster Restaurant.
Bateman told the panel: "There's just so much info out there now – entire feature-length documentaries about intensive farming, a rising population, and just how unsustainable our current level of meat consumption is.
"Don't underestimate the power of Netflix. It's having a real effect. I see it every day at work, particularly among our younger chefs."
Nicholson added: "Young chefs are definitely much more open to plant-based food. There's a lot more information and inspiration out there now, which they're using to learn and grow from.
"They're a lot more aware of what's going on and the challenge that lies before them. And they're embracing that challenge, learning new techniques and experimenting with ways to create delicious plates using plant based ingredients. I think that's a very positive thing."
In a sign of the times, the chefs – all of whom serve meat on their menus, as well as a number of plant-based dishes – revealed they eat plant-based meals at home at least twice a week, primarily for health reasons, but also citing sustainability concerns.
Puolakka said: "People are dining out more often, and this is having an impact on the amount of choice they want each time. We used to have a whole menu with just allergen-free dishes, a whole menu with just gluten-free dishes, a whole menu just for vegetarians and vegans.
"It just became too much. Now we have one menu designed with inclusivity in mind, with something for everybody – whether that's people with allergies, coeliacs, or just people who are trying to eat less meat."
The global population is estimated to reach 9.1bn by 2050 – meaning the world will require an extra 200m tonnes of meat annually if the present rate of consumption continues.
With meat production already responsible for 14.5% of global greenhouse gas emissions – more than all emissions from global transport combined – the current shift in attitudes towards lowered meat consumption is welcome news.
Groves said: "People who consciously eat little or no meat – or any animal products at all for that matter – have been around for decades.
"But plant-based diets have only now hit a critical mass and taken root in the mainstream. And health and environmental concerns are no doubt central to that. We're talking about a shift in long-term attitude, not a fad."
The chefs took part to show their support for World Meat Free Week, which encourages everyone to swap one or more meals to a meat-free alternative from June 11-17.
Related feature in Cost Sector Catering
https://secure.viewer.zmags.com/publication/c05981b9#/c05981b9/80