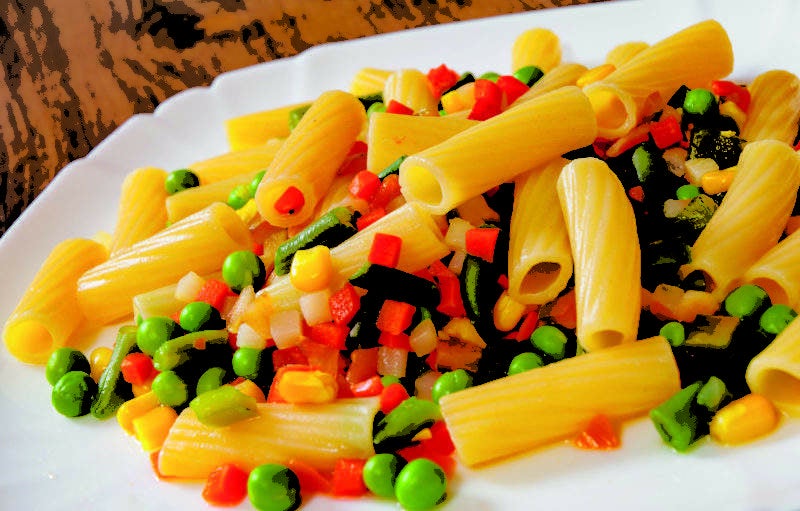 Americans might be in love with their burgers, hot dogs, steaks and ribs, but some US schools have begun offering vegetarian-only lunches, as Amanda Balthazar reports.
There are no squabbles over who will have the last hamburger and no fisticuffs over the remaining shepherd's pie at the P.S. 244 primary school in New York.
It has been offering vegetarian-only lunches since 2012, to great success, and is now happy to see other schools jumping on the meat-free bandwagon. Two other schools in New York City (NYC) have gone veggie, and the Los Angeles Unified School District in California is testing the concept in seven of its schools.
"Offering a plant-based menu fits with the mission of our school," says Robert Groff, headmaster of P.S. 244. "We were founded in 2008 with the mission of teaching children about a healthy lifestyle, and the hope is that these meals will help lead to higher academic success."
Eliminating meat isn't an overnight transition – the move to meatless was gradual, and took several years, Groff says.
As part of this endeavour, P.S. 244 partnered with the Coalition for Healthy School Food to help educate everyone. Working with the non-profit organisation that operates in New York state, the school set up family dinner nights, during which the catering department serves healthy food and talks about it. The school also holds nutritional education and cooking workshops for adults and students before the dinners.
"Over just a few nights our kids were understanding the nutrition behind what we were doing and the families began to understand it, too," Groff explains.
"These dinners helped us get buy-in with families. The dinner night was really important because the parents got to taste the foods their kids were having."
In the first year the school brought in a number of chefs from the NYC Department of Education's Office of SchoolFood to create and develop kid-friendly recipes and menus. Then, when it was ready to launch its vegetarian menu, it did so gradually, so only vegetarian food was offered on two days, while on the other days students could choose between a plant- or meat-based meal.
The schools then moved to three and then five days a week of vegetarian menus six to nine months after the programme started.
What P.S. 244 serves for its lunches is always evolving. "There have been menu items the kids don't like and we have to adjust," says Groff. To increase the chances of kids liking new-to-them or healthy foods, the school holds monthly food tastings. "And the more we do that, the more they will come to accept it," says Groff. "It's all about exposure".
P.S. 244 can't just dish up whatever it wants, however all the food items and ensure they abide by the regulations of the US government's Food and Drug Administration, which dictates what schools can serve and how much they'll be reimbursed for feeding school children.
It's not always been easy. Tofu has been a hard sell, mainly, Groff says, because according to regulations it has to be served in a 2oz block, "so it becomes less visually attractive".
Conversely, courgette parmesan with wholegrain pasta has been a hit, as has a roasted chickpea-pesto pasta. Panini with fillings such as tomatoes, spinach and cheese are also well received.
There was pushback initially from some families, Groff says: "I told families that if they chose to send something different in with their kids that was their choice. We do restrict things – we ask for no soda, cookies or chips in the building, and if a child brings them in we have them take them home with them."
Los Angeles Public Schools ran a test vegan menu from September to November 2017 offering one vegan item per day. It went so well that the seven high schools serving it sold out of several items, like the vegan chilli (which was the most popular vegan item overall), a soy sausage sub, and a teriyaki patty sandwich, which were offered alongside the usual school fare. A group of students taste-tested the food before the menu was launched.
This has been a long time in the offing. The catering department for the school district began developing the vegan fare last year and, equally importantly, developing eye-catching marketing materials and training cafeteria staff.
Although there were already meatless Mondays and a vegetarian option daily, it was insufficient. The new menu was originally devised to feed vegan students, but many others are eating the foods.
Students cited various reasons – weight loss, sports, overall health, and just the desire to try something new – as reasons for switching. They are also not shy with their feedback, which is what the department wants.
"One student mentioned that the vegan Italian sausage sub was too moist and made the bun mushy. The students thought it would taste better over pasta," says senior nutrition specialist Ivy Marx. "That's an idea we are taking back to the menu team.
"We may even try to find a vegan flatbread to see if we could make the sausage sub into a flatbread item. At this point, all ideas are on the table."
The test was a success and approximately 13% of students participated in the vegan menu. Now the district is expanding it to seven more schools – a combination of primary, middle and high schools – and will add more each month to reach a total of 35 schools by the end of the year.
The cost for the vegan menus is comparable with the normal school meals and there's no additional cost for students. And that's a good thing. This is the second-largest school district in America, serving more than 1.5 million meals a year. Since the trial started, the Los Angeles schools featuring the new menu have sold 31,204 vegan lunch meals.
Amie Hamlin is the executive director for New York's Coalition for Healthy School Food and works with schools to help them develop plant-based menus. The biggest challenge, she says, is that many schools don't cook food from scratch, in which case it's hard for them to move to these vegan menus.
"Our recipes are fairly low-labour, but they are labour compared to buying packaged products," she says.
However, she's seeing demand increase for plant-based meals. "It's my greatest desire to see all school food be healthy and unprocessed and there should be a plant-based alternate on the menu every day," she says.
"I think if the [main course] looks good and tastes good the kids will eat it. The problem is, kids are given too many choices."
Related feature in Cost Sector Catering
https://secure.viewer.zmags.com/publication/381e2126#/381e2126/48