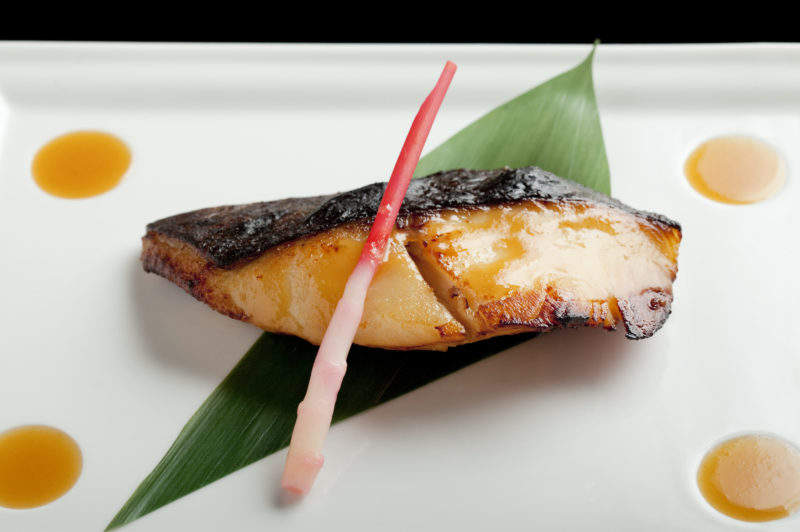 Nobu restaurants have played a major part in opening diners' minds to Japanese cuisine across the world, from Malibu to Melbourne. Tina Nielsen discovers the origins and tracks the growth of the restaurant group.
It is quite something to turn down Robert De Niro. Yet, that was what Nobu Matsuhisa did when he first met the Hollywood actor and director. The Japanese chef had wound up in Los Angeles after stints in Peru and Alaska where he'd worked after finishing his training in Japan. In California in 1987 there was an eagerness for his lighter and healthier Japanese cuisine and his restaurant Matsuhisa soon built up a reputation.
De Niro often popped in with producer Meir Teper – they had connections with New York restaurateur Drew Nioperent and together the three approached Matsuhisa to open a restaurant with them. Focused on getting every detail right at Matsuhisa, the chef was reluctant to distract himself with a new opening, but he was eventually persuaded and in 1994, Nobu restaurant opened in New York City. Three years later came the first Nobu in London's Park Lane. Today, 20 years later, there are 39 Nobu restaurants around the world, six Nobu hotels and the group has just under 5,000 staff.
Matsuhisa says it was never planned as a multinational group. "It was a natural and organic process and our ethos has a lot to do with our growth," he explains. "Nobu is like a family and our strong and dedicated team makes growing the group much easier." The growth is set to continue at a pace. This year has seen openings in Ibiza, Marbella and a third site in London, the Nobu Hotel in Shoreditch. There has also been a pop-up restaurant in Montenegro. Later this year Nobu will open in Washington, DC and Houston, Cabo and Chicago will follow in 2018. While the expansion may be speedy, there's careful thought and preparation behind every opening. "We will only open new hotels and restaurants without compromising our brand promise of the best quality, excellent service standards and nurturing the Nobu family," says chief operating officer Hiro Tahara. As an example, consider the Cape Town restaurant, opened in 2009.
Andrew Milne who is now the general manager of London Park Lane, was part of the team that launched the restaurant in the South African city. "Projects can take four, five or six years and Cape Town was about five years in the making," he says. "Ibiza, on the other hand, was made much quicker. These things don't happen off the cuff; Nobu himself will make a trip and we go and eat in lots of places to see what the quality of the produce is like and what else is around in that market."
Fresh and local
Ensuring the Nobu reputation remains strong and the quality remains high can be a challenge when the restaurant group extends into different geographical locations. Consistency is key. "We always ensure we use the same Japanese imported products – such as wasabi, seaweed, sake and rice – together with the freshest local ingredients to keep that quality," says Matsuhisa. "There is no central buying policy for fresh ingredients." This means live langoustines, Scottish lobster and salmon, hand-dived scallops and Dover sole are unique to the London restaurants. Other Nobu restaurants will feature produce found only in their location. Matsuhisa acknowledges that operating restaurants with such a different cuisine all over the world can be tricky.
Importing from Japan is often an issue and other aspects such as culture and staffing need to be considered. "Each country has its own preference and tastes. In Europe, for example, it can be harder to find skilled sushi chefs." Depending on the location and the circumstances, Nobu restaurants operate on one of two models, as Milne explains. "We have owner properties and licensed properties. Cape Town is a licensed property where the local partner manages the operation, but we have a management contract with them," he says. "Every so often we go in to make sure the quality and service is there and ensure the right people are in place." Tahara says finding the right local partner is instrumental to make a new location work.
"A good local partner understands the Nobu brand and its core values and good local knowledge is a must, with strong links to the hospitality industry," he says. With an international staff pool, the company can look internally for that local knowledge. "We have many staff members with incredible knowledge of areas where they may have grown up or lived. This is another reason why nurturing our staff is so important to us." But the operating partner is not the only important partner. Other restaurants and chefs in the market are also vital, according to Milne. "Local relationships are important. To get into a place and say, 'we are the boss' won't get us anywhere, but where we can have relationships with people, we can elevate things together," he says. "People help us tap into all sorts of things, such as food, producers and even staffing so we rather like to have synergy where we operate."
When the team opened the Marbella location they tapped into the local chef network and became friendly with local restaurateur and chef Dani Garcia who is well known throughout the region. Last year, he invited Matsuhisa to a fourhand dinner at his eponymous restaurant and organised a week of tribute dinners involving many of the best chefs in Spain. Another way to fit into a new location is by what Milne calls "localising" the decor of the new sites. "In Shoreditch we have tried to reflect the location by featuring a more industrial design to fit into the landscape in that part of London. Ibiza on the other hand is very airy and light and open," he says. The most recent opening in London was a Nobu hotel with a restaurant, pointing to an expansion of business. Milne says any new Nobu property in the future will be now either be a fullfledged restaurant or a Nobu hotel with a restaurant. The first Nobu hotel opened in Las Vegas in 2013 when the group "took over part of Caesar's Palace, but the public can look forward to more standalone hotels from Nobu in the future.
Making progress
Right from the start, hotels were recognised as an ideal location in which the restaurants could open. "Within a hotel you already have an infrastructure in place," says Milne. "On top of that, a hotel is also often the heart of where international people are coming." Reflecting the new strategy, Nobu Ibiza is a hotel and Marbella will eventually develop into a hotel too. More than two decades after the first Nobu introduced Japanese cuisine to a much wider audience, hundreds of new Japanese restaurants have opened in cities such as New York and London. An established and sizeable operator such as Nobu must have had to adapt to keep at the top of the game – what has changed? Certain dishes will always stay on the menu, says Milne. "Yellowtail with jalapeño and the miso black cod are famous Nobu dishes that will remain on the menu forever – they are amazing dishes," he says. But the menu has also been restructured to reflect the age and progress of the group. "We have the Nobu classics where those famous dishes belong but then we have a section we call 'Nobu now' which will constantly have new dishes added to it."
As the popularity of Japanese cuisine has spread around the world, chefs will offer their own interpretation of the cuisine. Matsuhisa is unconcerned about the development. "Japanese cuisine is about simplicity, perfect presentation and clean flavours and it is wonderful how internationally popular it is now – the Japanese market used to be very traditional but now people know more about it and it has been exported all over the world," he says. "I don't think the development of Japanese cuisine is something to be afraid of, it is important to constantly develop and evolve dishes. This is how we created Nobu style."
First published in FCSI's Foodservice Consultant magazine.