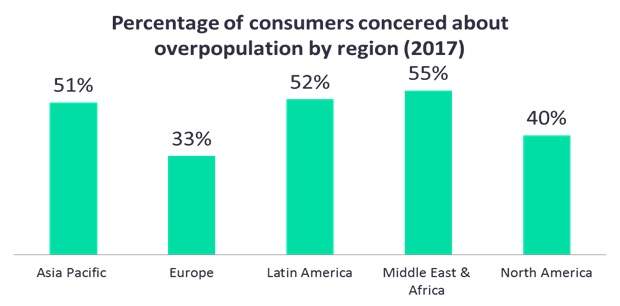 Population continues to rise globally, especially in the UK, exacerbating concerns over food standards.
According to the Office for National Statistics (ONS), UK population is expected to increase by 3.6 million (5.5%) over the next ten years to 2026, with the 70 million mark being surpassed by 2029. This increase is more pronounced in births, rather than deaths; 46% of growth is projected to result from more births.
As an essential resource, the supply and production of food is a major concern across all countries and regions. More importantly, rising population will place extreme pressure on producers to achieve the balance of quality and quantity – this threatens food standards.
The Population Institute (Pi) estimates that a 70% increase in food production will have to factor in various threats; this includes groundwater depletion, loss of farmland to urbanization and flooding and droughts caused by excessive climate change.
Earnings in developing countries are expected to rise with population and exceed economic poverty levels. Consequently, developing regions exhibit the greatest concern around overpopulation. According to GlobalData's Q1 2017 global consumer survey, concern is highest in Middle East & Africa, where 55% of the population is concerned with overpopulation.
Concern is likely to continue rising as governments allocate scarce resources and accommodate global migration. In context, the post-Brexit agreement that emerges next year is expected to tackle growing concerns; net migration is expected to be lower as the free movement of European expatriates is reduced.