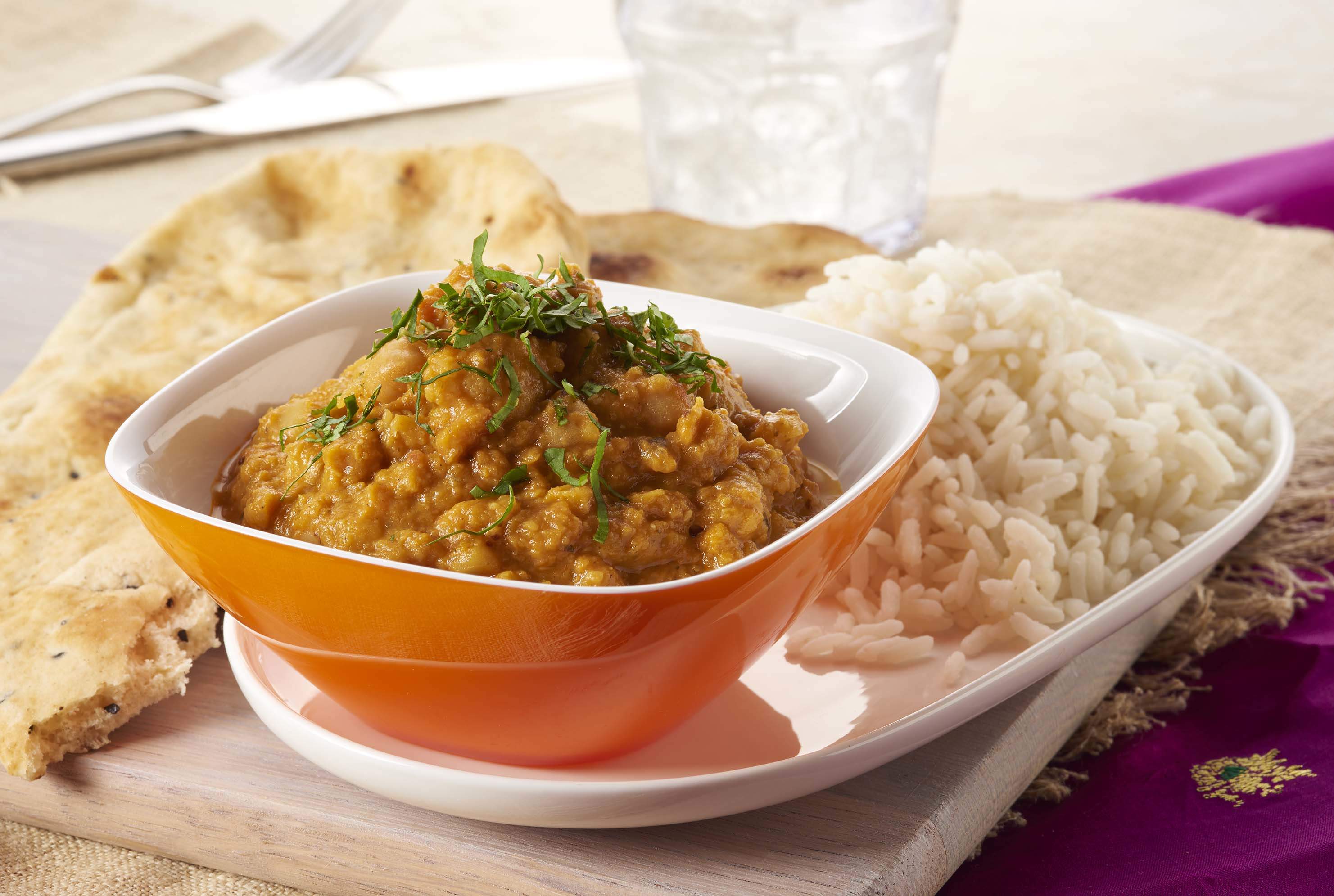 Despite the plethora of choice on offer from world cuisine to tempt consumers, Indian cuisine continues to hold its own against the competition and is now a multi-billion pound industry in the UK.
According to the results of The University Caterers Organisation's (TUCO) 'Global Food & Beverage Trends Report' there is a growing trend for 'Modern Indian' food.
"Foodservice operators tapping into this movement are foregoing traditional Indian dishes and opting instead for new vibrant flavours and serves that capture consumers' interest and appetite," says Matt White, TUCO chair and director of catering, hotel and conference services at the University of Reading.
"This new generation of customers now demand authentic, healthy and on-the-go interpretations – expecting everything from masala fries to chai-spiced drinks. In response, we're seeing higher education caterers explore formats such as naan sandwiches and healthy takes on Indian food that use fish or vegetarian alternatives to meat."
White continues: "Travelling to the country of a cuisine is a way to gain inspiration and learn how to recreate international dishes. To help caterers, we run overseas study tours, and this year we headed to northern India. Travelling to Delhi, Agra, Varanasi and Jaipur, members explored markets, traditional family cooking, street food and the ways in which Indian culture influences food today, and came away with a new set of skills and knowledge to use as a basis for their own Indian-inspired dishes.
"Building on the success of this trip, we're introducing a tour to southern India next year so our members can learn about the diversity of flavours there."
Events such as National Curry Week, which celebrated its 20th anniversary this year, provides an opportunity every October for suppliers and operators to promote new curries and ways to give menus a makeover.
KFF, for instance, developed a new range of multi-portion curries for the week – 9-15 October – and beyond, which provides solutions for busy kitchens. Among its Indian dishes are beef Madras, chicken tikka masala, chicken jalfrezi, and vegetarian sweet potato, spinach and chickpea curry, accompanied by rice and naans.
Supporting the rise of vegetarian dishes on menus, which according to analyst MCA's latest Menu Tracker has increased by 6.6%, Indian cuisine offers dishes from vegetable and chickpea curries to dal and paneer sides, while burritos with an Indian twist can include ingredients such as Bombay potatoes, chickpeas, lentils and raita sauce.
Anglia Crown managing director Paul Howell says that its Indian-inspired meals have proven popular with hospital patients, which is why it expanded its range.
"We like to ensure patients have plenty of choice and meals they are familiar with to enhance their stay in hospital," comments Howell. "Our Crown Advantage vegetable jalfrezi is full of flavour and suitable for vegetarians and vegans. Other dishes with Indian influences across our ranges include chicken korma, lentil, tomato and cauliflower dal, vegetable and beef curries, chicken biryani, and vegetable mulligatawny soup. We also offer sides such as pilau rice and spicy lentils."
Pasta King marketing manager Christine Forrest says the beauty of Indian food and its range in particular is that there is a spice level to suit everyone.
"Chicken korma is a winner across primary and secondary schools and while being at the bottom end of the spice spectrum, our version has enough depth of flavour to be authentic yet kind to some of the junior palates," comments Forrest, adding that its curries are based on third-generation Punjabi recipes combining just the right level of spice.
Available in 4×1.75kg pouches, traditional chicken balti, bhuna and korma curries sit alongside options such as Quorn tikka and vegetable jalfrezi, and point-of-sale kits support them.
"While our curries reflect traditional recipes, the fact that they come as part of a branded concept means they ride on the wave of street food that is popular with today's students," adds Forrest. "Our branded disposable pots help bring a little of the high street into the dining room and enable meals to be eaten on the move – critical when trying to increase meal uptake for today's generation. Along with our premium basmati rice, which comes free of charge, they offer the perfect grab-and-go solution."
Matt Cutts, product director for Mars Food Europe, says that according to the Food Standards Agency, the Indian food industry in the UK is worth £3.2 billion and accounts for two-thirds of all eating-out occasions, therefore caterers need to capitalise on demand through themed menu days or including ethnic options on normal daily menus.
"Indian dishes have been adopted across the hospitality sector and, although many have been anglicised to suit our preference and taste, they reflect classic Indian cuisine, albeit in some cases, a 'fusion of'," says Cutts. "There is no such thing as 'standard' or 'official Indian food', simply interpretations. This offers opportunities for chefs to maximise its potential."
He says popular flavours can be used in many menu items – for instance, chicken tikka pies topped with filo pastry instead of traditional short crust or puff pastry as a twist on Indian and British cuisine, or lamb Madras wraps, which are quick to make, for a lighter lunchtime option.
Cutts says that one of the most important elements of Indian cuisine is the sauce, and Uncle Ben's ready-to-use Indian sauces makes creating these dishes easier, plus they cater for gluten-free and vegetarian diets.
Chef Ben Bartlett, brand ambassador for AAK Foodservice, makers of Lion sauces and Prep Premium flavoured oils, says it's time to experiment. "Taking inspiration from Indian street food is a way of bringing some contemporary style to lunchtime or grab-and-go dishes," advises Bartlett. "Indian-style wraps, combining spicy tikka chicken, slow-cooked spiced lamb, and griddled paneer or dal with salad and yogurt and garlic dressing is a winner."
Alternatively, he says these can be served with brown rice or cauliflower rice mixed with diced kale as a healthier option. Another suggestion is using Prep Premium's CurryHouse oil flavoured with herbs and spices to make a marinade that can be brushed on to meat and fish, or veggie options such as paneer cheese kebabs.
Simon Muschamp, head of marketing at Pritchitts, says curries are simple to make in large quantities and provide customers with an opportunity to trade up and buy extras such as naan, sides and dips. "Indian food offers opportunities to vary offerings with minimal effort and cost," comments Muschamp. "Whether based on meat, poultry, seafood or vegetables, they can be mixed and matched with a variety of sauces to suit all tastes."
He recommends Millac Gold Single cooking cream, which is lactose-free and halal-certified, for ethnic dishes such as curries, sauces and soup, as it outperforms fresh cream and offers value for money.
David Williams, managing director of specialist naan bread producer Butt Foods, says there is now a new wave of eateries bringing exciting authentic experiences.
"It's this changing approach, as well as innovation in products and accompaniments, which helps keep Indian cuisine top of the nation's dining list," comments William. "We've seen this in our own range, with naan bread now available in different shapes, sizes and flavours, right up to our latest artisan sourdough recipe, which has been developed to offer something special and versatile to take advantage of these trends.
"It's key that operators keep up with the high street. After years of consistent growth things are changing in the Indian restaurant world and they need to be on the ball with this different approach.
"We commissioned celebrity chef Cyrus Todiwala to develop uses for our sourdough naans to illustrate the flexibility of the flat bread, and he created a selection of serving suggestions that go beyond the traditional side-of-plate application. It's these ideas that operators can adopt."
Martin Ward, Country Range Group (CRG) trading director, believes more Indian convenience and street food concepts are available, plus Dishoom has shown that India can do breakfast, so this cuisine is moving into new areas.
"Our development chef Paul Dickson has been creating new dishes that are simple to make but guarantee that wow factor," says Ward. "For example, he has used our korma sauce with coconut milk, veg bouillon and chargrilled cauliflower to quickly create a soup with bags of flavour. With a cost price per unit of £1.25, it highlights how with a few simple ingredients and spices, Indian food can become a showstopper."
Related feature
Cost Sector Catering November issue
http://viewer.zmags.com/publication/5618c3a9#/5618c3a9/46