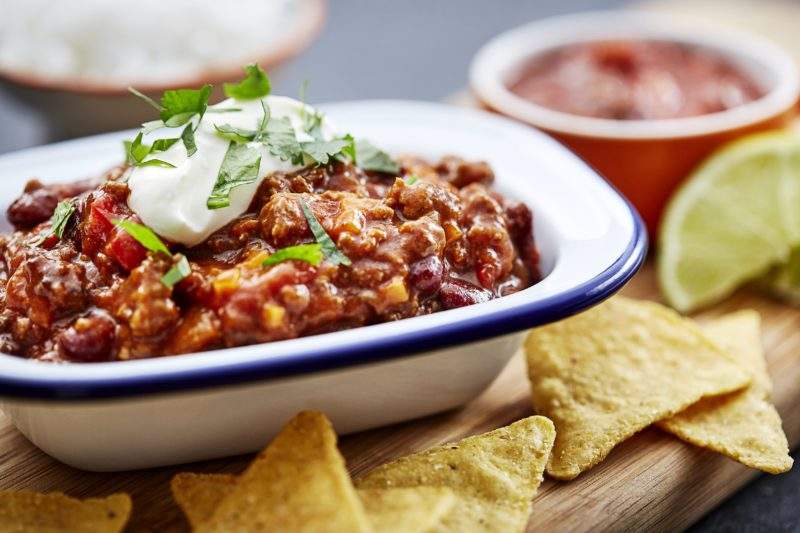 Making stocks and cooking sauces from scratch can provide cost savings, but for the consistency, speed and cost-effectiveness required in the cost sector's busy kitchens, ready-made products offer an instant solution.
"Scratch sauces may be deemed cheaper if the only criteria is the cost of the raw ingredients, but when labour, energy and wastage costs are taken into account they are often more expensive," comments Mark Irish, head of food development at Brakes. "In addition, the shelf life of a scratch sauce will be shorter, meaning that chefs will need to make fresh sauces several times a week."
"Good sauces transform dishes by enhancing the main ingredients, and they have the benefit of appearing to enlarge the portion size of the centreplate item, which increases the perception of value for money."
Trend-wise, he highlights the continued growth of 'Americana', such as barbecue and hot sauces, as well as Asian-inspired flavours such as sweet chilli, sriracha sauce and Korean-style cuisine. In some cases they have taken the place of classic sauces in kitchens, he adds.
Martin Ward, trading director at Country Range Group, says he isn't sure the majority of customers could tell the difference between a stock made in-house and one made with its bouillons, which pack a punch flavour-wise.
Last year, the company gave the bouillon range a makeover to cater for the rise in food intolerances. "Our beef, chicken and vegetable lines are now allergen-free and contain no artificial additives, colours or preservatives, and feedback has been positive," comments Ward. "The new recipe mixes come in 2kg tubs and the pastes in 1kg tubs.
"We've also revamped our ready-to-use world sauces, which includes Mexican/American, Indian, Italian and oriental options. The flavours have been improved with the addition of freshly frozen herbs and we've reduced the amount of salt, sugar and fat to make them more appealing to health-conscious consumers."
Mark Taylor, channel controller at Premier Foods, recommends schools follow the healthy-eating trend. "With 43% naming healthy eating as the most important trend, pupils will want this reflected on their menus," he explains.
He says using Bisto bouillon is a simple way to cater for this demand, or Bisto reduced-salt gravy granules can be used as a base to create dishes that meet this trend while appealing to a range of ages and tastes.
The latter is also a boon for care homes, where Taylor says older people are more at risk of high blood pressure and caterers need to be aware of the salt content in dishes. Dysphagia is common in care homes, so it is important to develop suitable meals for this condition too, he adds.
"Most ingredients require the addition of liquid to get the desired consistency, which can dilute flavours; by using gravy rather than water, caterers can keep food tasty for residents with dysphagia," advises Taylor.
As demand for free-from food continues to grow, which has seen two-fifths of chefs introduce more gluten-free options, he says gluten-free gravy enables caterers to serve the traditional dishes associated with Bisto while adhering to allergen regulations.
Recently, the company expanded its Bisto line-up with sauce granules. Curry, parsley, béchamel and cheese sauces, which according to the MCA 'Menu & Food Trends Report 2016' appear in the top 20 list of sauces on UK menus, are ready to serve after mixing with boiling water.
Essential Cuisine promotes pre-made stocks as valuable time-savers offering caterers the freedom to cost-effectively create more.
"In a cost-conscious environment where versatility and yield are integral, products like our gluten-free béchamel sauce mix, for instance, work with the needs of busy kitchens," comments managing director Nigel Crane. "It tastes and performs like kitchen-made béchamel, and can create a velouté for pie fillings, lasagne and moussaka by combining it with our stock powders."
He says caterers have to take dietary requirements seriously, which is why stocks with no declarable allergens are a must. The company offers many lines free of these, and has reworked its online product pages to make it easier for caterers to find what they need and understand how best to use each product.
The company has just announced that new research reveals its No.1 gravy range has excelled against rival products in consumer and chef blind-tasting tests conducted by independent market research company Good Sense Research.
The research found the range to be the overall favourite of 100 consumers in three flavour categories – beef, poultry and vegetarian – while 50 chefs across the hospitality sector rated the company's No.1 beef gravy as their favourite compared wutg the three leading competitor products, and more than half of chefs cited No.1 chicken and vegetarian as their gravy of choice.
To celebrate, the company has launched the Gravy Amnesty to encourage caterers to swap their existing gravy for a tub of one of its No.1 range. This will run throughout September and October, with the company offering a 1.5kg tub, on a first come, first serve basis, to those visiting www.gravyamnesty.co.uk.
The company moved into the sweet sauce sector with the launch of its first sweet product, crème Anglaise, earlier this year, and recently it announced that its new innovation kitchen in Cheshire, which opens in the autumn, would enable its chefs to develop even more groundbreaking products.
This year, Major International has demonstrated through its Simply Taste concept how its portfolio, which carries the Soil Association Catering Mark, can be best used across the cost sector, especially in schools, says Major's development chef Fergus Martin.
The range is totally gluten-free and the company provides customers with a free suitability chart, which lists all its products and allows chefs to check at a glance whether they are, for example, Vegetarian Society-approved, vegan or halal.
Martin says its bestsellers include piri piri and fajita Mari Bases, while Moroccan Mari Base and Pan-Asian vegetable broth are popular, along with its latest Korean-style variant.
Matt Cutts, product director for Mars Food Europe, believes that consumers are opting for free-from dishes out of choice, and this is reflected in the 'Food Allergies and Intolerances: Consumer Perceptions and Market Opportunities for Free-From Foods' report from Leatherhead.
"When using ready-to-use sauces such as our Dolmio and Uncle Ben's products, caterers will know the exact allergens in the sauce every time, with only the additional ingredients added to the dish to consider," comments Cutts.
He says the gluten-free and vegetarian sauces also enable multiple dishes to be made using the same product, and recommends Italian classics such as spaghetti bolognese, lasagne and pizza, as permanent menu items, as they are easy options for less adventurous youngsters, while for secondary school children, dishes such as penne arrabbiata provide a spicier lunch. Popular Mexican and Tex-Mex cuisine can also be tapped into by offering tacos filled with meat or veggie fillings marinated in Uncle Ben's Texan barbecue sauce.
Simon Muschamp, head of marketing at Pritchitts, recommends its Millac Gold Single cream, which is lower in fat than fresh cream, and was created to enable caterers to deliver high-quality dishes that meet dietary needs. "Millac Gold Single benefits from being lactose-free and halal-certified – helping to cater for the estimated one in five people with lactose intolerance," comments Muschamp. "It doesn't need reducing in cooking, which means it goes further, and there is no need to add thickening agents such as flour, so it helps create gluten-free dishes too. Being an ambient product also minimises the wastage associated with fresh cream," he concludes.
Related feature
Cost Sector Catering October issue
http://viewer.zmags.com/publication/155921a7#/155921a7/78