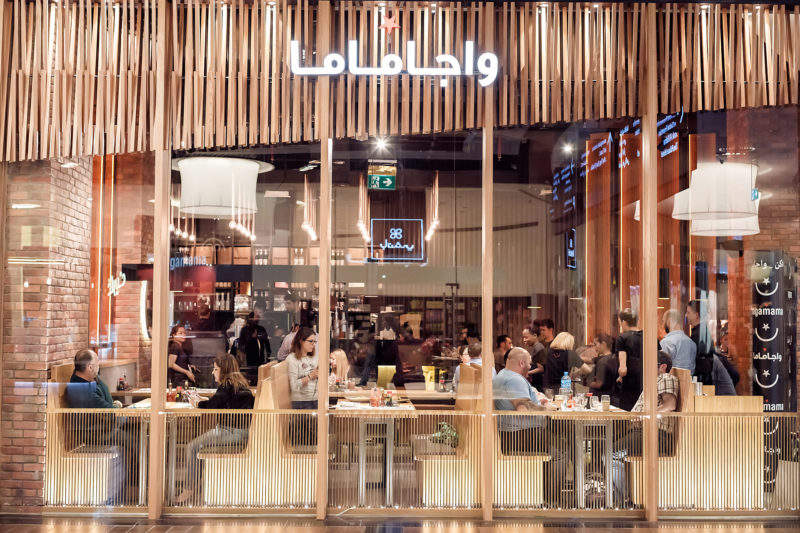 International Asian-style restaurant chain, Wagamama, has opened an outlet in one of the world's largest and busiest shopping malls, The Dubai Mall in the United Arab Emirates (UAE).
Following its opening on 31st January, this is its fifth restaurant in Dubai and 13th Middle East opening in as many years. Located in the Star Atrium of the iconic mall, Wagamama is situated close to the world's tallest building, Burj Khalifa.
The 156 cover site is in excess of 370 square metres and includes an outdoor terrace. The design follows the style of Wagamama's London flagship branch in Covent Garden and includes an open kitchen and bench seating.
"The Middle East represents an exciting opportunity for Wagamama," commented Brian Johnston, managing director of Wagamama international. "Our cooked-to-order fresh dishes have a strong appeal and guests love the theatre of the open kitchen. Together with our franchise partners RMAL Hospitality we are establishing a strong brand presence in Dubai."
Mandeep Sandhu, group marketing manager of RMAL Hospitality who is the franchise partner for the brand in the UAE added: "The arrival of wagamama in The Dubai Mall is a significant moment for the brand as we continue our expansion across the UAE. We are extremely excited to bring our fresh, Japanese-inspired cuisine to this world-renowned tourist and leisure location."
Signature dishes at The Dubai Mall include chili squid, tossed with seven spiced shichimi, chicken katsu in an aromatic curry sauce over sticky rice, and Wagamama ramen, a house specialty and worldwide favourite.
A list of fresh juices, which are also pressed, pulped and poured to order, includes choices such as super green with apple mint celery and lime and raw juice with carrot, cucumber, tomato, orange and apple.
The opening marks the next stage in the wider expansion plans for the restaurant brand across the UAE with locations currently in The Greens, Al Fattan Towers, Crowne Plaza (Sheikh Zayed Rd) and Palm Jumeirah. Restaurants in Sharjah and Abu Dhabi are also in development for 2018.
The Wagamama brand has more than 180 restaurants across 23 countries worldwide.