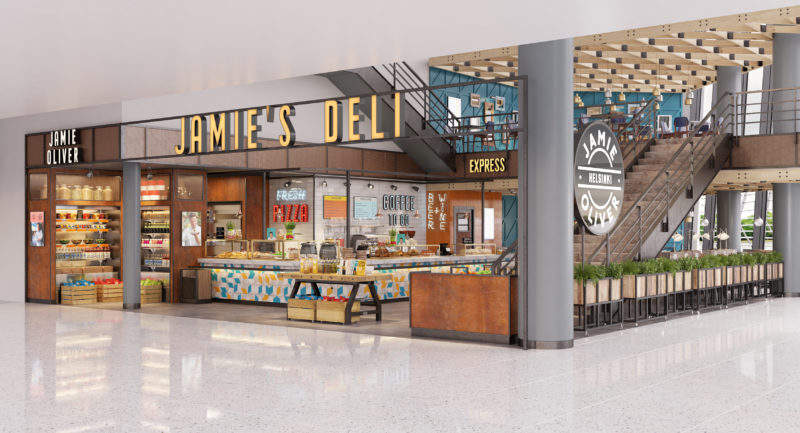 Finland's first Ajisen Ramen, Jamie's Deli and Moomin Coffee will open their doors at Helsinki Airport.
The newest part of the ongoing terminal expansion opens at the beginning of next year.
Pia Jormanainen, managing director of travel catering company SSP Finland, said: "We are delighted to be investing in these fabulous new restaurants at Helsinki.
"These are three innovative brands, that are ideally suited to the passenger profile at the airport, and we are delighted to be working in partnership with the team at Finavia to create an even better experience for passengers travelling to and from this fine airport."
SSP already operates 11 restaurants, cafés and bars at Helsinki Airport.
Elena Stenholm, commercial director and vice president of Finavia at Helsinki Airport, commented: "We work hard together with our partners to offer our air passengers as smooth and memorable customer experience as possible also regarding food and beverage selection. We welcome these new restaurant concepts that are unique to our markets to Helsinki Airport. Our more than 20 million annual passengers will offer the restaurants an interesting and international customer base.
"Many of the restaurant concepts that we have created in cooperation with the restaurant operators reflect the locality and natural character also in their food selection. Furthermore, the restaurant personnel in the kitchens as well as in the dining rooms has specialised in paying attention to the needs of the air passengers, such as the time limitations."
Ajisen Ramen is an international ramen chain restaurant, Moomin Coffee is inspired by the Finnish fictional character Moomin and Jamie's Deli is part of the Jamie Oliver Restaurant Group. These new restaurant brands at Helsinki Airport were chosen by the airport operator Finavia through a public tendering process.
Jormanainen added: "Thanks to its world-famous founder Jamie Oliver, Jamie's Deli is already familiar to many air passengers. However, this is the first restaurant in Finland, and the airport is the ideal location for this brand debut.
"The food offer at Jamie's Deli is based on fresh, local produce and freshly prepared food, a concept that goes hand in hand with Finland's natural environment – the world's best drinking water and pure quality."