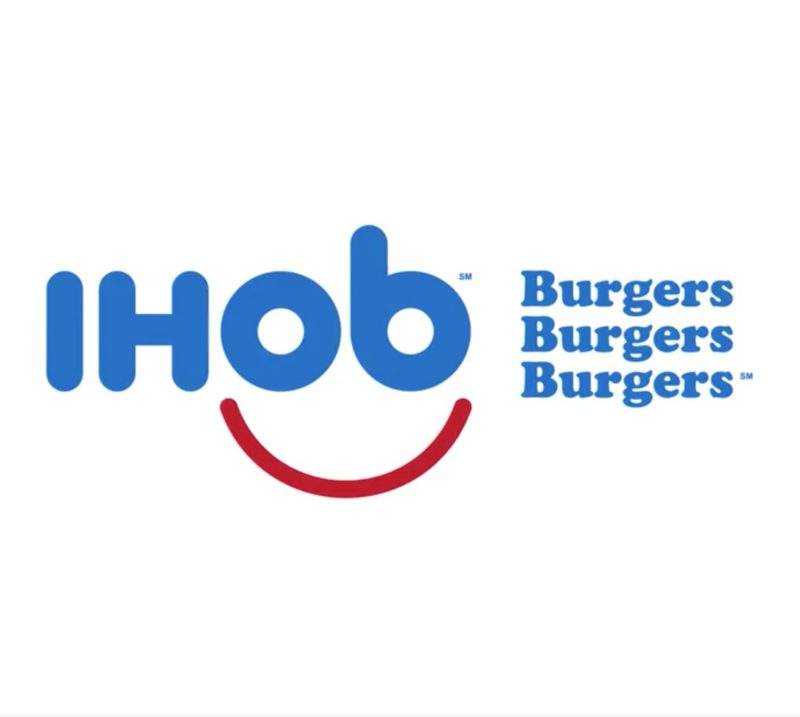 The International House of Pancakes (IHOP) has announced a transformation to IHOb, in an attempt to rebrand into a burger chain.
The change celebrates the launch of the US-based restaurant's seven Ultimate Steakburgers, available from $6.99. These new additions include the following builds:
Big Brunch – IHOP's hickory-smoked bacon, a fried egg, browned potato, American cheese and burger sauce
Cowboy BBQ – two onion rings, hickory-smoked bacon, American cheese, lettuce, tomato and tangy BBQ sauce
Jalapeño Kick – a blend of sautéed jalapeños, Serrano peppers and onion, hickory-smoked bacon, Pepper-Jack cheese, lettuce, tomato and jalapeño mayonnaise
Mushroom & Swiss – a blend of sautéed mushrooms and onions, Swiss cheese and mayonnaise
The Classic – American cheese, lettuce, tomato, red onion, pickles and IHOP's Steakburger sauce
The Classic with bacon – hickory-smoked bacon, American cheese, lettuce, tomato, red onion, pickles and burger sauce
Mega Monster – two Steakburger patties, American and white cheddar cheese, lettuce, tomato, red onion, pickles and IHOP's signature sauce
IHOb head of culinary Nevielle Panthaky said: "Burgers are a quintessential, American menu item so it makes perfect sense that IHOP, one of the most iconic, all-American comfort-food brands in the world, would go over the top to create a delicious line-up of quality burgers that hit the spot any time of day.
"Our new Ultimate Steakburgers are made with all-natural, 100% USDA Choice, Black Angus ground beef that is smashed on the grill to create a sear that locks in the juices and flavour. With seven different burger builds, all Steakburgers are custom built and piled high with premium quality ingredients and unique, signature sauces in between a buttered and grilled Brioche bun.
"There's definitely a juicy Steakburger for whatever you might be craving at any time of day! The IHOP culinary team took the creation of these Steakburgers as seriously as we take innovation around our pancakes, which means they're soon to become world famous too."
IHOP has flipped the 'p' in its name around to 'b' on its website, except in the URL, and its Twitter account. The chain is reported to be using this transformation to appeal to a wider crowd during lunch and dinner, due to nearly half of its customers entering the establishment for breakfast. The chain has not confirmed whether the change will be permanent.
IHOb chief marketing officer Brad Haley said: "We've pancaked pancakes for 60 years now so it's the perfect time to start burgerin' burgers, and we're kicking it off by flipping the 'p' in IHOP to a 'b' for burgers. And, when you try them, I think you'll agree with me that IHOb's new line of Ultimate Steakburgers are so good that I'd put them up against anyone's … just like our pancakes."
The pancake-turned-burger chain offers 65 signature breakfast options in over 1,750 establishments around the world, including the US, Mexico, Lebanon, Puerto Rico, the UAE, Thailand, India and Qatar.