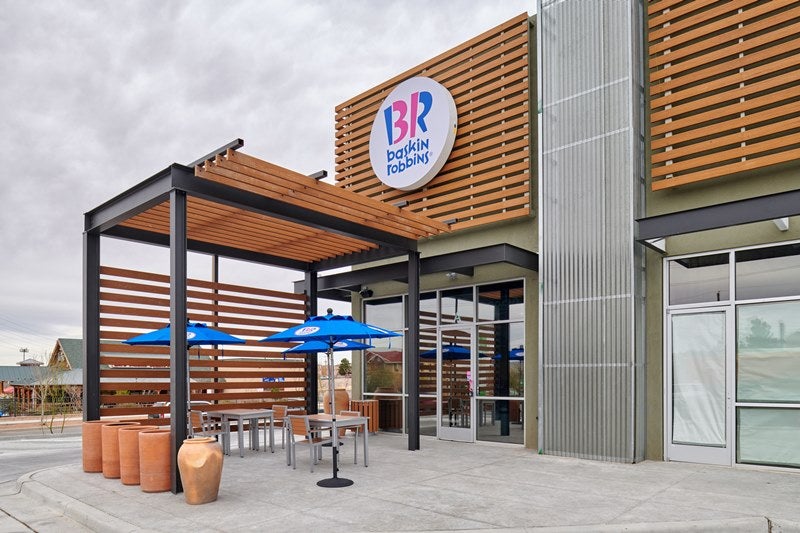 US-based chain of specialty ice cream shops Baskin-Robbins has expanded its Moments concept store portfolio with the opening of its second location in El Paso, Texas.
Founded in 1945 Baskin-Robbins was named the top ice cream and frozen dessert franchise in the United States in 2018 by Entrepreneur magazine.
This follows the introduction of the concept store design in Fresno, California last November. The restaurant chain has worked closely with customer experience and branding agency WD Partners to design the concept.
Features of the store concept include new interior design with contemporary décor, ice cream dipping cabinets, a Fresno wall mural, indoor seating with swivel chairs, high tables and bar stools, as well as a new digital menu board displaying products.
Baskin-Robbins marketing vice-president Carol Austin said: "Many people today live busy, always-on lives, which means that a chance to unplug and spend a few minutes reconnecting with your friend, partner or child is all the more meaningful.
"We cannot wait for the El Paso community to join us for this new Baskin-Robbins experience."
"That's why we are so excited about the new 'Moments' store design, which encourages guests to come in, slow down and enjoy the best ice cream on Earth."
Baskin-Robbins has opened the store in collaboration with its Texas franchisees Grace Hauser and Vanessa Hauser Herrera, who currently operates ten locations under the brand in El Paso.
Moments co-franchisee Vanessa Hauser Herrera said: "Baskin-Robbins has played such a major role in our family's history, so we were thrilled when presented with the opportunity to do the same for this iconic brand. We cannot wait for the El Paso community to join us for this new Baskin-Robbins experience!"
Additionally, the concept offers an upgraded menu at a new product platform, 'ice cream novelties', that offers hand-dipped and snackable frozen treats such as chocolate-dipped bananas, polar pizza slices, ice cream bars and smoothie bars and waffle cones.
It also features an expanded toppings station offering a range of options for customisation.