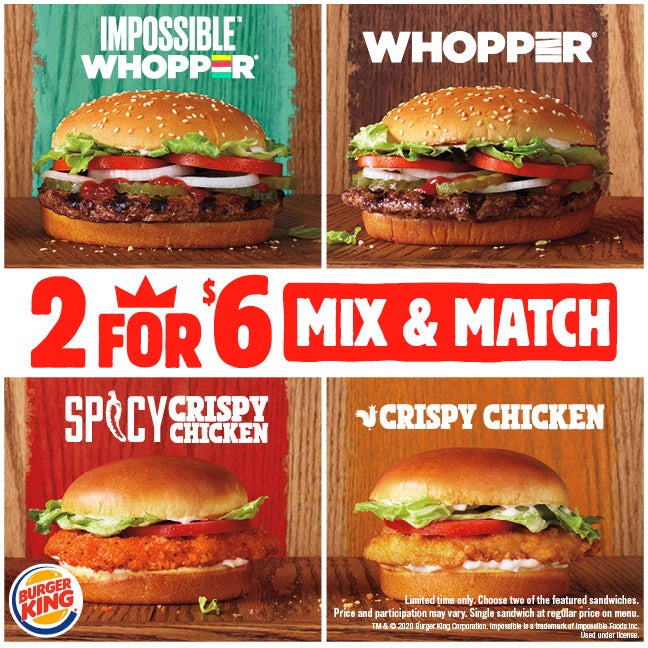 US-based fast-food chain Burger King has announced that it has added the plant-based Impossible Whopper sandwich to its two for $6 promotion for a limited period.
The move comes after rival McDonald's reduced the price of its plant-based burger, lettuce and tomato sandwich made by Beyond Meat by 50 Canadian cents to C$5.99.
Inclusion of the Impossible Whopper in the value menu also hints that the fast-food companies are trying to reach more customers with reasonable pricing.
The Impossible Whopper sandwich is available on the value menu alongside the Spicy Crispy Chicken, Crispy Chicken and Whopper sandwich.
Burger King North America president Chris Finazzo said: "We are excited to offer our guests a plant-based product like the Impossible Whopper as part of our two for $6 promotion.
"This unbeatable deal gives friends and family a new reason to come in and try the Impossible Whopper and other BK favorites at an amazing value."
Burger King restaurants launched the vegan sandwich with Impossible Foods' patty across the US in August 2019.
The Impossible Whopper comprises a flame-grilled patty made from plants topped with freshly sliced tomatoes and onions, crisp lettuce, creamy mayonnaise, ketchup and zesty pickles on a toasted sesame seed bun.
In 2019, Burger King released a vegetarian 'Rebel Whopper', to appeal to a growing band of consumers looking for meat alternatives in their flame-grilled hamburgers.
Founded in 1954, the Burger King system operates over 15,000 locations in nearly 100 countries and US territories. The Burger King brand is owned by Restaurant Brands International.