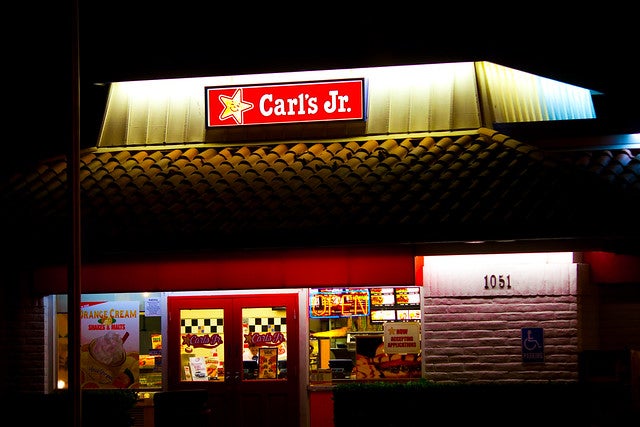 Burger chain Carl's Jr. is launching a CBD-infused burger in the US, making it the first main-fast food chain to launch a menu item containing cannabis.
The Rocky Mountain High: CheeseBurger Delight (CBD) includes a Santa Fe sauce made with a hemp-based version of the oil and will be on the menu at just one restaurant in Denver, Colorado. Carl's Jr. decided to launch the new burger there to celebrate that Colorado was one of the first states in the US to legalise marijuana in 2014.
The burger will initially only be available for one day on Saturday 20 April – 4/20 is a celebrated day in cannabis culture – when customers will be able to purchase the new burger from 6am. They will only be allowed two burgers and have to be 18 or over to buy the item. If the launch is successful the restaurant will consider having the burger as a permanent item on its menu.
Carl's Jr. senior vice president of brand marketing Patty Trevino told the Independent: "From our early introduction into plant-based options to bringing the rare indulgence of truffles to our menu with the new Bacon Truffle Angus Burger, our customers have come to expect innovative and unique menu offerings and we're thrilled to be the first quick service restaurant to be testing CBD infused options."
The burger will include two burger patties on a bed of fries, with pepper jack cheese, pickled jalapenos and the CBD-infused Santa Fe sauce.
The fast-food restaurant announced on its twitter it will be adding the CBD-infused burger to its menu "4:20 only: We're dropping our Rocky Mountain High Cheese Burger Delight with CBD-infused Santa Fe sauce at one Denver location only. #rockymountainhigh"
There is a growing trend in cannabis-infused foods in 2019. Verdict Foodservice reported on some of the growing health trends, revealing that a third of consumers in the UK would buy CBD-infused food and drink.