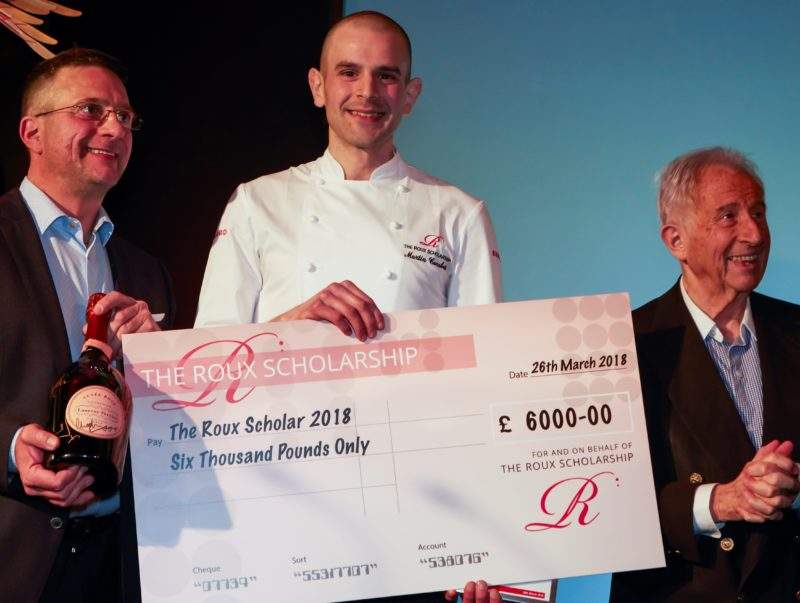 Chef Martin Carabott from Hide at 85 Picadilly (London) was crowned the 2018 Roux Scholar this week (26 March) – taking home £6,000 and a three-month placement at a three-star Michelin restaurant anywhere in the world.
With three hours to prepare and serve 'pigeonneaux Valenciennes-style, with a vin jaune sauce', 29 year-old Carabott outshone the five other finalists – Ben Champkin (L'Enclume); Oliver Marlow (Roganic); Sam Nash (L'Enclume); Ryan Porter (Northcote); Fergus Wilford (André Garrett at Cliveden) – to take home the title.
A third-time finalist, Carabott said: "I'd been in the national final for the last two years but it was much harder this year. It really doesn't get any easier with experience, there's always something unexpected.
"There's always pressure when you're being watched by these superstar chefs. You need to be disciplined and focused."
Joint chairman, Michel Roux Jr, commented: "There was a fantastic standard – six highly motivated and talented chefs. They all struggled with the boning of the pigeon, which was a real challenge and not something often found on a menu, but it required a classic skill and that's what The Roux Scholarship is all about."
Joint chairman Alain Roux added: "As with all the Scholarship final recipes, there is a core challenge at its heart, this time to debone a pigeon which is a small, fiddly bird.  To perform this successfully took not only skill but also time and careful planning. This recipe was a real challenge, but the winner was outstanding."
Alongside Michel and Alain Roux, the judging panel comprised: honorary president, Michel Guérard; Brian Turner; Andrew Fairlie; previous winners Simon Hulstone and Sat Bains; Angela Hartnett; Clare Smyth and Rachel Humphrey.
Guérard said: "There were six heroes of the kitchen here. They all gave a pleasurable interpretation of the dish, which charmed all the senses of sight, smell and taste. Boning a bird is a very important skill, you need to be dexterous in the kitchen. Being a chef is a manual job and you need to be careful with manual skills."
The winner was announced during an awards ceremony at The Langham Hotel (London) on Monday (26 March) following the live final at Westminster Kingsway College.