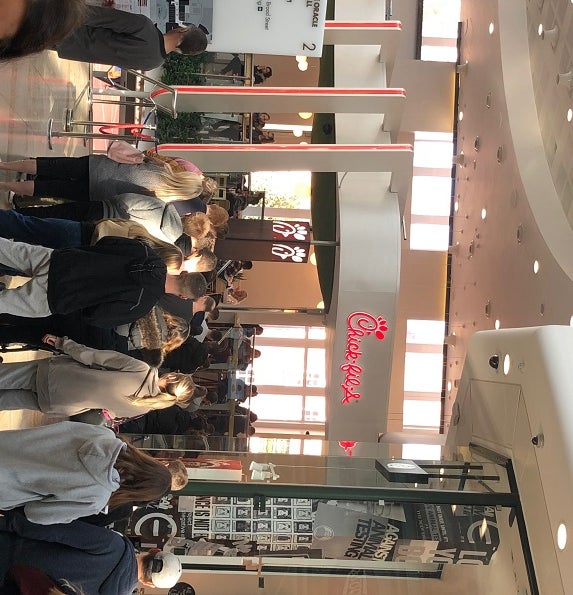 US fast-food chain Chick-fil-A has announced it will close its first UK store just six months into trading after protests against the company's anti- LGBTQ stance.
The store opened in Reading on 10 October at the Oracle shopping centre sparking controversy and leading to LGBT organisation Reading Pride calling for a boycott.
Reading Pride tweeted: "We are staunchly opposed to Chick-fil-A setting up shop in the UK and certainly in Reading. The chain's ethos and moral stance goes completely against our values and that of the UK as we are a progressive country that has legalised same-sex marriage for some years."
Chick-fil-A has a long record of antagonism towards the LGBTQ community, starting in 2012 when the president and chief operating officer Dan Cathy stated he opposed gay marriage.
Cathy said on The Ken Coleman Show in 2012: "I think we are inviting God's judgement on our nation when we shake our fist at Him and say 'we know better than you as to what constitutes a marriage'. I pray God's mercy on our generation that has such a prideful, arrogant attitude to think that we have the audacity to define what marriage is about."
In 2017 the Chick-fil-A Foundation was found to have donated more than $1.8m to three groups known for their anti-LGBTQ discrimination. The chain gave $1,653,416 to the Fellowship of Christian Athletes, $6,000 to the Paul Anderson Youth Home and $150,000 to the Salvation Army.
The Fellowship of Christian Athletes requires student leaders to fill out an application where it states in its sexual purity statement 'The Bible is clear in teaching on sexual sin including sex outside of marriage and homosexual acts.' The Paul Anderson Youth Home is a 'Christian residential home for troubled youth' that teaches its residents that homosexuality is wrong and same-sex marriage is 'rage against Jesus Christ and his values'.
The Salvation Army is known for its long record of opposing homosexuality and has stated, 'Scripture opposes homosexual practices by direct comment and also by clearly implied disapproval, the Bible treats such practices as self-evidently abnormal.'
Chick-fil-A Inc. told Verdict Foodservice: "We have been very pleased with the lines since opening Oct.10 and are grateful for customer response to our food and our approach to customer service. We mutually agreed to a six-month lease with the Oracle Mall in Reading as part of a longer-term strategy for us as we look to expand our international presence."
Despite the boycott, Chick-fil-A's annual sales have reportedly doubled since the protests started.
The Salvation Army told Verdict Foodservice: "The Salvation Army rejects the allegation that it is 'hostile to LGBT rights'. Across the UK, The Salvation Army serves people without discrimination and strongly objects to being presented as homophobic  or transphobic. The Salvation Army includes thousands of people who worship, work, volunteer, donate and serve together every week. The Salvation Army includes people who also identify as members of the LGBT+ community and we fully support human rights. The Salvation Army in the UK has not received donations from Chick-fil-A."