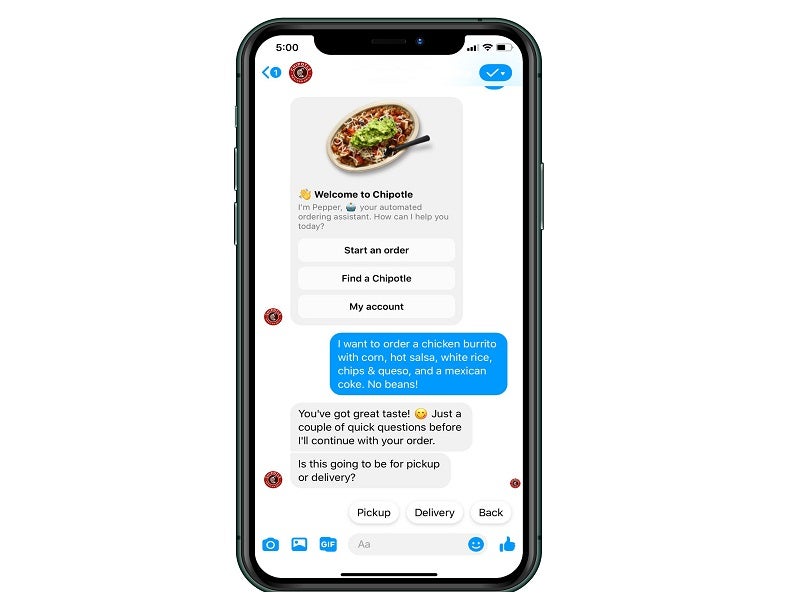 Fast casual restaurant chain Chipotle Mexican Grill has launched Chipotle app in Canada and is also planning to introduce a series of improvements to its mobile ordering capabilities.
The innovations to its digital platform are aimed at increasing access and convenience for guests.
With the introduction of the new Chipotle app, guests in Canada can use CHIPOTLE.CA or the Chipotle app to order their favourite meals, as well as through DoorDash and Uber Eats.
Chipotle Canada managing director Anat Davidzon said: "Investing in our digital ecosystem in Canada will enhance the guest experience and position us well for future growth."
The chain is also introducing improvements to its mobile ordering capabilities, including Pepper, its Concierge Bot on Facebook Messenger.
The enhancements will enable customers to order on messenger by visiting the Chipotle page on the Facebook app and selecting the 'Message Us' option from 22 June.
By asking for the customer's location, Pepper will find the nearest Chipotle restaurant and guide the customer through the ordering experience.
Additionally, customers can use natural language to simply describe their order to Pepper and select a payment option.
Chipotle chief technology officer Curt Garner said: "We are always working to enhance and optimise our digital capabilities and provide guests with a seamless ordering experience.
"It is critical that we meet customers where they are spending time online and give guests ordering options that best fit their needs."
Chipotle's group ordering feature can be used by individuals dining with family, friends, or coworkers by simply selecting 'Start a Group Order' on CHIPOTLE.COM.
In March, Chipotle Mexican Grill partnered with Uber Eats for online deliveries across the US.